Thousands Of Researchers Boycott Elsevier, Demand Open Access Journals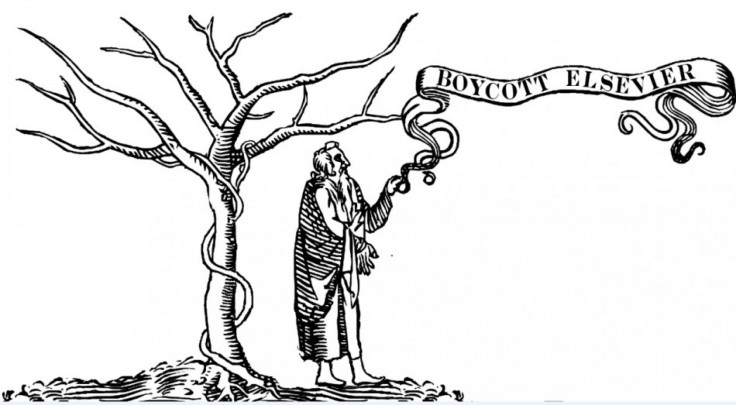 Nearly 8,500 researchers petitioned to boycott Elsevier, the world's largest scientific journal publisher, over business practices they say exemplifies everything wrong with the current publication system.
Timothy Gowers, a mathematician from Cambridge University, called for the boycott on his blog in January over Elsevier's high subscription price, high profit margins and subscription bundles.
I am not only going to refuse to have anything to do with Elsevier journals from now on, but I am saying so publicly, Gowers said in his post. I am by no means the first person to do this, but the more of us there are, the more socially acceptable it becomes.
In response to the boycott, Elsevier said in a statement that it will reduce the cost of many of its articles to $11 or below by 2013 and will make 14 mathematical journals open access.
We will create a scientific council for mathematics, to ensure that we are working in tandem with the mathematics community to address feedback and to give greater control and transparency to the community and we will engage actively with leaders in a number of countries to ensure that our mathematics program is meeting the needs of the community, globally and locally, Elsevier said in a statement issued on Feb. 27.
Elsevier journals are some of the most expensive in the industry, boycotters said in a statement. A 2009 survey by the American Mathematical Society found that seven of the 10 most expensive mathematical journals were published by Elsevier.
Journal subscriptions in the U.S. for Elsevier titles range from $4,362 for 12 issues of Cancer Genetics to $37 for 12 issues of Law Officers Magazine, according to company records.
Internationally, subscription rates can skyrocket.
http://www.elsevier.com/wps/find/journalpricing.cws_home/journal_pricing: Current Awareness in Biological Sciences costs $19,670 per year for 12 issues, for example.
Elsevier journals are the most expensive per page as well, according to analysts. The Annals of Mathematics, published by Princeton University and the Institute for Advanced Study, is considered to be the top mathematics journal and costs 13 cents per page, according to a statement by the petitioners. In comparison, 10 Elsevier journals, which the petitioners say are of inferior quality, cost $1.30 per page or more.
The publisher also lobbied for SOPA (Stop Online Piracy Act), PIPA (Protect IP Act) and the Research Works Act, a bill that would have reversed the National Institutes of Health's policy that requires taxpayer-funded research to be freely accessible online, much to the ire of the boycotters.
The exorbitant prices, and lobbying activities, suggest a publisher motivated purely by profit, boycotters said in a statement.
Elsevier dropped support for the Research Works Act in February.
As of Monday, nearly 8,500 researchers signed the petition and agreed to refrain from publishing, refereeing, pursuing editorial work or any combination of the three for any Elsevier journal. Some petitioners believe journals are no longer needed.
Scientific publishers are unnecessary mediators between the members of the scientific and academic community. They are making money by selling our results to ourselves. Surely we can do something better than this, Yannis Agiomyrgiannakis, who works in engineering and technology for Google, wrote on the petition.
Others say that the subscription model hinders those who are trying to learn.
As a student, most of my classes are more often taught from papers rather than textbooks, Sean Akins, a biology student from Oregon State University, wrote on the petition. Limiting the information that we can reference limits the future in which we strive to better.
The boycott isn't the first time researchers have refused to deal with Elsevier.
Nine editorial board members of the Elsevier-published journal Topology resigned in 2006, saying Elsevier's policies had a significant and damaging effect on Topology's reputation in the mathematical research community, according to the New York Sun.
David Andersen, an assistant professor of computer science at Carnegie Mellon University wrote on the petition that he has been privately refusing to deal with Elsevier for a few years now, and said he is very happy to promise not to do so until they fix themselves.
The boycotters hope to see a movement by the scientific community to more open-access journals.
None of these changes will be easy; editing a journal is hard work, and founding a new journal, or moving and relaunching an existing journal, is even harder, petitioners said in a statement. But the alternative is to continue with the status quo, in which Elsevier harvests ever larger profits from the work of us and our colleagues, and this is both unsustainable and unacceptable.
© Copyright IBTimes 2023. All rights reserved.