TikToker Who Went On 'McDonald's Run' With Monkeypox Rash Says He Faked It [Video]
KEY POINTS
The Black man faked monkeypox to promote his new song
Duane Cali has used gimmicks in the past to market his music
He called the latest stunt a "promo gone wrong"
A TikTok user from Los Angeles made headlines earlier this month after posting a video where he says he went on a "McDonald's run" with his arms and face seemingly covered in blisters -- a common symptom of monkeypox. The man in question, Duane Cali, has now admitted that it was all a joke.
In the initial video he posted, Cali confirmed he had contracted the contagious disease from being in "the wrong place, at the wrong time."
After facing severe flak for his apparent negligence in the first video, Cali confirmed that he had only faked contracting the disease, and it appears that there's video evidence of the same.
For the uninitiated, here's the background. In the 48-second video Cali had posted earlier from the fast food outlet, he said, "I just wanted to make this video to remind you to be careful who you f--k with."
Talking about how we need to look out for ourselves, Cali continued in the video, "Because not everybody who you f--k with is gonna f--k with you. Not everybody you look out for is gonna look out for you. S--t, you might show up for the wrong motherf----r at the wrong place, at the wrong time, and end up with the f----n' monkeypox."
"And then who gon' be there to look after you? Nobody. So at the end of the day, choose youself," he continued.
The video concluded with an artwork promoting a song called "Choose Yourself" appearing on the screen. Duane Cali's name was mentioned as the artist in the announcement that said that the single was available "on all platforms."
Fast forward to Sunday, Cali's video was revealed to be nothing more than a promotional stunt for his new music.
A new video posted on a popular Instagram page shows Cali lying on a makeup artist's chair, getting his artificial rash painted on his arms and face.
Towards the end of the video, he's seen taking off his fake blisters while he explaining that the initial video shared was a "promo gone wrong."
"I have unique and unconventional marketing methods when it comes to promoting my music and I usually try to tie the marketing around the premise of the song. This time the song was called 'Choose Yourself' so I was trying to market it in a way where it displays the person choosing himself regardless of how people felt about him," Cali explained.
"Unfortunately it didn't translate that way and people just ended up being mad at me," the TikToker said.
He also spoke about a previous marketing gimmick where he pasted parking tickets on cars. The stickers carried a scan code to one of his songs. Cali says that while he initially ended up upsetting people, it all worked out for him eventually, and that's what he was aiming for this time around too, but it didn't land.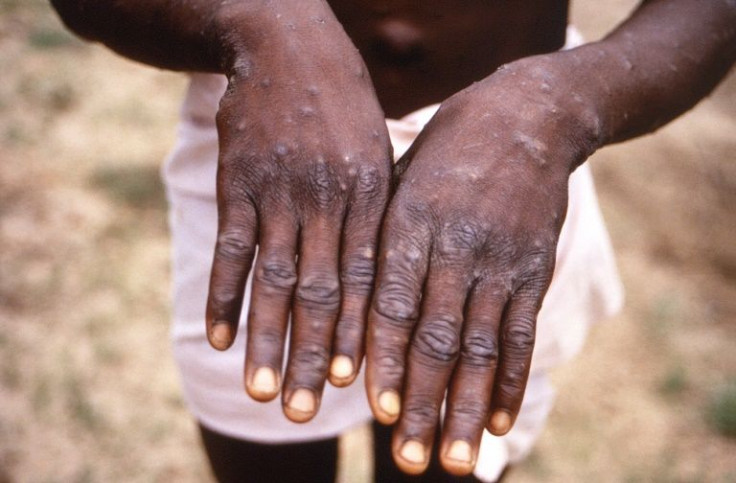 Initial symptoms of monkeypox include a high fever, swollen lymph nodes and a blistery chickenpox-like rash
Centers for Disease Control and Prevention via AFP / Brian W.J. Mahy
© Copyright IBTimes 2023. All rights reserved.