Tim Tebow's Girlfriend: Is He Dating Lindsey Vonn?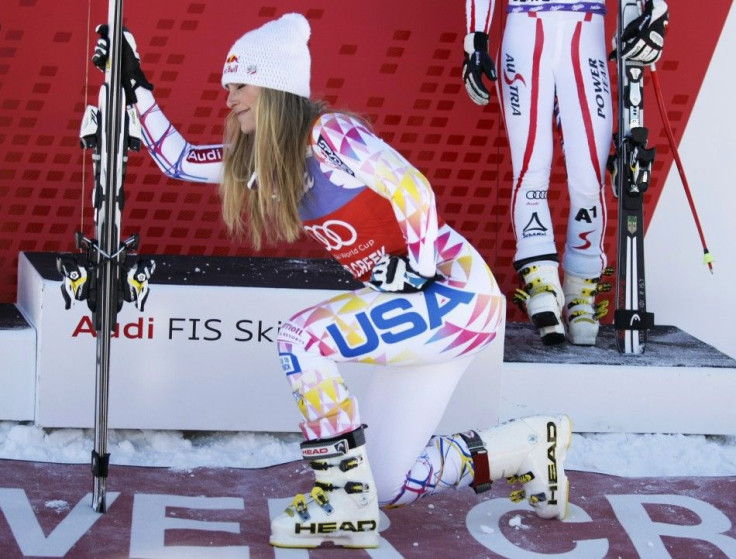 Little is known about Denver Broncos quarterback Tim Tebow's love life, but the latest rumor going around town is that the star athlete is dating Olympic skier Lindsey Vonn.
The Olympic gold medalist was recently seen sitting in the Tebow family suite at the Broncos' stunning comeback victory over the Chicago Bears, 13-10, on Sunday. The latest appearance paired with Vonn celebrating a recent skiing victory by Tebowing drummed up speculation that she is dating God's Quarterback.
But Vonn, who is currently going through a divorce with husband Todd, says that she is simply friends with Tebow and the rest of his family.
A lot of people are wondering what's up with me and the Tebows. I'm just friends with the family, Vonn wrote in her occasional column with the Denver Post. I pretty much know their whole family now. They're great people. It's pretty awesome to be able to hang out with them - and to be able to witness the amazing things Tim and the Broncos can do.
Sensing that her column didn't do enough to convince people she wasn't dating the star athlete, she later tweeted Hearing a lot of crazy rumors but rest assured I am NOT dating Tim Tebow (or anyone else). I'm just friends with his family. xo, LV.
Vonn has also been linked to Tebow's brother, Bobby, who attended Vonn's first World Cup race win in Colorado. She claims she is also just friends with Bobby Tebow, though she did get permission from him to pose like Tebow at the end of her race.
A recent piece by International Business Times reporter Roberta Anderson revealed that there is little to know about Tebow's love life. Anderson reported that Tebow has been linked with former Florida student Erin Drewes, but that Drewes denied ever dating the quarterback.
I actually attended a Bucs game with my Dad and somebody said to me, 'Hey, I know who you are, you're Tim Tebow's girlfriend.' My Dad just laughed. As far as other people thinking it was true, they absolutely did. So let me set the record straight: I was never dating Tim Tebow, nor was I ever his girlfriend! Drewes told Playboy.
© Copyright IBTimes 2023. All rights reserved.