Top US Senate Republican McConnell Released From Hospital, Will Move To Rehab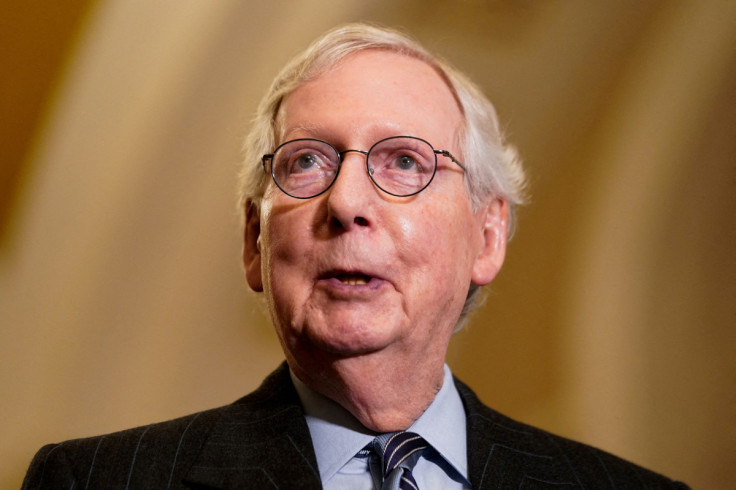 U.S. Senate Republican leader Mitch McConnell was released from a hospital and will continue receiving treatment at a rehabilitation facility, his office said on Monday after one of Washington's most powerful figures suffered a fall last week.
McConnell's recovery from a concussion is proceeding well, his office said in a statement, adding that he also suffered a minor rib fracture in the fall. His continued treatment means McConnell will not be present when the Senate returns to Washington on Tuesday.
The Republican leader, who is 81 and was first elected to represent Kentucky in the Senate in 1984, tripped at a dinner event on Wednesday evening and was admitted to a hospital for treatment for a concussion. A former aide of the leader said on Friday that McConnell was eager to be discharged.
His hospitalization came as Democratic President Joe Biden and Republicans, who control the House of Representatives after the midterm elections, remained locked in a standoff over the $31.4 trillion debt ceiling. A lack of progress in talks has raised concern about a possible default over the summer.
Several of his fellow Senate Republicans told reporters last week that McConnell was likely to be hospitalized for a few days but added they were confident he would be back on the job when the Senate reconvened this week.
As Senate minority leader, McConnell has taken a back seat to Biden and Republican House Speaker Kevin McCarthy on the debt ceiling issue. But independent experts view the Kentucky Republican as a skilled negotiator who could broker a compromise deal in an emergency.
Currently serving his seventh six-year term, which runs through 2026, McConnell was the third U.S. senator to be hospitalized in recent weeks. Democrat John Fetterman is being treated for depression, while Democrat Dianne Feinstein was discharged to recuperate at home following a bout with shingles.
McConnell served as Senate majority leader from 2015 to 2021 and as Senate minority leader since then. Democrats, including three independents who vote with them, currently hold a 51-49 majority in the Senate.
McConnell's legislative skills have torpedoed many Democratic initiatives over the years, both when his party held a majority in the chamber and when Democrats have held the edge, as they currently do.
He has long been criticized by Democrats, particularly for his tactics that allowed Republicans to build a 6-3 conservative majority on the U.S. Supreme Court, including having the Senate refuse to consider a 2016 nomination to the high court by Democratic then-President Barack Obama.
© Copyright Thomson Reuters 2023. All rights reserved.