TRIWA SUB Ocean Plastic Hands-on Review: Saving the Ocean One Watch at a Time
This article uses affiliate links, which means if you purchase products through these links, we may earn a commission. Click here to see our
T&C
. For licensing please click
here
.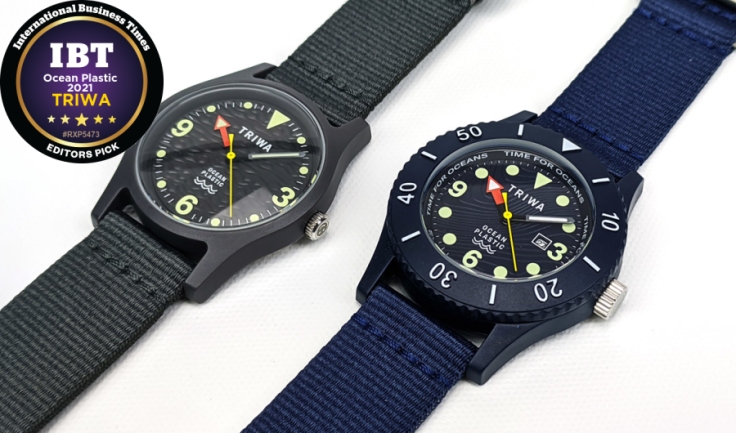 An argument can be made that the modern watch has lost its original purpose of time keeping, but is instead a statement maker first, and functional tool only second. This is what makes TRIWA watches special, as every watch is not merely a fashion statement, but to tell a bigger story.
Having recently reviewed the TRIWA Time for Peace 2.0 watch which is made of molten illegal firearms, the Time for SUB Ocean Plastic and Time for Ocean Plastic turns plastics retrieved from the ocean that would otherwise be detrimental to the environment into watches.
We've seen what TRIWA can do with molten illegal arms, but what can they do with Ocean plastics? We dive in (pun intended) to find out.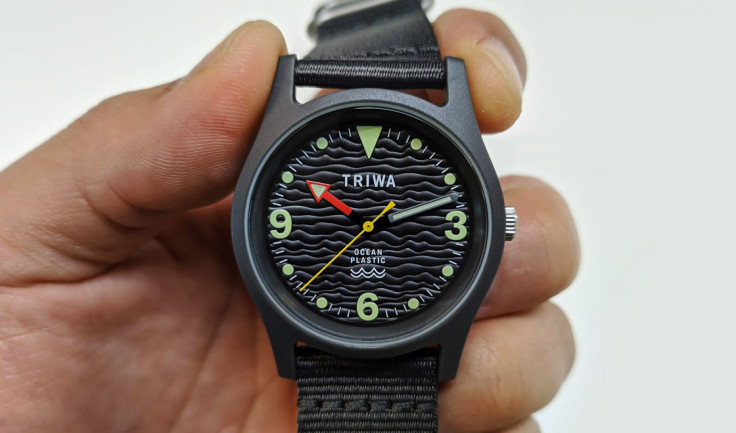 Colorful and Durable Fun
First and foremost: it's obvious that the Time for Ocean Plastic is aimed at a different crowd compared with Time for Peace. You will most probably not be wearing these with your dinner jacket, nor on your business meeting. But with your newest polo-T and khakis, on a run or a hike, these Quartz movement watches will wear much better than delicate automatic watches.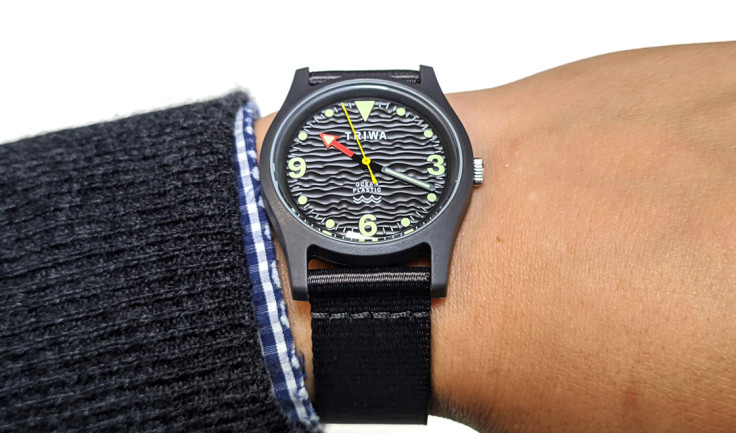 Built to be lightweight, you would barely feel the Time for Ocean Plastic watches on your wrist. Yet their distinct color and design will definitely give weight to your outfit: a fun but a tasteful one.
The Ocean Plastic has a unique watchface design, a layered reflective surface like the inside of a clamshell - subtle but adds enough highlight to give it a distinct look.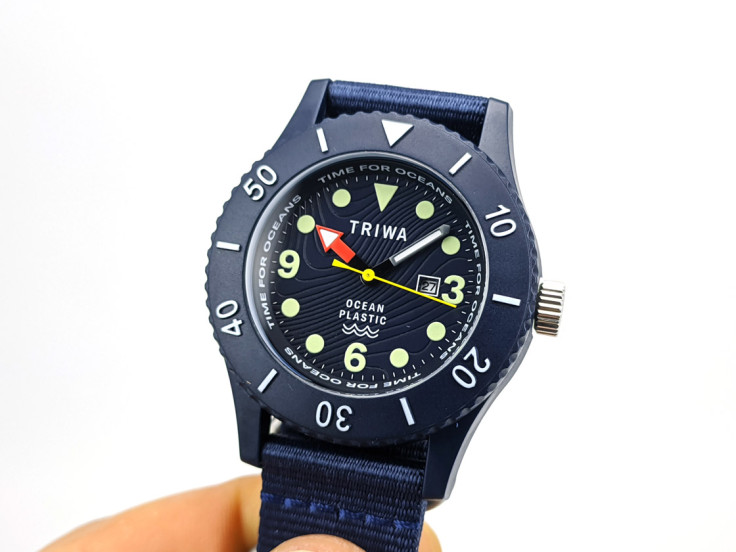 The Ocean Plastic SUB swaps out the watch face design for something even more subtle - a 3D topographical map pattern. The centerpiece on the dive watch shifts instead to the rotating bezel - a new addition to the Ocean Plastic watch family.
The Ocean Plastic watch catalog reminds me of classic Swatch watches, the iconic quality built plastic watches. The main difference is that the TRIWA watch series has a more serious tone, which would also suit a mature audience.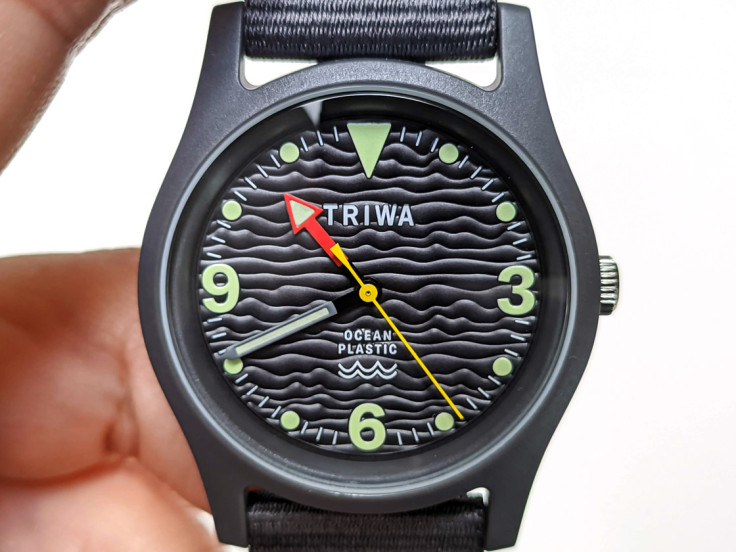 Excellent Legibility with Strong Lume
The bold environment statement aside, the Time for Ocean Plastic watches are actually excellent timepieces. Powered by a Miyota 2015 quartz movement, it has excellent reliability in keeping the time.
Combining red, grey, black and yellow, the oversized hands form the Ocean Plastic motif that is both stylish and has outstanding legibility. It's easy to tell the time with these watches at a glance throughout the day, and the strong lume on the hands and indices make them readable at night as well.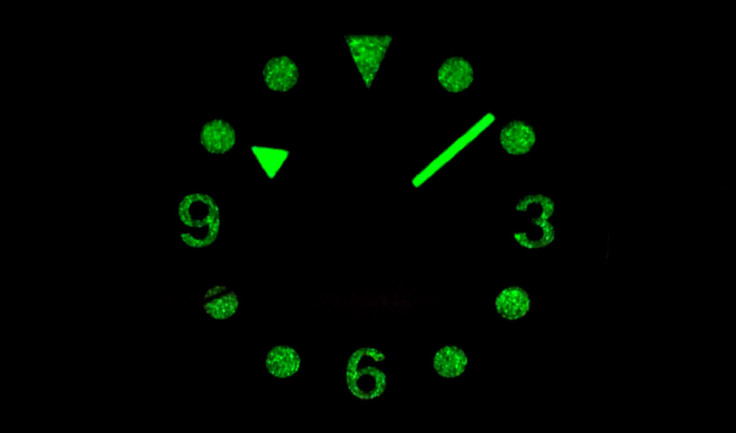 Comparing the two watches, the original Ocean Plastic measures a generous 32mm across its lens, and the large face and longer hands does make it slightly easier to read. The Ocean Plastic SUB on the other hand had to sacrifice some of its face real estate for the rotating bezel, measuring at 28mm across the lens instead.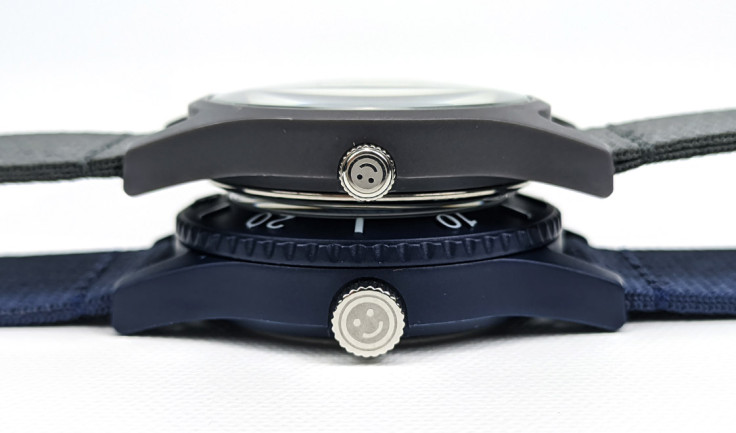 Domed Mineral Glass and Stainless Steel Caseback
Even though these watch cases are made out of recycled ocean plastic, it doesn't mean these TRIWA watches were cheaply built. In fact, both the Ocean Plastic watches use domed mineral glass for its lens, and a polished stainless steel caseback. The material selection ensures that the exterior of the watch stays pristine longer, even after adventurous trips.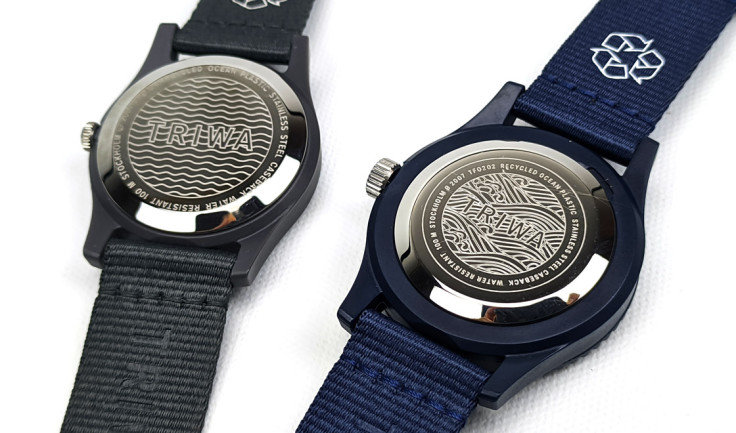 The meticulous construction of the Ocean Plastic watches allows them to be reliably water resistant. Rated for 100m, these are great for swimming, watersports and any activity where you expect to get wet.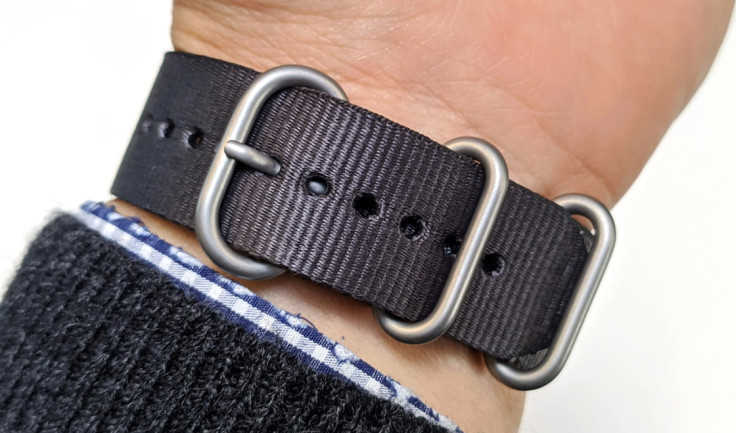 Ocean Plastic Zulu Straps
A durable watch isn't complete without a durable strap, and the Time for Ocean watches have one of my favorite zulu straps. The nylon on these straps are densely woven, as well as having significant thickness. Measuring roughly 1.5mm thick, they are matched with three matte finished stainless steel rings. What's impressive is that these straps are also made of recycled ocean plastic, just like the watch case, and the straps carry a recycle logo like a badge of honor on it's inner side.
The lightweight body coupled with the heavy duty straps mean these are watches that won't be accidentally falling off your wrists any time soon. They really give me confidence to really move without needing to worry about them unlike automatic or smart watches.
Time for Transparent Carbon Footprint
TRIWA's endeavor to be an environmentally responsible watchmaker is now on full display on its website, claiming the mantle to be the first watch website to feature carbon footprint calculation in the industry. It's one thing to claim that a product is sustainable, but it's a different story when one can put numbers to the commitment.
Calculated using the Doconomy 2030 calculator, the carbon footprint of the Ocean Plastic and Ocean Plastic SUB are 1.38 and 1.68 KG CO2e respectively - roughly the equivalent footprint of 1kg of tomatoes!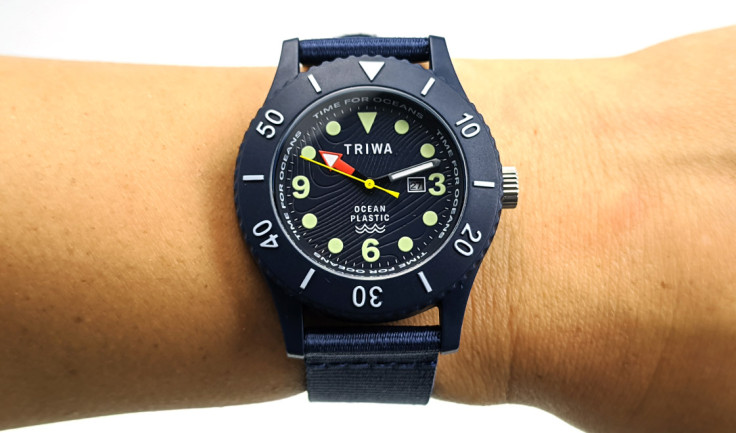 Final Verdict
There is no doubt that the first and second generation of TRIWA Ocean Plastic watches are making clear statements. A product made of plastic that has been fished from the ocean is a constant reminder to love and care for the environment. Moreover they are functional and beautifully designed watches that are actually well made.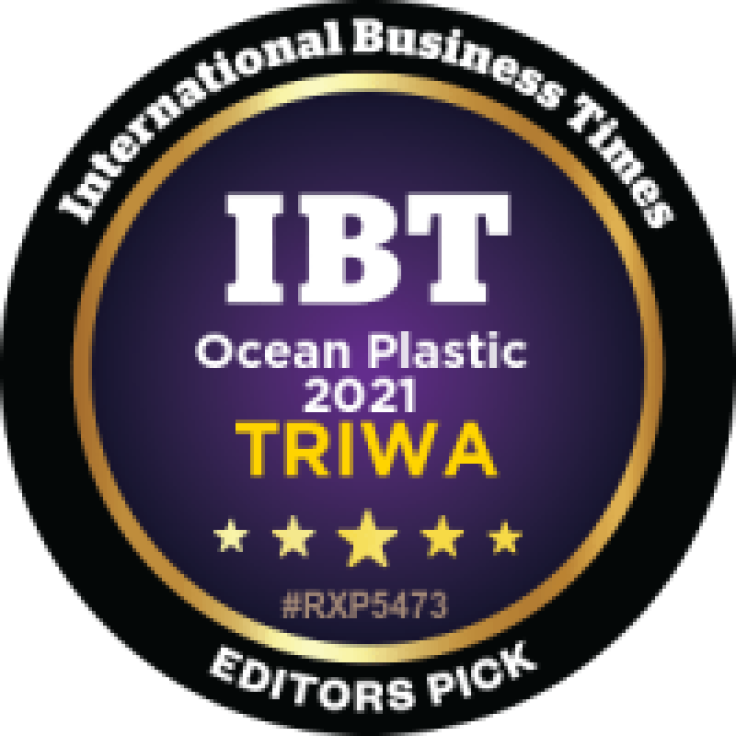 If you are after a casual watch that is easy to wear, has great legibility and is durable enough to go virtually anywhere with you, the TRIWA Ocean Plastic and the Oceania Plastic SUB should be a watch that you seriously consider. It is also an excellent choice as a watch for teens who appreciate the timeless form of the analogue watch, and love a statement about the environment. For its design, build and what it standards for, we're rewarding the TRIWA Ocean Plastic our Editor's Pick badge.
Check out the Ocean Plastic and Ocean Plastic SUB on TRIWA's website.
David is a tech enthusiast/writer who is often on the move and is on a mission to explore ways to make his overhaul flights more enjoyable. This is a contribution to an ongoing IBTimes review series on gadgets for Business Travelers.
© Copyright IBTimes 2023. All rights reserved.