Tropical Storm Isaac's Path Across The Caribbean Cancels Flights, Alters Cruise Itineraries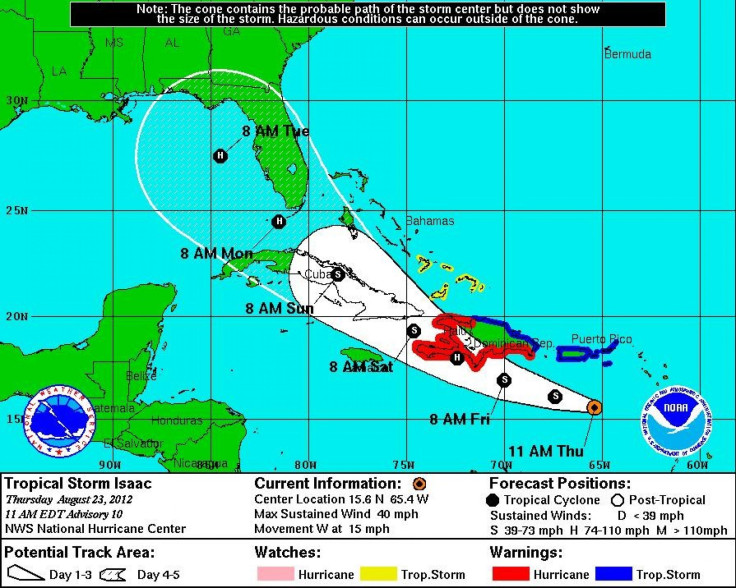 Tropical Storm Isaac, the ninth named storm of the 2012 Atlantic hurricane season, sped past the Leeward Islands Thursday on a path across the Caribbean toward the Florida coast.
According to the 11:00 a.m. EDT alert from the National Hurricane Center in Miami, the tropical storm was about 200 miles south-southeast of San Juan, Puerto Rico, with maximum sustained winds of 40 miles per hour. The fast-moving storm has slowed slightly to 15 mph on its westward track toward Hispaniola and Cuba. If Isaac continues on its current trajectory, the center of the storm could pass right over long-suffering Port-au Prince, Haiti, as a Category 1 hurricane by Friday afternoon.
Tropical storm warnings remain in effect for the Virgin Islands, Puerto Rico, and the northern coast of the Dominican Republic. Hurricane warnings, meanwhile, cover the remainder of the island of Hispaniola, while a tropical storm watch is out for the southern Bahamas and the Turks and Caicos.
The menacing storm has already caused numerous travel disruptions and more are likely to come.
Liat, the major inter-Caribbean carrier, canceled 15 flights into and out of the Leeward Islands on Wednesday and dozens more on Thursday to and from destinations in the Lesser Antilles northeast of Antigua. The airline is allowing passengers to change their flights free of charge for a period of one week from the date of their originally scheduled trip.
American Eagle, a subsidiary of American Airlines, canceled 16 flights Wednesday and many more on Thursday. A spokesperson for the airline said passengers affected by the storm can change their flights from Aug. 23-26 free of charge for dates through Aug. 28.
United Airlines will also wave change-fees for its flights in and out of the Virgin Islands, Puerto Rico, Dominican Republic, Haiti and the Turks and Caicos for those scheduled to travel between Aug. 23 and Aug. 26. Passengers will need to travel before Aug. 29 to take advantage of the fee-waiver.
US Airways has relaxed its change-fee policies for the storm for travel to and from the Cayman Islands, the Dominican Republic, Jamaica, Puerto Rico, St. Maarten and the Turks and Caicos. Those traveling between Aug. 23 and Aug. 25 can change their dates for travel between Aug. 26 and Aug. 28.
Spirit Airlines activated a "Weather Buster Protection Policy" that allows passengers traveling to or from Puerto Rico, Haiti and the Dominican Republic on Thursday or Friday to reschedule flights on or before Sept. 27 with no change fee, provided they alter travel plans before the date and time of their original reservation.
JetBlue will waive all change and cancel fees and fare differences for customers traveling between Aug. 23 and Aug. 24 to all of its destinations from the Leeward Islands to the Dominican Republic. Passengers can rebook for flights on or before Aug. 27.
Cruises, meanwhile, have a different modus operandi. They rarely cancel trips, choosing instead to re-route voyages to destinations away from oncoming storms.
Royal Caribbean said in a statement that it was monitoring the path and progress of Isaac, but it has yet to alter the itineraries of any ship that departs Thursday through Sunday. Norwegian Cruise Line, too, issued a weather alert saying it is monitoring the storm, but has not altered any schedules.
Carnival has not changed the schedule for any sailings departing on or after Thursday, but it has altered the plans of two ships out at sea. The Carnival Valor, which departed Miami on Aug. 19, has cancelled its call in Curacao and replaced it with a visit to Nassau, Bahamas, on Friday. Carnival Liberty, which departed Miami on Aug. 18, cancelled its call into Grand Turk Thursday and will also replace it with a visit to Nassau on Friday. All other Carnival ships are operating on their scheduled itineraries.
If Isaac maintains its projected course, the cruise operators will likely make additional changes for sailings through early next week.
READ ALSO: Hurricane Season Travel Tips: When To Vacation & How To Prepare
© Copyright IBTimes 2023. All rights reserved.