Truckers Ride For The Constitution: Extremist Anti-Obama Protesters Hijack Truck Drivers As Political Pawns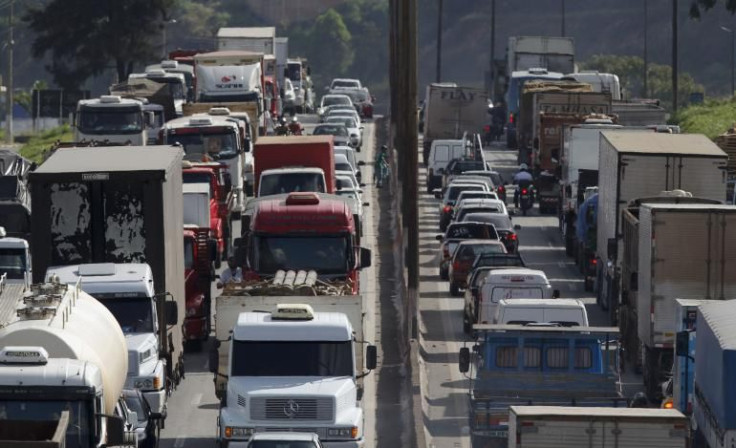 At first glance, the demands being made by a group of truck drivers who are reportedly planning to descend on Washington this weekend seem rooted in well-founded anger. Like most Americans, the group calling itself "Truckers Ride for the Constitution" is incensed by an increasingly dysfunctional government. It's members appear to see the U.S. government shutdown as the last straw, and a lot of people would agree that it is. On their list of grievances, the truckers say they want, among other things, lower fuel prices and higher wages. They want deregulation of the trucking industry, and they want the government restored. Simply put, they want politicians to honor the U.S. Constitution and do their jobs, and who doesn't?
So far it all sounds like good old-fashioned civil disobedience, except that the trucker protest itself has little to do with the trucking industry and even less to do with healthy dissent. Beneath all the talk of hard-working truck drivers fed up with government overreach lies a fringe movement of blind civil unrest, one fueled by a small group of angry white people who will simply never accept Barack Obama as president.
Zeeda Andrews, a co-organizer of the trucker protest and one of the key people spreading its message via social media, appears nearly obsessed with impeaching the president and taking down his administration. Her lunatic fringe rhetoric is almost too easy dig up. Recently, as Media Matters pointed out, she posted a comment on her own YouTube channel suggesting that Osama Bin Laden and Barack Obama were the same person. In a blog post last week, she referred to the president as Barry Soetoro, using the last name of his Indonesian stepfather, the name given to him in a viral April Fools hoax that claimed he was a foreign exchange student. Her personal Facebook page is a torrent of anti-Obama updates, peppered with racially charged venom and birther conspiracy theories. In one post she complained about the absence of a visible American flag during an Obama speech. "Because he is not American," Andrews grumbled.
And yet Andrews is downright tame compared to the truckers' other self-appointed spokesman, the radio host Peter Santilli, who made headlines in May when he said he wanted to shoot Hillary Clinton in the vagina.
Perhaps this is why some within the trucking industry have distanced themselves from it -- or rather they've hauled off in the other direction. In a statement released on Tuesday, Norita Taylor of the Owner-Operator Independent Drivers Association accused the protest organizers of essentially using well-intentioned truckers as pawns in an ideological battle.
"The individuals leading this particular effort have no direct affiliation with trucking and appear to be using truckers in order to gain media attention and air other political grievances," Taylor wrote. "We do not support assembling in an unlawful, unpermitted manner, committing crimes, making threats on our lawmakers, or behaving in such a way to cast safe, professional truck drivers in a negative light."
It was a similar story at the American Trucking Association, which said on its website that it does not "endorse or condone the activities of these few individuals."
Despite the fierce industry condemnation, and the suggestion by some that the entire protest may be a hoax, enough people -- truckers and otherwise -- are falling for it. Using the hashtag #T2SDA, Twitter users are counting down the hours to Friday, when the truckers say they will ride into the D.C. area and shut down traffic in a concerted strike effort. If it happens, as one Twitter user pointed out, they'll have the federally funded Interstate Highway System to thank.
An email to the truckers' media contact was not immediately returned.
Got a news tip? Send me an email. Follow me on Twitter: @christopherzara
© Copyright IBTimes 2022. All rights reserved.
FOLLOW MORE IBT NEWS ON THE BELOW CHANNELS