Trump Accused Of Being A Nazi: Billboard Artist Receives Death Threats After Hitler Comparisons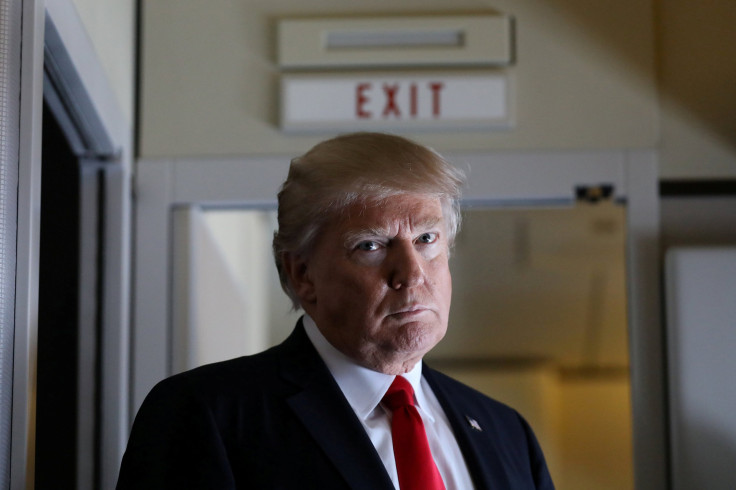 Last Friday, as residents of Phoenix, Arizona, drove home after a long day at work, they saw something unfamiliar: A billboard depicting President Donald Trump wearing a Russian flag pin. Next to him were two nuclear explosions and two dollar signs stylized like swastikas from Nazi Germany.
Read: Is Trump A Fascist? 10 Quotes From The President On Nationalism, Militarism And Violence
The person behind the billboard was artist and activist Karen Fiorito, who was commissioned by a Phoenix art gallery to stir controversy. And stir controversy she did. Fiorito told the Arizona Republic Saturday that she recieved death threats.
"I've been called a communist, a Satan worshiper," Fiorito said. "I've been told I'm a 'very, very sick person.' I'm not sure what that means. I haven't been answering the phone. My husband has because he's not afraid to talk to anyone, but he told me he received a couple death threats this morning."
Read: Trump, Alt-Right Movement: Nazis, White Supremacists Praise New Security Measures Against Radical Islam
Others bypassed the phone and took to social media to express their condemnation of the billboard:
But Fiorito, who previously worked on other billboards with political commentary, said she expected the backlash. The artist stood by her work, saying it expressed the feelings of people who were afraid Trump is taking steps to create a dictatorship.
"It's more of a form of resistance, a form of protest," she said. "I feel that I'm really just speaking for other people who might not be able to say anything, or speak out, or may not feel safe in doing so. Part of it, the back of it, is a call to unity. It's a call for people who feel like they're in the minority to come together."
Fiorito also designed the opposite side of the billboard, which depicts five raised fists spelling out the word "unity" in sign language.
© Copyright IBTimes 2023. All rights reserved.