Trump Foreign Policy: State Department Lays Off Staff 2 Weeks After Rex Tillerson Confirmation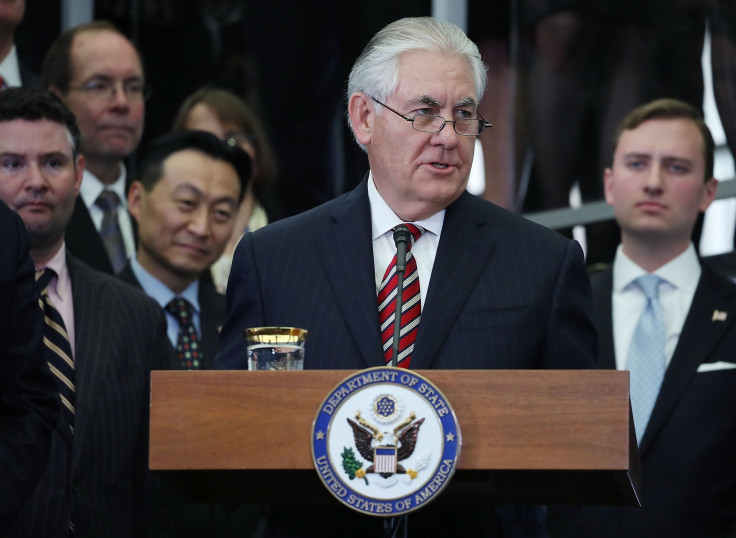 Secretary of State Rex Tillerson's aides laid off several staff members of the State Department Thursday, a little more than two weeks after he was sworn into office. The move has left some to worry that the cuts were driven by political interests removing imperative policy-making knowledge from offices instead of restructuring the administration, CBS News reported.
A majority of those laid off were individuals aiding the Deputy Secretary of State for Management and Resources, as well as those in the Counselor offices. The employees were considered the link between country bureaus and the state secretary's department, offering insight on foreign policy. State Department spokesman R.C. Hammond avoided the specific reason as to why staff was laid off, but said that the administration is building out its team.
"As part of the transition from one administration to the next we continue to build out our team. The State Department is supported by a very talented group of individuals, both Republicans and Democrats. We are appreciative to any American who dedicates their talents to public service," Hammond told CBS News in a statement.
State Department Counselor and Ambassador Kristie Kenney was also told her services would no longer be needed and staff was informed that Tillerson will not be actively looking to rehire for her position in the near future. The secretary of state was scheduled to travel overseas for the first time in his new position this week and was absent during White House meetings with Israeli Prime Minister Benjamin Netanyahu. No other State Department official was present, either.
Tillerson was an Exxon Mobil Corp. chief executive before assuming his position as secretary of state in the Trump administration. He was reportedly close to Russian President Vladimir Putin, who awarded Tillerson the Order of Friendship honor in 2013 for condemning U.S. sanctions against Moscow.
© Copyright IBTimes 2023. All rights reserved.