Is Trump Hiding Something? Preet Bharara Declined Trump Call Before Firing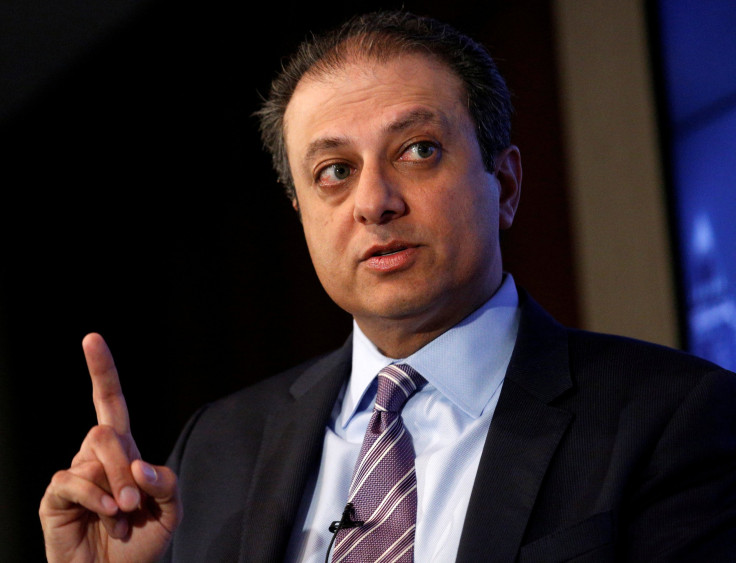 U.S. Attorney Preet Bharara reportedly declined to take a phone call from President Donald Trump two days before he was fired because he was unable to secure permissions to talk to the president from his Justice Department superiors.
Bharara was fired Saturday after defying a request to resign and Sunday likened his dismissal to the elimination of the Moreland commission, which was disbanded by New York Gov. Andrew Cuomo while it still was in the middle of its investigation of corruption in Albany.
​
Reuters, quoting an anonymous source, reported Bharara refused to take a call from Trump and contacted the Justice Department Thursday for authorization to talk to the president but never got a call back. He contacted the White House to explain his predicament.
Read: Franken Demanding Better Explanation From Sessions On Russian Contacts
Reuter's source declined to say whether Bharara's office was investigating anything related to the president.
The president Friday asked for the resignations of the 46 U.S. attorneys who were holdovers from the Obama administration, a request that is not unusual when a new administration moves into the White House. However, Bharara's firing came as somewhat of a surprise because he had told reporters Trump asked him to stay on following a meeting in November.
Reuters said neither the Justice Department nor the White House had any comment.
Read: How To Report Trump Ethics Violations
Three watchdog groups last week asked Bharara to move to prevent the Trump Organization from receiving benefits from foreign governments since Trump has not given up his business interests.
Rep. Elijah Cummings, D-Md., told ABC's "This Week" on Sunday he would like to know what precipitated the firings.
"Not very long ago, the president was saying that he was going to keep the U.S. attorney there in New York. And then, suddenly, he's, I guess, changed his mind. I'm just curious as to why that is," Cummings said.
© Copyright IBTimes 2023. All rights reserved.