Trump Impeachment Trial: What Happened Tuesday, What's Next
KEY POINTS
Democrats offered 11 amendments to trial resolution, McConnell rejected all
In the 12-hour-long trial, Senators struggled to stay awake
House managers have 3 days to make their opening arguments
Republican-controlled Senate forced through an "organizing resolution" that established the rules of the impeachment trial of President Donald Trump, after hours of debate in the early morning on Wednesday.
The impeachment trial will end on Jan. 28. If found guilty, Trump will be removed from the office.
Here is what happened on Day 1:
Senate Majority Leader Mitch McConnel, R-Ky., included last-minute tweaks to the rules resolution following concerns by senators, including Susan Collins, R-Maine, Lisa Murkowski, R-Alaska, and Rob Portman R-Ohio.
Now House managers have three days, from the earlier two, to make their opening arguments; and House evidence will be automatically included in the trial record.
Democrats offered up 11 amendments to the trial resolution, but McConnell managed to keep his flock together defeat those with votes on party lines.
Among those was a proposal to subpoena former National Security Adviser John Bolton to testify in the impeachment trial. The Senate voted 53-47 to reject the proposal, which was the eighth amendment proposed by the Democrats. Bolton had earlier said that he was prepared to testify if the Senate issued a subpoena. Bolton is a key witness to the moments leading up to and following the July 25 call that Trump had with Ukrainian President Volodymyr Zelensky.
Chief Justice John Roberts Scolds Legal Teams:
Democrats' proposal to issue a subpoena for Bolton led to some heated arguments, which earned both teams a rebuke from Chief Justice John Roberts, who is presiding over the impeachment trial.
"So far, I'm sad to say, I see a lot of senators voting for a coverup," House Judiciary Committee Chairman Jerry Nadler said during his arguments. "Voting to deny witnesses and obviously a treacherous vote. A vote against an honest consideration of the evidence against the President. A vote against an honest trial. A vote against the United States."
Replying to that White House counsel Pat Cipollone said, "The only one who should be embarrassed, Mr. Nadler, is you. For the way, you addressed this body. This is the United States Senate. You're not in charge here."
Roberts reminded the teams that they need to be on their best behavior when addressing the Senate and remember they are addressing "the world's greatest deliberative body." "One reason it has earned that title is because its members avoid speaking in a manner and using language that is not conducive to civil discourse."
"In the 1905 Swain trial, a senator objected when one of the managers used the word 'pettifogging' and the presiding officer said the word ought not to have been used," Roberts said. "I don't think we need to aspire to that high of a standard, but I do think those addressing the Senate should remember where they are."
Senators Struggled To Stay Awake:
Some senators struggled to stay focused during the extended arguments. Senators could be seen periodically gazing up at the galleries.
Sen. Bernie Sanders, a presidential hopeful, yawned and at one point tipped his head back on his chair. And both sides are using audiovisual aides to keep people awake.
The long hours of arguments are expected to be especially tough on the older senators. The average age of senators in the 116th Congress is 62.9 years. The youngest senator is 40-year-old Josh Hawley, R-MO, (born Dec. 31, 1979); the oldest is Dianne Feinstein, D-CA, (born June 22, 1933).
'Please Do Not Touch Me':
Security has been tightened around the Capitol building and the Sergeant-at-Arms distributed a card to 100 senators, with phrases including 'Please do not touch me,' 'Please excuse me, I need to get to a hearing/meeting,' 'Please excuse me, I am trying to get to the Senate floor,' 'You are preventing me from doing my job,' 'Please move out of my way,' etc., to avoid confrontation with the protesting crowds. If these phrases failed to help, the senators can always shout 'Help, Police!'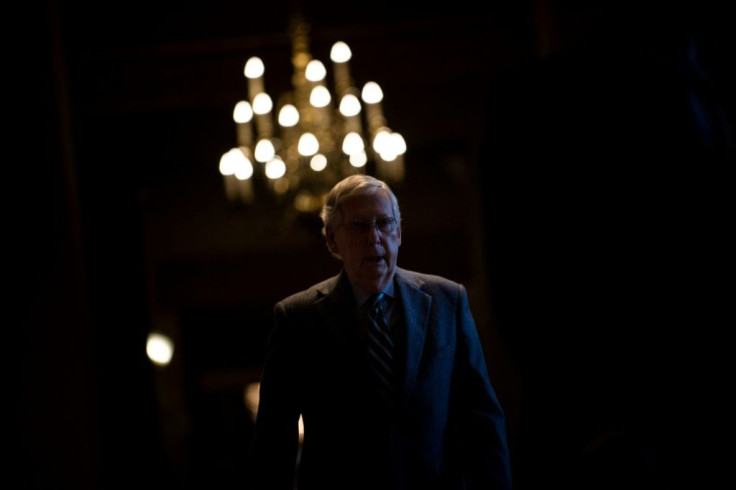 Schedule For The Impeachment Trial
* Jan. 22: Democratic arguments
* Jan. 23: Democratic arguments
* Jan. 24: Democratic arguments
* Jan. 25: Trump team arguments
* Jan. 27: Trump team arguments
* Jan. 28: Trump team arguments
* Jan. 29: Senator questions
* Jan. 30: Senator questions
* Jan. 31: Four hours of debate on whether to subpoena witnesses and subpoenas. There will be a vote on witnesses and documents, and a vote on other motions. If all votes fail, the Senate might move to an acquittal vote.
© Copyright IBTimes 2023. All rights reserved.