Trump Protesters: Inauguration Day Rioting Ends In Felony Charges For More Than 200 People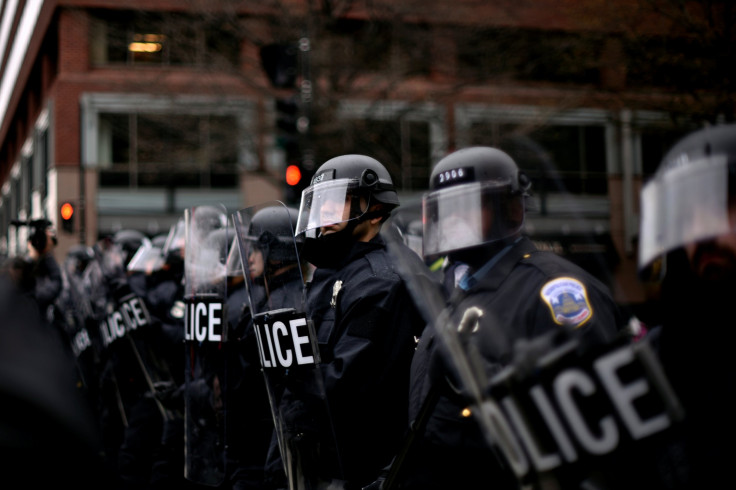 Five more people were indicted and charged with felony rioting by a grand jury in the Superior Court of D.C. on Tuesday over events related to protests on President Donald Trump's Inauguration Day, bringing the total number to 214, according to the U.S. Attorney's Office.
Trump was sworn in as president on Jan. 20, as mass protests were held across the country. While most resistance was non-violent, there were instances of violence reported when "anti-fascist" protesters took to the streets, smashing storefronts and public property.
The incidents reportedly happened between the intersections of 13th and O Streets NW and 12th and L Streets NW, causing law enforcement to respond by using smoke and flash-bang devices into the street after the crowds broke the windows of a limousine and attacked the police with rocks.
While 230 protesters were arrested, six police officers were injured in the process, CNN reported.
The five individuals — Alessandro Pane, Alexei Wood, Kaitlyn Rorke, Matthew Pink and Dane Powell — join the 209 other protesters indicted on rioting charges earlier this month. According to the law, felony rioting can receive a maximum of 10 years in prison with a fine of up to $25,000.
According to the indictment, the people charged reportedly concealed their identities with black clothing and items that would hide their faces like scarves, helmets or sunglasses, in order to go undetected, a tactic referred to as the "Black Bloc." It added that the crowds assaulted a limousine driver and carried out "violent and destructive acts."
Despite these instances of violence breaking out on the streets, most protests on Inauguration Day were non-violent. They were followed by the massively successful Women's March the next day, on Jan. 21, which saw hundreds of thousands of people coming out to protest Trump's presidency in a peaceful manner.
© Copyright IBTimes 2023. All rights reserved.