Trump-Putin Phone Call: Presidents Agree To Cooperate, Improve US-Russia Relations, Kremlin Says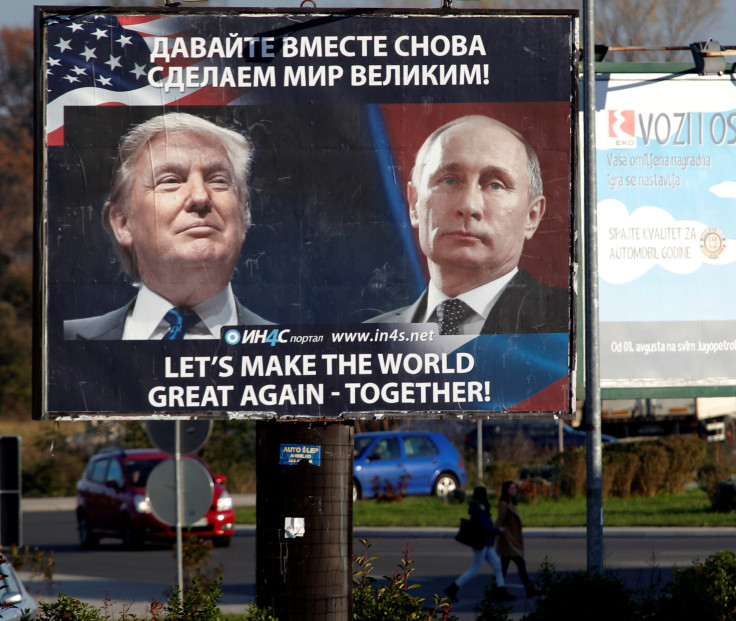 President Donald Trump spoke to his Russian counterpart Vladimir Putin by telephone Saturday, and while the White House did not comment on the conversation, the Kremlin issued a statement saying the two leaders agreed to increase U.S.-Russia cooperation on a wide range of issues.
The Kremlin statement (in Russian) said "both sides had shown a disposition to actively work together on stabilization and development of Russian-American cooperation in a constructive, equal and mutually beneficial basis."
It made no mention of sanctions the U.S. has imposed on Moscow, a number of them by Trump's predecessor Barack Obama. It did, however, say the conversation stressed "the importance of the restoration of mutually beneficial trade and economic ties between the business communities of the two countries, which could further stimulate progressive and stable development of bilateral relations."
The presidents discussed a range of international issues including terrorism, the Arab-Israel conflict, the situation in the Middle East, Iran's nuclear program and North Korea, as well as the crisis in Ukraine. Specifically, Trump and Putin also called for increased coordination between the U.S. and Russia to defeat the terrorist groups in Syria.
They also discussed setting up a meeting, for which the dates and venue are being decided, and agreed to maintain regular personal contact.
Both Trump and Putin have said they would like better ties between the United States and Russia. In an interview with Fox News on Thursday, Trump said: "I don't know Putin, but if we can get along with Russia that's a great thing, it's good for Russia, it's good for us. We go out together and knock the hell out of ISIS [the Islamic State group]. Because that's the real sickness, you know the whole ISIS thing is the real sickness."
The White House also released Saturday a memorandum issued by Trump that asks his administration to come up with a comprehensive plan to defeat ISIS. The first draft of the plan is to submitted within 30 days.
During his election campaign, Trump often said he has a plan to defeat ISIS, but he never shared its details, saying it must be kept secret in order to surprise the terrorist group.
© Copyright IBTimes 2023. All rights reserved.
FOLLOW MORE IBT NEWS ON THE BELOW CHANNELS