Trump Rally Supporters Stranded In Cold...Again
Trump supporters were once again left out in the cold as shuttles for a rally outside of Pittsburgh on Saturday night were late to arrive. The mishap comes after hundreds of supporters on Tuesday were also left stranded in cold temperatures in Omaha, Nebraska.
At Pittsburgh-Butler Regional Airport, many rally-goers waited for almost two hours in 40-degree temperatures for shuttles to take them back to their cars and buses.
CNN reporter Ryan Nobles described the lack of transportation as a "logistical nightmare."
"It became so frustrating for many of these Trump supporters, they ended up just walking," Nobles told host Anderson Cooper. Nobles noted that the walk was up to four miles.
In Omaha, seven people were hospitalized after they waited for shuttles. The 21-degree weather caused another 30 people to be treated by medical personnel on-site. Some even required treatment for hypothermia.
"We need at least 30 more buses," an Omaha police officer said to CNN reporter Jeff Zeleny.
A 19-year-old South Dakota man, who had driven four hours to attend the Omaha rally, posted on Twitter that his walk of over three miles to his car was "disheartening."
Trump's Omaha rally was intended to win the single electoral college vote in Nebraska's 2nd District.
Pennsylvania, which has 20 electoral votes, is considered crucial to Trump's reelection hopes. Trump trails in most of Pennsylvania polls.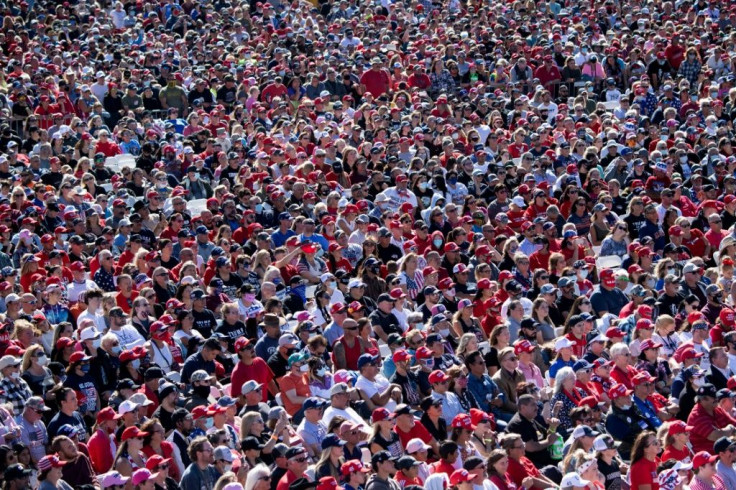 © Copyright IBTimes 2023. All rights reserved.