Trump's Twitter Use Increasing Threat Of War With North Korea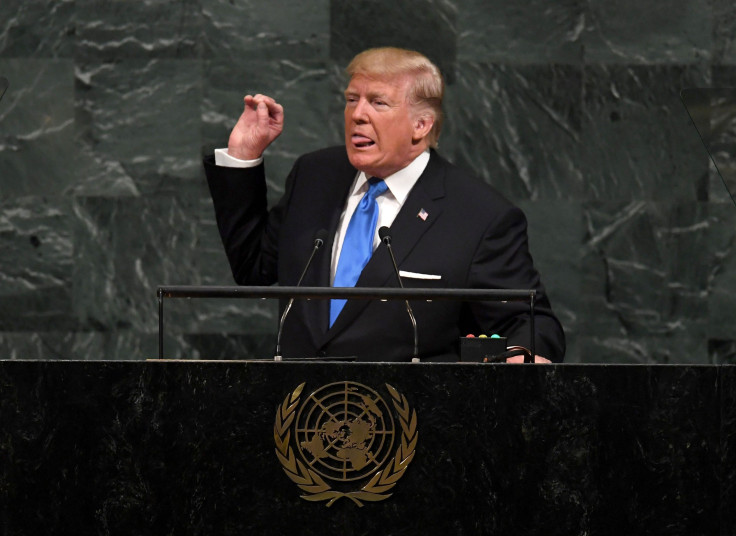 President Donald Trump is known to rake controversies with his posts on Twitter. But on Saturday, he went a step further and posted a tweet that North Korea considered a declaration of war.
"Just heard Foreign Minister of North Korea speak at U.N. If he echoes thoughts of Little Rocket Man (North Korean leader Kim Jong-un), they won't be around much longer!" Trump tweeted, which was conceived by Pyangyong as a declaration of war by the U.S.
North Korea's foreign minister, Ri Yong Ho, addressed the UN General Assembly on Saturday, days after POTUS referred to the North's growing nuclear power at the UNGA. He also made a mention of Trump's "Rocket Man" remark. "Due to his lacking of basic common knowledge and proper sentiment, he tried to insult the supreme dignity of my country by referring it to a rocket," he said. "By doing so however, he committed an irreversible mistake of making our rocket's visit to the entire U.S. mainland inevitable all the more."
After Trump posted the tweet Saturday, Yong Ho told reporters Monday that his nation now holds "the right to shoot down the United States strategic bombers even when they're not yet inside the airspace border of our country."
As tensions grow between the longtime rival countries, with Trump staying mum when it comes to clarifying his stance on the declaration of war with the North, the White House scrambled to fix the situation."We've not declared war on North Korea, and frankly, the suggestion of that is absurd," said White House Press Secretary Sarah Huckabee Sanders in a press briefing, Boston Herald reported. "It's never appropriate for a country to shoot down another country's aircraft when it's over international waters."
One of the reasons North Korea may have considered Trump's tweet a declaration of war may have been because it is still unclear if the president's tweets are considered official statements or not. In June, former White House Press Secretary Sean Spicer affirmed that everything that Trump said on Twitter would be considered an official statement.
He "is the President of the United States, so they (the tweets) are considered official statements by the President of the United States," Spicer said, CNN reported. However, it was not immediately clear if he referred to Trump's personal account (@realDonaldTrump) or his presidential account (@POTUS).
According to the Presidential Records Act of 1978, any records created during a presidential term, which includes the records created on electronic platforms like email, Facebook, Twitter and YouTube related to "constitutional, statutory, or other official or ceremonial duties of the President," are governed by the PRA and can be made available to the public under the Freedom of Information Act.
Meanwhile, Twitter officials have said they would not delete Trump's tweets, which have added to the war hysteria. Even though the company reserves the right to remove content and disable accounts that post violent threats, the same policy does not apply to the POTUS, the company said, as his tweet was "newsworthy" and of "public interest."
When the company was further questioned on why such exceptions were being made, Twitter stated it would soon be updating its public policy to better reflect the criteria used to judge the content, Business Insider reported.
However, this is not the first time that North Korea has just "assumed" without a formal announcement that the U.S. declared a war against them. When America had imposed sanctions on the peninsular nation in July 2016, Pyangyong considered it a declaration of war from the West.
Sung-Yoon Lee, a Korea expert at The Fletcher School at Tufts University, said that North Korea's latest threat to shoot down U.S. aircraft over international waters was nothing more than "fake illusory bait and switch."
"North Korea set the stage for the next big provocation, which will not be shooting down a U.S. spy plane or warplane, but rather another serious missile test or a nuclear test," Lee added, Boston Herald reported.
© Copyright IBTimes 2023. All rights reserved.