Truth About Melania Trump Blocking President Donald On Twitter Following Qassem Soleimani's Death
KEY POINTS
Melania Trump did not block President Donald Trump on Twitter
The former model is, reportedly, living a complicated life as FLOTUS
Melania Trump returned to the White House in style
Melania Trump has been linked to several issues and controversies since she assumed the role of First Lady of the United States from Michelle Obama in 2017. Critics continue to lambast the FLOTUS over numerous things, including her personal background, fashion choices, and advocacies. There are also some who admire Melania for being very vocal about her opinions on certain issues even if it does not match President Donald Trump's views.
Recently, there have been reports claiming that Melania decided to block Donald on Twitter after the death of Iranian major general Qassem Soleimani on Jan. 3. A website claimed that their "irreconcilable differences" pushed the FLOTUS to break up with the POTUS on the social media site. The publication even cited an alleged close pal of Melania, who claimed that the former model's current life is not easy.
"It's hard being Melania. Every day she needs to be beautiful for the cameras, be a mother, and act as if is she cares about stuff," a certain Andrew Canard, reportedly, said. "All that is undermined when her phone is blowing up because Donny is tweeting about how he isn't a crook," he went on.
However, upon checking Melania Trump's official Twitter page, IBTimes learned that the FLOTUS is still following President Donald Trump. In other words, the report saying that Melania blocked the POTUS on Twitter is not true at all. Hence, netizens should not buy into this sensational yet fake report.
Meanwhile, Footwear News reported that Melania is back at the White House in Washington, D.C. on Sunday, after spending a holiday trip to the POTUS's Mar-a-Lago estate. The FLOTUS arrived at the presidential home donning a cozy cashmere ensemble she paired with white leather boots. Melania was snapped strutting off Air Force One alongside the President and their 13-year-old son, Barron.
Melania Trump also welcomed 2020 in style. The Slovenian-American former fashion model sported an elegant look when she opted to wear a silk-georgette Givenchy gown, which costs $4,740. Aside from President Donald Trump and the FLOTUS, Ivanka, Eric, Don Jr. Tiffany and Barron were also present during the family's New Year's Eve party.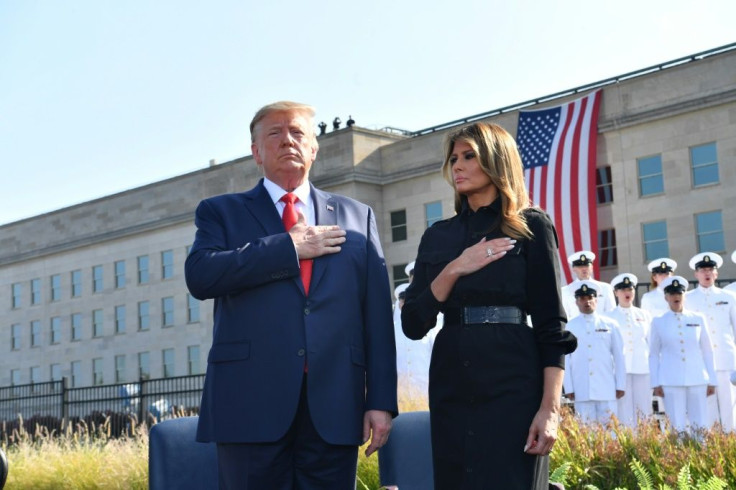 © Copyright IBTimes 2023. All rights reserved.