Tucker Carlson's 'Love Sponge' Comments: Elena Kagan, Alexis Stewart Demeaned, Among Others
Fox News host Tucker Carlson was discovered making misogynistic remarks while talking about a list of famous women from different fields like entertainment, politics, and journalism, among others, in conversations he had with the hosts of "Bubba the Love Sponge," a popular shock jock radio program, between 2006 and 2011.
Much like President Donald Trump's infamous Access Hollywood tape, which he later dismissed as "locker room talk," an audio montage of Carlson's decade-old conversations, published by non-profit watchdog Media Matters, caught the TV anchor using demeaning terms to describe a number of women.
Here is a list of women he mentioned by names in the excerpts of conversations released by the outlet:
Martha Stewart's daughter, Alexis Stewart – "She just does seem a little c---y. I mean you said it; I'm just agreeing with you. I don't use that word because it's offensive," Carlson told the radio station, adding that she was "awful" and deserved to get a "spanking." He went to say that Alexis was the kind of woman who makes a man's life hell if he marries her.
Celebrities Britney Spears and Paris Hilton: Carlson criticized a commercial featuring singer Britney Spears and reality star Paris Hilton with former President Barack Obama. "So they're trying to say that he's coming for your pristine white daughters by putting two of the biggest white w----s in America," he said.
Former Alaska Gov. Sarah Palin: Talking about the fact that he voted for Sen. John McCain, who was the Republican presidential candidate in the 2008 election, Carlson said that he wanted to "f—k Sarah Palin," who was McCain's running mate the time.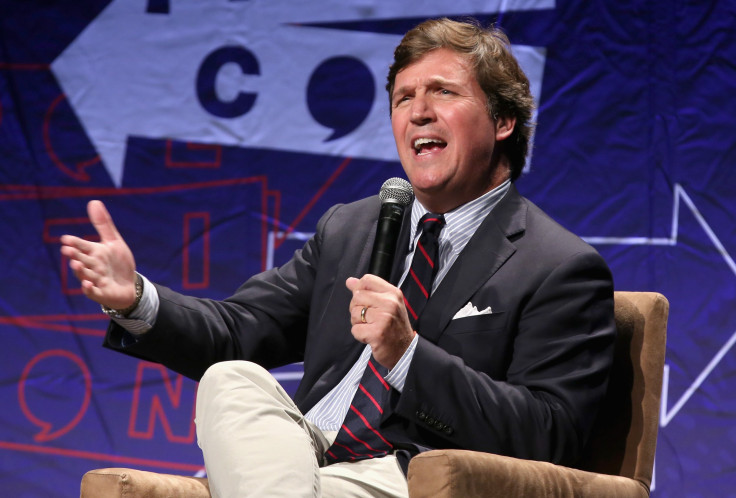 TV journalist Contessa Brewer: On being enquired about her looks by the host of the show, Carlson described Brewer as "saucy and cute." He also went onto describe the shape of her body. "As far as I know, yeah, she's like a big, you know, weight lifter and stuff," he said.
Former Secretary of State Hillary Clinton: Carlson had a lot to say about Clinton in conversations that took place in 20016 and 2008. "Now the problem with Hillary is you look at Hillary and you know in your heart that if she could castrate you, she would," he said, adding that it was the reason "she gets not a single vote from any white male in the country." He also called her "strongly anti-penis."
Former wife of Republican Congressman Michael Huffington, Arianna Huffington: Replying to the radio show host telling him that it was wrong for Arianna to have attacked his father, Carlson said, "Oh my God, she's a pig. And the funny thing is, I've known her for a long time and knew her husband and everything, and I could -- I could have a lot to say about that, actually."
Supreme Court Justice Elena Kagan: Saying that he would not vote for Kagan, who was nominated by Obama in 2010, Carlson went on to criticize her appearance. "But I do feel sorry for her in that way. I feel sorry for unattractive women. I mean it's nothing they did. You know, she didn't. Nobody deserves that. And men are just mean," he said.
TV personality and media executive Oprah Winfrey: Carlson suggested that Winfrey was vehemently against the male race in general, telling people that men were rapists and abusers on her popular TV show. "And yet somehow the rest of us have been bullied into pretending that Oprah's great, that she doesn't hate the penis, that she's not anti-man," he said.
On Sunday, Carlson issued a statement regarding the newly unearthed comments, in which he refused to apologize for his behavior: "Media Matters caught me saying something naughty on a radio show more than a decade ago. Rather than express the usual ritual contrition, how about this: I'm on television every weeknight live for an hour. If you want to know what I think, you can watch. Anyone who disagrees with my views is welcome to come on and explain why."
© Copyright IBTimes 2023. All rights reserved.