Twitter Continues To Poke Fun At Melania Trump's New Year's Resolution
KEY POINTS
Melania Trump's New Year's resolution is once again a hot topic on social media
Melania Trump slammed for making a grammar mistake
Donald Trump accused of ruining Melania's New Year's resolution
Melania Trump's New Year's resolution is still a hot topic among social media users.
The First Lady of the United States was previously asked about her New Year's resolution and she responded with "Peace on the world." Just three days after that, her husband President Donald Trump ordered a missile strike killing Iran's top general Qassem Soleimani. Due to the incident, many felt that Melania is not getting her resolution this year.
Tony Posnanski, an award-winning artist, took to Twitter and shared that he had been crunching the numbers and concluded that Melania's "peace on the world" New Year's resolution is not going as planned. Surprisingly, many netizens disagreed because for them, the FLOTUS' resolution is still on target because what she really meant was "piss on the world."
"'Piss on the world' is definitely going as planned," one commented.
"I heard 'piss on the world' so by that calculation she's on target," @JDNewEngland added.
"It does if you realize she was saying 'Piss on the world'. That's what it sounded like to me anyway," Pamela Mathis opined.
"I think she said, 'Piss on the world'. Seems more accurate," @BackToMeResist wrote.
Aside from mocking Melania's pronunciation of "peace," several users lambasted the first lady for making a grammar mistake when she delivered her statement. The FLOTUS should have said, "peace in the world," and not "peace on the world." After making that mistake, many slammed Melania and urged her to take English grammar classes.
Meanwhile, Donald Trump Jr. explained why Melania is beeing targeted by the critics. According to him, the attacks are not really meant to hurt Melania, they are made to get to the president.
Donald Jr. described his father as "unbreakable." He likened the move of attacking Melania to an old movie plot where the villain realizes he can't break the hero, so he turns his wrath onto the hero's family.
Journalist Andrew Cohen shared the same premise. For him, Melania is the "greatest casualty" of Donald's presidency and while she can leave the POTUS like his staff, it will be more complicated for the FLOTUS because she is married to him.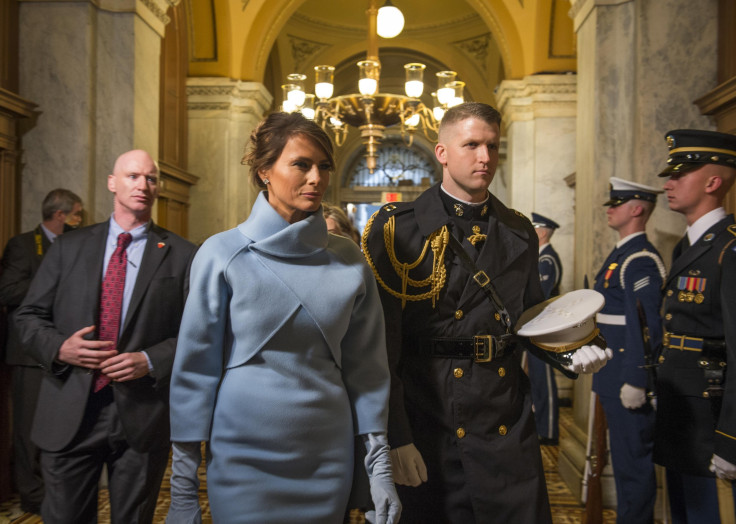 © Copyright IBTimes 2023. All rights reserved.