Twitter Reacts After Joe Scarborough Accuses Trump Of Blackmailing Him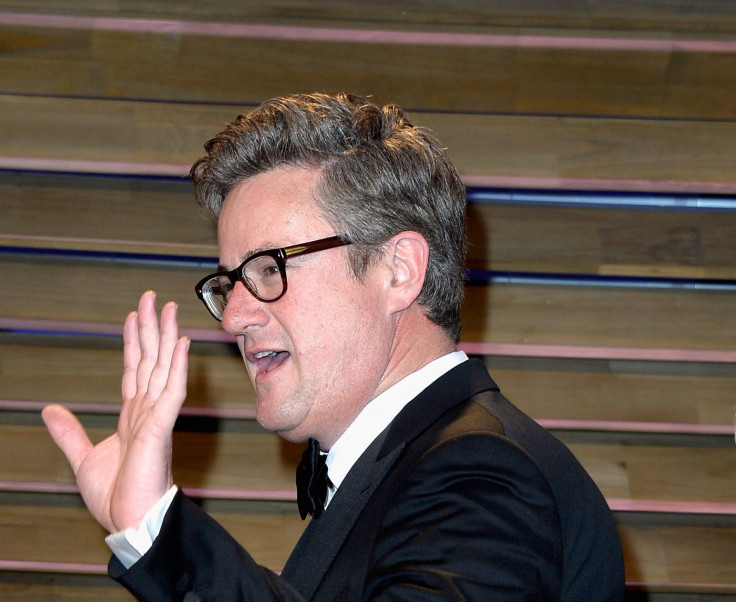 President Donald Trump should be investigated for blackmail, Twitter users wrote Friday after they witnessed the public spat between President Donald Trump and the host of MSNBC's "Morning Joe," Joe Scarborough, unravel the day before. Scarborough said on his show Friday that Trump team threatened him with a negative story in the pro-Trump tabloid, the National Enquirer, if he didn't soften his critiques of the president.
"We got a call that, 'Hey, the National Enquirer is going to run a negative story against you guys...' And they said, 'If you call the president up, and you apologize for your coverage, then he will pick up the phone and basically spike this story," Scarborough said, alleging that three members high in the administration kept calling him.
"It's blackmail," he concluded.
READ: Celebs Slam Donald Trump For Attacking 'Morning Joe' Hosts, Call POTUS A 'National Embarrassment'
Some users on Twitter called for an immediate investigation by Congress while others suggested that the Special Counsel Robert Mueller look into the subject. Reports have suggested that the Mueller is already looking into the administration for collusion with the Russian government during the 2016 presidential election and obstruction of justice.
The National Enquirer story in question was published in the tabloid in June about Scarborough's relationship to co-host Mika Brzezinski. Brzezinski said that the paper called her children and close friends persistently.
The paper re-posted the story onto social media Friday and Chief Content Editor Dylan Howard defended itself on its website writing that the publication reported the story accurately.
"At the beginning of June, we accurately reported a story that recounted the relationship between Joe Scarborough and Mika Brzezinski, the truth of which is not in dispute," Howard's statement read.
"At no time did we threaten either Joe or Mika or their children in connection with our reporting on the story. We have no knowledge of any discussions between the White House and Joe and Mika about our story, and absolutely no involvement in those discussions."
Twitter users pointed that the National Enquirer has so little credibility that attacks by the publication should be immediately dismissed.
READ: Joe Scarborough Says Donald Trump Is A 'Kid Pooping In His Pants,' Says President Might Be Putin's 'Hostage'
Trump responded to Scarborough's accusation with a tweet, offering a very different account of the alleged phone calls by Scarborough, a former Republican congressman from Florida.
"Watched low rated @Morning_Joe for first time in long time. FAKE NEWS. He called me to stop a National Enquirer article. I said no! Bad show" he tweeted Friday morning.
Scarborough said that he kept records of the phone calls and contacts from the Trump team and the president himself.
"NBC execs knew in real time about the calls and who made them to me," the host wrote to Red State's Jay Caruso. "That's why Mark Kornblau wrote about contemporaneous texts. I showed him and executives as they were coming in to keep them advised."
The feud between the hosts on "Morning Joe" and Trump Friday is a continuation of a spat that they had the day before when the president tweeting Brzezinski was "bleeding from a face-lift" when the two hosts were visiting his Florida hotel in Mar-a-Lago.
© Copyright IBTimes 2022. All rights reserved.
FOLLOW MORE IBT NEWS ON THE BELOW CHANNELS