Twitter Users Rally Behind Finnish PM After She Apologizes For 'Inappropriate' Partying Photo
KEY POINTS
Marin apologized after a photo of two topless women kissing in her summer residence emerged
Twitter hashtags #solidaritywithsanna and #dancewithsanna are trending in support of Marin
Marin became the world's youngest prime minister when she took oath in 2019
Twitter users, mostly women, are rallying behind Finland's Prime Minister Sanna Marin after she apologized for a controversial photo of two women kissing, nearly topless, in a bathroom in her official summer home in Kesäranta, Helsinki. The hashtags #solidaritywithsanna and #dancewithsanna are trending on the social media platform as hundreds of users posted dancing videos to show their support for the criticized leader.
The photo in question was taken in July and widely shared on social media earlier this week.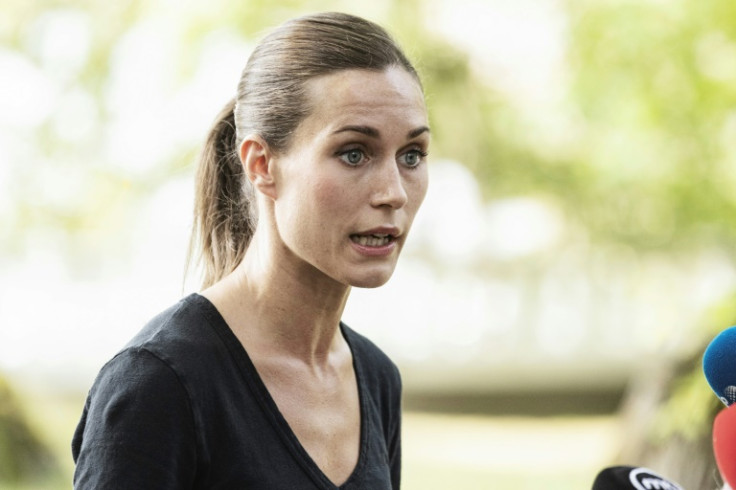 Marin, 36, confirmed that the photo was taken in a bathroom in her summer residence, the Associated Press reported Wednesday, citing Finnish broadcaster YLE. "In my opinion, that photo is not appropriate, I apologize for that. That photo shouldn't have been taken," Marin was quoted as saying by the broadcaster.
In her apology, the prime minister explained that she and her private guests used sauna facilities and the garden area in the residence but that her partygoers "did not spend time inside the Kesäranta house." However, she did clarify that guest toilets on the first floor were used.
On Wednesday, Marin appeared in a television broadcast where she tearfully defended her work track record and her right to enjoy a private life. In the video with translations of Marin's defense and apology, Sky News quoted the Finnish politician as saying that she too misses "sometimes joy, light and fun."
Marin agreed that in her pursuit of happiness during "dark times," the publication of footage and photos cannot be avoided.
"And that involves certain types of photos and videos which I would not like to see and I know you would not want to see. And yet it's shown to us all. It's private, it's joyful and its life. But I haven't missed a single day of work. I haven't missed a single work assignment and I never will. All that is irrelevant when we need to build this country stronger," she said tearfully.
Marin, who is a member of the Social Democratic Party of Finland, finished her speech with an assurance that she will continue doing her job. "I will learn and I will do my job as good as ever."
Shortly after Marin's apology was reported by global news outlets, Twitter users posted using #solidaritywithsanna to make their opinions known about the matter.
User @BrianwDolan questioned the "double standards" that come with people "losing their head" over Marin's private parties.
One female user slammed the "sexism of hanging Finland's PM out to dry." The user argued that Marin "didn't break any laws" and like other women, should be allowed to have fun.
Other Twitter users opted for the hashtag #dancewithsanna, with some posting videos of themselves dancing and dance GIFs to further make their stance known. Footage of Marin dancing and partying with friends emerged last week, triggering some critical words from her political opponents.
Some influential people also stood behind Marin amid the controversy, including Australian-British author Kathy Lette, who posted a video of herself dancing with actress and writer Lisa Dwan.
Among other influential names and celebrities who rallied behind Marin through using #solidaritywithsanna are OkCupid's Michael Kaye, Australian politician Fiona Patten, British politician Carla Denyer, and Indian politician Hazeena Syed.
Marin has been serving as Finland's Prime Minister since 2019. She was 34 when she took the oath and held the record for the world's youngest-serving PM at the time.
© Copyright IBTimes 2022. All rights reserved.
FOLLOW MORE IBT NEWS ON THE BELOW CHANNELS