TXT, Jonas Brothers Collaboration In The Works? Here Are All The Telling Clues

KEY POINTS
TXT posted a group photo that seemed to reference the cover of a Jonas Brothers album
Nick Jonas and OneRepublic's Ryan Tedder interacted with the post
TXT is set to release a new digital single in July
Fans think a collaboration between Tomorrow X Together (TXT) and Jonas Brothers may be in the works after they seemingly dropped clues on social media.
The speculations started after the five-member South Korean boy band posted via Twitter a group photo showing them lying down by the pool.
Fans were quick to notice its similarities with the cover of the Jonas Brothers' 2019 album "Happiness Begins."
Aside from the photo, TXT's caption "We go Together" happens to be the first line of the Jonas Brothers' song "Sucker" from the "Happiness Begins" album.
Not only did Nick Jonas like the tweet, but TXT's post was also retweeted by the official Twitter account of the Jonas Brothers with the caption, "OMG."
Shortly after, OneRepublic's Ryan Tedder, who composed and produced "Sucker," retweeted TXT's post as well.
The singer-songwriter also retweeted a fan tweet that read: "Tomorrow X Together, Ryan Tedder and Jonas Brothers??? THE WORLD IS NOT READY."
TXT also updated its TikTok account with a sneak peek of its Los Angeles schedule and captioned it: "What's going on with TXT? EP.1 - Guess who we met in LA."
The five members were seen having a meeting with Tedder and Slow Rabbit, the in-house producer of BigHit Music and the main producer of TXT.
With the clues all over social media, fans could not help but feel more excited about TXT's upcoming single.
"I'm already freaking out and it's not even July yet," one fan commented, while another said, "I'm already seated since the beginning."
"[TXT members are] the most successful fanboys I've ever seen in my life. [T]hey slowly manage to work with all the celebrities they dream of. [W]ords are not enough. [I]'m so proud of them," commented another fan.
TXT first hinted at its upcoming digital single Thursday. The track will be released in July, but no specific date has been announced yet.
MOAs – fans of TXT – can already pre-save the group's new single on Spotify and Apple Music ahead of its release.
TXT previously released its fifth mini album "The Name Chapter: Temptation" in January.
According to BigHit, TXT's latest album depicts youth on the brink of adulthood. It talks about the boys' desire to postpone their growth and linger in the freedom of Neverland, as they continue to grow through the challenges of the world.
The five-track album consists of lead single "Sugar Rush Ride" and four other songs "Devil by the Window," "Happy Fools (feat. Coi Leray)," "Tinnitus (Wanna be a rock)" and "Farewell, Neverland."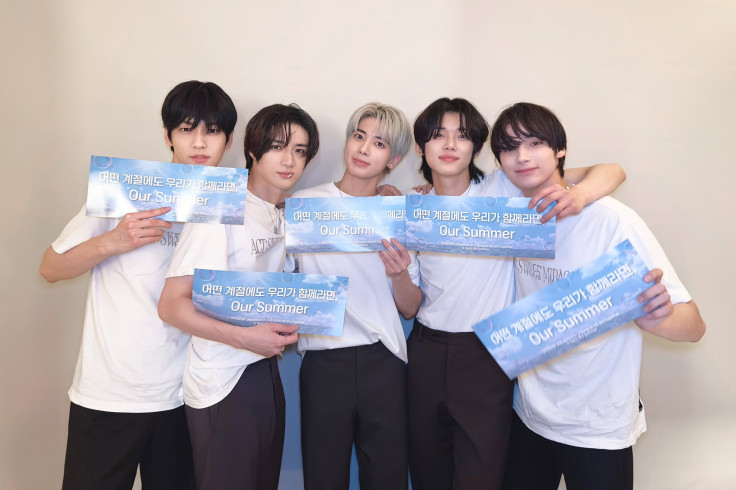 © Copyright IBTimes 2023. All rights reserved.