Unions End Historic Pension Battle With Unilever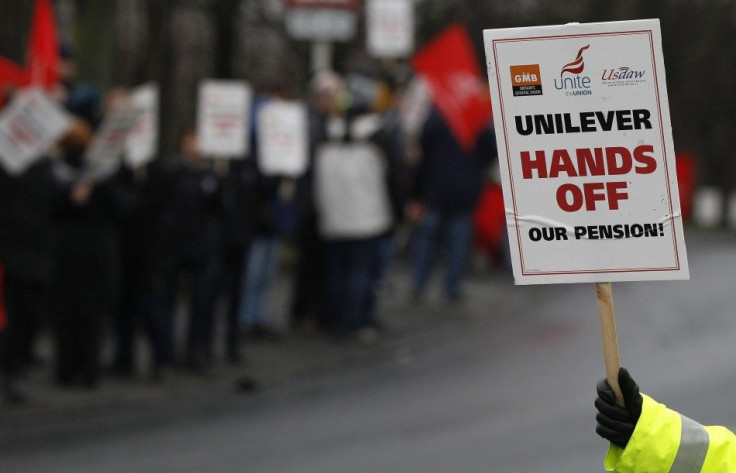 Two of the biggest unions representing Unilever PLC (LON: ULVR) employees, Unite and Usdaw, have agreed to end their historic pension battle against the Anglo-Dutch consumer products maker, reported the Financial Times.
Their decision gives Unilever enough support to push ahead with its pension benefit reduction.
For the past seven months, the maker of iconic consumer products like Dove and Lipton has faced off with unionized workers over reduced pension benefits.
London- and Rotterdam-based Unilever proposed last year to replace its generous final salary pension scheme, a defined plan that pays workers a percentage of their final salary, with a career average revalued earnings scheme, which substantially reduce(s) pension payments, according to just-food.com, a food industry publication.
This moved prompted the prompting first-ever nationwide strikes against the company in December and January.
The standoff has ended now after Unilever offered multiple concessions on their new pension scheme, including a moratorium on further changes until 2018, pledges that any subsequent changes will entail consultation before announcement and an undertaking that there will be no unilateral changes to indices used to measure payments, according to FT, citing Unite.
Furthermore, changes made to Unilever's career average revalued earnings scheme has made it best in class, Jennie Formby, a Unite official, told just-foods.com.
Unilever is one of the many U.K. companies to recently end their final salary pension scheme, which has in their opinion become increasingly costly and unsustainable.
Some of the factors the firms blamed include longer life expectancy, low inflation, falling stock markets and an increased regulatory burden, according to This is Money, a U.K. financial web site under Daily Mail.
Not all firms that cut pension benefits, however, suffered national strikes, as Unilever did.
One reason is the company's reputation -- and employees' expectation - of being a paternalistic employer, in the words of FT.
Lord Leverhulme, founder of a soap business that later became Unilever, was known for his generosity in compensating workers.
Unite claims he fought over a century ago to enhance workers' pension rights.
Unilever's recent decision to cut pension benefits, therefore, spits in the face of everything their founder stood for, stated the union in December 2011.
Shares of Unilever closed down slightly Wednesday.
© Copyright IBTimes 2023. All rights reserved.