UNWTO Promotes Sustainability At Biannual Summit With Help Of Robert Mugabe And His Imported Wildlife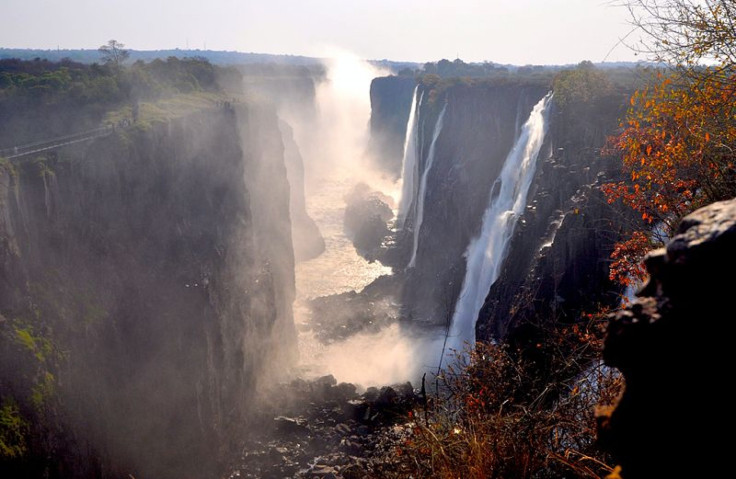 The global travel industry gathered Monday for the U.N. World Tourism Organization's biannual meeting in what, at first glance, may seem like a rather unusual destination: the border between Zambia and Zimbabwe. Similarly odd, Zimbabwe President Robert Mugabe, with assistance from his Zambian counterpart, Michael Sata, was set to host the event, despite the fact that the notorious despot is himself barred from traveling to most Western nations.
The event at Victoria Falls, the world's largest sheet of falling water, comes just weeks after the bitterly disputed July 31 elections in Zimbabwe, which critics believe were rigged in Mugabe's favor. The U.N. said the results would "be respected by the assembly," even though the U.S., Britain and Canada have all condemned the elections as an affront to democratic rights. None of the three governments are participating in the UNWTO meeting, which is billed as "the most important gathering of senior tourism officials and high-level representatives from around the world."
Several Western nations show skepticism over the biannual event as it attracts mostly developing nations, many of which have poor tourism infrastructure. Canada formally withdrew from the U.N. tourism body last year after Mugabe, who is accused of ethnic cleansing and bankrupting his country, became a global leader in the sphere. The U.S. and Britain have never been members of the Madrid-based organization since its inception in 1970.
The non-governmental human rights group U.N. Watch expressed "grave disappointment" at the U.N. decision to make Zimbabwe a co-host of the global tourism summit, saying it was a "disgraceful show of support -- and a terribly-timed award of false legitimacy -- for a brutal, corrupt and authoritarian regime."
Zimbabwe and Zambia will now become co-presidents of the UNWTO through 2015. Zimbabwe's English-language newspaper The Standard claimed that Mugabe wants to use this week's summit "to rebrand in the post-election period."
"It's outrageous that the U.N. is allowing itself to be used like this as a propaganda tool," complained U.N. Watch executive director Hillel Neuer. "Amid reports of election-rigging and ongoing human rights abuses, Zimbabwe is the last country that should be legitimized by a U.N. summit of any kind."
Neuer added that it was "sickening" that the U.N. could now "spin this country as a lovely tourism destination" in the face of "massive abuses of civil liberties which contravene U.N. human rights conventions."
More than 120 delegations from UNWTO member states were expected to gather at Victoria Falls this week for the 20th Session of the UNWTO General Assembly. Visa facilitation, connectivity and accessibility are the key issues the group will discuss, all in an effort "to advance tourism's sustainable growth." The group will also elect a secretary general for the next four years.
"This assembly is a timely opportunity for all of us to continue along an encouraging path to drive tourism towards its fullest potential in fostering sustainable economic growth, jobs and development, and what better backdrop to do so than here in Africa, a region where we believe tourism can be a true force for good," current Secretary-General Taleb Rifai said in a statement.
Yet, some like Neuer fear that by Zimbabwe co-hosting the event, it could do more harm than good by legitimizing the nation for travelers. Critics argue that Zimbabwe is not just some serene overlooked tourism destination compatible with the UNWTO's objectives, but rather an unsustainable -- and indeed hazardous -- destination under Mugabe's rule.
The U.S. State Department's Zimbabwe page is rife with warnings to potential travelers, ranging from muggings at Victoria Falls to being run off the road by Mugabe's motorcade in Harare.
"Visiting U.S. citizens have been arrested, detained, and threatened with expulsion for activities that would not be considered crimes in the United States, including the administration of humanitarian aid and the expression of opinions regarding the current political regime in Zimbabwe," the State Department cautions. "Police have detained U.S. citizens for photographing any subject they view as sensitive no matter how innocuous it may seem to the photographer. You should be very aware of your surroundings and seriously consider the risks of taking any pictures outside game parks and known tourist areas."
Beyond security concerns, conservationists question rewarding Zimbabwe with the UNWTO summit in the face of its poor record on sustainability, one of the themes of the conference.
The independent Zimbabwe Conservation Task Force, or ZCTF, accused the government last week of relocating more than 300 wild animals from the Save Valley Conservancy in Masvingo to Zambezi National Park by Victoria Falls, some 700 kilometers (435 miles) to the west, to "beef up the animal populations" ahead of the big event. The animals included 150 wildebeests, 100 impalas, 60 zebras, 25 eland and 10 giraffes.
"National Parks apparently haven't had enough funds to pay their employees' wages for the past three or four months, so we wonder how they can afford to move these animals," the ZCTF questioned. "We also find it strange that Parks are always claiming that Zimbabwe has an abundance of animals, so if this is true, why is it necessary to move all these animals to Victoria Falls where the delegates of the UNWTO will be able to see them?"
The animals now roam in a 12 square kilometer (5 square mile) poaching-prone area above Victoria Falls as a reminder to attendees of the 20th session of the UNWTO General Assembly of everything the organization claims to stand against.
FOR FREE to continue reading
✔️ Unlock the full content of International Business Times UK for free
offer available for a limited time only
✔️ Easily manage your Newsletters subscriptions and save your favourite articles
✔️ No payment method required
Already have an account? Log in
© Copyright IBTimes 2023. All rights reserved.