UPDATE: 3 Dead As Explosions Rock Boston Marathon Finish Line, JFK Library; Multiple Injuries Reported [VIDEO]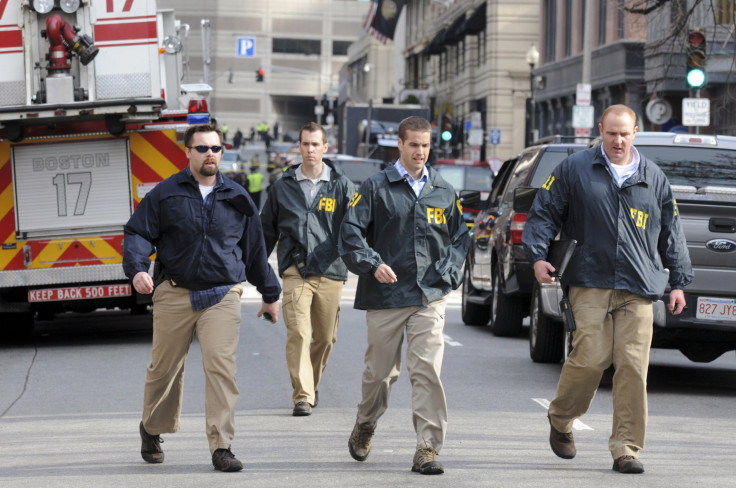 This is a developing story. Stay tuned for updates.
Two explosions rocked Boston Monday afternoon near the finish line of the Boston Marathon Monday afternoon, killing at least three people and injuring more than 130 others.
Twin blasts exploded in Copley Square near the marathon's finish line around 2:50 p.m. Monday. A third blast was initially reported at the JFK Library around 4:30 p.m, but the incident was later said to be a fire and not an explosion.
Update 8:35 a.m. EDT Tuesday: Investigators searched a large area of downtown Boston, including blocks around the blast site area, looking for evidence of the identity of those who placed the bombs. No group or individual had taken credit for the attack, as of early Tuesday morning. The FBI is lead agency in the investigaion.
Update 1:50 a.m. EDT Tuesday: Authorities were talking to at least one wounded patient at Brigham and Women's Hospital, the Boston Globe reported, citing sources familiar with the questioning. But Police Commissioner Edward F. Davis said no one was in custody.
The man questioned in the hospital was a Saudi who was report­edly tackled and held by a ­bystander after he was seen running from near the scene of the explosion, said a law enforce­ment source who spoke with someone involved in the FBI's investigation. The man, believed to be a university student in Boston, is cooperating with the FBI and told agents that he was not involved in the explosions, and he ran only because he was frightened. Investigators did not characterize him as a suspect, and no one had been arrested or charged as of late Monday night.
CNN also reported that a dark-skinned or black man with a backpack was being sought.
Update 12:05 a.m. Tuesday EDT: A large police presence at a home in Revere, Mass., northeast of Boston, is related to the Boston Marathon bombings, Fox Boston reports, citing a law enforcement source.
The source said a suspicious driver was pulled over by Revere police after driving past the State Police barracks several times.
The driver reportedly had a "nervous demeanor" and driver then led police, as well as the FBI, to a home. It was not immediately known what police were searching for at the home.
Massachusetts State Police confirmed that a search warrant related to the investigation into the explosions was served Monday night in Revere but provided no further details.
Update 10:15 p.m.: Dr. Peter Fagenholz, a critical care surgeon at Massachusetts General Hospital in Boston, held a press conference just now detailing his hospital's experience in the immediate aftermath of the bombings, as well as the atmosphere there now.
"We're seeing a lot of shrapnel injuries, many of those involve, again, predominantly lower extremity injuries," he said.
Fagenholz said that there were eight people still in critical condition at Mass General at the time of his press conference, and that there had been "several" amputations performed, but that he has not been able to discern anything about the nature of the bombs based on his observations of the shrapnel left in victims' bodies.
"I don't think we are able to say whether they were small bits of metal that were placed there intentionally, or if they were pieces of the environment," he explained.
"We take care of accidents all the time, but it's just depressing," he said when asked how he felt about the incident. "I can't say I've ever seen in this volume of patients come this quickly with this level of injuries ... This is work so when this happens we just go to work."
But he said the patients were reacting with courage to the reality of their injuries.
"People, they're pretty brave. It's a terrible thing and most patients' attitude is do what you have to do and try to make it better," Fagenholz said.
The FBI and police have scheduled their next news conference for 9:30 Tuesday morning.
Update 8:55 p.m.: Gov. Deval Patrick led a press conference in Boston with various top law enforcement officials beginning at about 8:45 p.m.
Patrick said that "over 100 people are injured, some gravely. We're not ready yet to confirm the details of those injuries," confirming reports of dozens of people being hurt in the attack, and Boston Police Commissioner Ed Davis added that "at least three people have died in this event, but ... the number of injuries is an unfolding issue right now."
Davis added that "there is no suspect" currently in custody at a Boston hospital: "There are people we are talking to … but there is no suspect as has been widely reported in the press."
Rick DesLauriers, FBI Special Agent in Charge of the Boston field office, emphasized that "the FBI is taking the lead in this investigation; it is asserting federal jurisdiction ... This will be a combined federal, state and local effort."
DesLauriers also said that "it is a criminal investigation, that it is a potential terrorist investigation," and that people who may have information related to the bombings should call the 1-800-CALLFBI tip line.
The first question following the conclusion of the statements by the officials asked if the event was a "false-flag" attack brought about by government in order to "control" the populace, echoing a common conspiracy theory that arises in some quarters after such attacks. DesLauriers simply replied, "No. Next question."
Update 7:39 p.m.: The number of injured has risen to 132, according to CNN. The Boston Globe puts the number of casualties at more than 120.
Update 6:43 p.m.: Multiple news outlets are now reporting that the Obama administration is labeling the Boston explosions as an "act of terror." The president did not label the bombings as terrorist attacks when he addressed the nation about 30 minutes ago.
Update 6:39 p.m.: There are conflicting reports as to the number of casualties. The Associated Press is reporting at least 82 people were injured, CNN says at least 80 were injured and the Boston Globe, citing hospital officials, puts the number of injured at 107.
Update 6:30 p.m.: An 8-year-old boy was one of the two people killed in the blasts, NBC News tweeted, citing an anonymous law enforcement official. Meanwhile, two other unexploded devices were found in Boston, U.S. Rep. William Keating, D-Mass., told CNN reporter Jake Carpenter. The congressman said the devices, which did not go off, were discovered in a Boston hotel and at an "undisclosed location.
Update 6:14 p.m.: President Barack Obama addressed the American people, saying authorities are still in the "investigation stage" of the Boston explosions. He said that while no suspects have been apprehended, "we will find out who did this and we will hold them accountable."
"We still do now know who did this or why, and people shouldn't jump to conclusions until we have all the facts," Obama told a news conference, adding that "any responsible individuals -- any responsible groups -- will feel the full weight of justice."
Obama said the FBI is mobilizing resources to investigate the explosions.
"The American people will say a prayer for Boston tonight, and Michelle and I send our deepest thoughts and prayers to the victims in the wake of this senseless loss," he said.
Update 5:59 p.m.: Details are sketchy as to whether the incident at the JFK Library was a fire or an explosion. Boston Police Commissioner Ed Davis said his earlier statement that the incident was an explosion may be premature. He described the incident as either "an incendiary device or fire." He also disputed reports that a suspect was in custody.
Update 5:36 p.m.: The FAA has lifted the temporary flight restriction put in place at Boston's Logan Airport, the Boston Globe reports.
Update 5:25 p.m.: The Boston Police Department says the JFK Library incident was fire related. The library's Twitter account said the fire appeared to have started in a mechanical room in its new building.
Update 5:05 p.m.: Boston's Logan Airport has been closed "until further notice" following the explosions at the Boston Marathon finish line and the JFK library, according to the airport's Twitter feed. Meanwhile, cell phone service in Boston has been shut off to prevent remote detonation of any other explosive devices, the Associated Press reports.
Update 4:59 p.m.: The commissioner of police for the Boston Police Department would not say whether the explosions were the result of a terrorist attack.
"We're not being definitive on this right now, but you can reach your own conclusions based upon what happened," Commissioner Ed Davis told a news conference.
Update 4:54 p.m.: Boston Police Department Commissioner Ed Davis said authorities have yet to link the pair of explosions at the Boston Marathon with a third explosion at Boston's JFK Library, but are proceeding as if the blasts are connected. There were no known injuries at the library explosion.
"We're not sure if these incidents are related, but we're treating them as if they are," Davis told a news conference.
Update 4:48: The Boston Globe is now reporting that at least 64 people were injured in the explosions:
Update 4:40 p.m.: Federal law enforcement sources told the New York Post that a suspect, who has shrapnel wounds and was taken to a Boston hospital, is in custody in connection with the Boston explosions. CBS News reported that Boston police have surveillance photo of the suspect but did not report whether the individual has been detained.
Update 4:34 p.m.: Boston Police are reporting a third explosion - this one at the JFK library - following a pair of blasts near the finish line of the Boston Marathon, Reuters reports:
Update 4:25 p.m.: The Boston Police Department was heard on a police scanner asking for a bomb squad at Tremont Street and Douglas Park. "We got a suspicous vehicle down here," the officer said.
Update 4:19 p.m.: The FAA has issued a temporary flight restriction over Boston following the explosions, per the agency's Twitter account:
Update 4:08 p.m.: The Boston Police department is confirming two people are dead in the Boston Marathon explosions:
Update 3:53 p.m.: A trauma nurse at Massachusetts General Hospital said a morgue has been set up near the finish line. Children with severe burns were being treated, as well as people with severed limbs, the nurse told ABC News. The network reported that the first explosion blew out windows in about four buildings near Copley Square.
Update 3:44 p.m.: At least 30 people have been injured in the explosions that rocked Copley Square at the finish line of the Boston Marathon, MSN reports.https://twitter.com/msnNOW/status/323882753844207618
Update 3:34 p.m.: Three people were killed in the explosions, Fox News is reporting.https://twitter.com/edhenryTV/status/323881163619962881. Sky News reported that security was being beefed up in New York as a result of the bombings. MSNBC reports that at least 30 people were injured in the blasts.
Update 3:25 p.m.: Time magazine reporter Andrew Katz tweets that EMS is reporting another explosive device was found at the Mandarin Hotel.
At least a dozen people were injured after a pair of explosions detonated near the finish line of the Boston Marathon on Monday afternoon, the Boston Globe's Twitter feed reports.
Multiple reports indicated that those injured in the bombings lost their limbs.
The twin blasts resulted in a lockdown at the marathon, which was ongoing when the explosions were reported, according to Reuters.
There were no immediate reports of the exact number of casualties. The Globe reported "multiple people" were injured.
This year marked the 117th running of the marathon.
Check back here for updates on this breaking news story.
© Copyright IBTimes 2023. All rights reserved.
FOLLOW MORE IBT NEWS ON THE BELOW CHANNELS