US Condemns North Korea's Satellite Launch Attempt; Vows To Take All Measures To Protect Allies
KEY POINTS
The White House said the failed satellite launch was a "brazen violation" of UN rules
North Korea attempted to launch a space satellite Wednesday but it failed
It prompted emergency alerts and temporary evacuation warnings in parts of the South and Japan
The Biden administration has strongly condemned North Korea's attempt to launch a military satellite, calling on other countries to decry the move that resulted in panic across South Korea.
"The United States strongly condemns the Democratic People's Republic of Korea (DPRK) for its launch using ballistic missile technology, which is a brazen violation of multiple UN Security Council resolutions," Adam Hodge, acting White House National Security Council (NSC) spokesperson, said in a statement.
"We urge all countries to condemn this launch and call on the DPRK (Democratic People's Republic of Korea) to come to the table for serious negotiations," he added.
Hodge noted that the U.S. "will take all necessary measures to ensure the security of the American homeland and the defense of our Republic of Korea and Japanese allies."
Hodge said the attempt to launch a military satellite raised tensions, and risked "destabilizing the security situation in the region and beyond." The U.S. government is assessing the situation "in close coordination" with South Korea and Japan.
North Korea attempted to launch a space satellite Wednesday but it failed. Air raid sirens were heard in Seoul at about 6.32 a.m. local time Wednesday (5:32 p.m. ET, Tuesday), prompting emergency alerts and temporary evacuation warnings in parts of South Korea and Japan, Reuters reported. The alerts were later withdrawn with no danger or damage reported, but air raid sirens that rang across Seoul rattled some residents.
"I was so panicked. 911 lines were busy and the internet was slow," said Lee Juyeon, a Seoul resident.
North Korean state news agency KCNA confirmed that the launch of the new "Chollima-1" satellite ended in failure due to issues with the engine and fuel system instability, Reuters reported. The satellite plunged into the sea and South Korea's Joint Chiefs of Staff said military forces were conducting operations to recover what is believed to be parts of the fallen space vehicle.
KCNA previously reported that the DPRK was looking to launch its first military reconnaissance satellite in June to monitor U.S. activities. The Japanese government also said North Korea had informed Tokyo of its plan to launch a satellite sometime between May 31 and June 11.
In response to a notification from Pyongyang, Japanese Prime Minister Fumio Kishida ordered officials to gather intelligence on the launch "of a ballistic missile that it describes as a satellite." He said "a launch using ballistic missile technology would be a violation" of UN regulations.
Leif-Eric Easley, a professor at Seoul's Ewha University, said the North Korean government was "concerned that South Korea is successfully deepening trilateral cooperation with Japan and the United States," reported The Japan Times.
The DPRK criticized a summit between Japan's Kishida and South Korean President Yoon Suk Yeol earlier this month, calling it a "military collusion."
North Korean leader Kim Jong Un also vowed to improve its "military deterrence" against the South and the U.S. after Yoon visited Washington in April. In particular, the North targeted the Washington Declaration, a pledge to further strengthen security cooperation between the U.S. and South Korea.
"The 'Washington Declaration' on raising the practicality of the 'extended deterrence' provided by the U.S. is a typical product of the heinous hostile policy towards the DPRK," KCNA said in a report following Yoon's U.S. trip.
Kim's sister, Kim Yo-Jong, who currently serves as the deputy director of the Workers' Party of Korea's (WPK) Publicity and Information Department, also targeted the Washington Declaration, NBC News reported.
The dictator's sister called the new U.S.-South Korea agreement as the "most hostile and aggressive will of action" against her country. She also reportedly referred to Biden as senile and "too miscalculating and irresponsibly brave" for declaring that any nuclear attack against the U.S. or any of its allies would "result in the end of whatever regime."
Yoon's was just the second state visit of the Biden administration after hosting French President Emmanuel Macron last December.
In a report, Adam Gallagher, managing editor for public affairs and communications at the United States Institute of Peace (USIP) and Northeast Asia expert Frank Aum observed that the recent U.S.-South Korea summit "will likely not provide enduring solutions to the North Korea challenge."
Gallagher and Aum pointed out that research and history have proven how enhanced alliance deterrence does not actually deter the DPRK's rhetoric and actions "but tends to exacerbate them."
The U.S. has pledged to deploy more "strategic assets" such as submarines to South Korea to deter Pyongyang.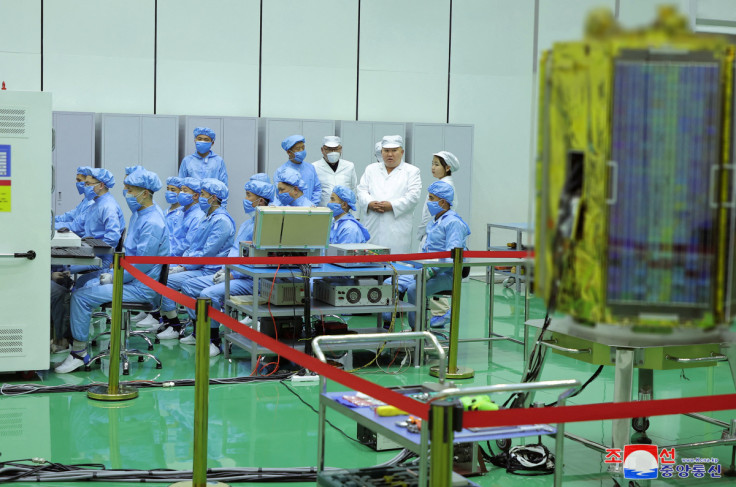 © Copyright IBTimes 2023. All rights reserved.