U.S. Drug Shortage: Small Vendors Object to Report Calling Them 'Price Gougers'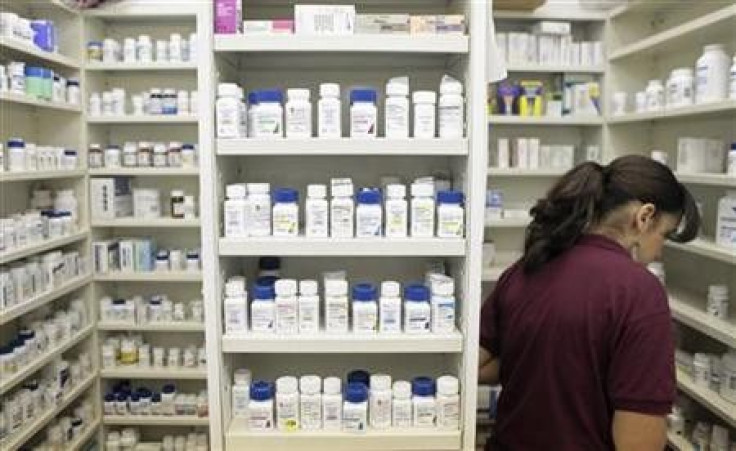 Shortages of life-saving medications have been plaguing hospitals and pharmacies across the nation, progressing to such a point that President Obama issued an executive order last month ordering the U.S. Food and Drug Administration (FDA) to take comprehensive steps to reduce drug shortages and avoid unnecessary deaths.
The White House has attributed the shortage to a number of factors, such as a current FDA policy that says pharmaceutical manufacturers are only required to inform the agency when medically-necessary drugs are being discontinued, while notification of shortages is voluntary. Questionable behavior by market participants to either stockpile the affected medications or sell them at exorbitant prices was also cited by the White House, a reference to secondary drug suppliers -- also known as gray market vendors -- that a recent report from a leading pharmaceutical group purchasing organization (GPO) implied was a major source of the current drug shortage by sometimes hoarding products in short supply and then selling them at outrageously inflated prices.
The report in question, titled Buyer beware: Drug shortages and the gray market was released by Premier Healthcare Alliance, one of the big three healthcare GPOs in the United States. A GPO is an entity that is created to leverage the purchasing power of a group or businesses in order to obtain discounts from supply vendors based on the collective buying power of the GPO members. Many hospitals have contracts with healthcare GPOs, which also negotiate with drug manufacturers to buy medications in bulk that are usually priced 40 to 50 percent lower than what a smaller secondary distributor pays for that same drug, according to Pharmaceutical Commerce, a magazine covering the commercial operations of the North American pharmaceutical industry.
Huge Price Markups
The Premier report, which was released in August, states that secondary drug distributor's sold their products with price markups averaging 650 percent, some of which were as high as 4,533 percent compared to Premier contract prices. Premier used these figures to indicate these distributors are engaging in price gouging and subsequently inflating the prices of several necessary medications to reap major profits.
The statistics were reportedly gathered by analyzing marketing offers for either back-ordered medications or drugs in short supply that were sent to Premier-affiliated hospitals by secondary distributors in the first half of 2011.
However, according to the November/December 2011 edition of Pharmaceutical Commerce, the markups cited by Premier were inaccurate. According to the publication, after the initial Premier report was published in August, the company told Pharmaceutical Commerce that a re-evaluation of the solicitations showed the markup was a range between 29 and 729 percent and not the higher percentages previously cited.
The magazine reports the American Society of Health-System Pharmacists was referring to the Premier report while testifying during a U.S. Senate hearing about the negative impact that the secondary or 'gray market' is having on hospitals and health systems, especially concerns about product safety and exorbitant price inflation.
Says Report Was Too Negative
This report just came off so negatively, Andy Ataras*, the secretary for the National Coalition of Pharmaceutical Distributors, told the International Business Times. I have never seen something with so little information but with so many negative things to say about our section of the industry.
When questioned about the revised markups cited by Pharmaceutical Commerce, Alven Weil, a Premier spokesman, told the IBTimes the company has not revised any of its research since releasing its initial gray market report in August. Weil restated that Premier's research was based on prices it negotiates for its hospital members and not the catalog prices, which he said is rarely what hospitals pay.
Weil also said Premier provided the magazine with information on a single product example, proforol, and was asked whether the solicitations they saw were marked above the wholesale acquisition cost, which was by between 29 percent and 729 percent. Weil said that coincided with Premier's overall findings showing an average markup of 650 percent, but added this figure can't be applied to all the offers and markups discussed in our report.
Secondary distributors have objected to Premier's report, arguing that it misrepresents their companies and has even caused some drug vendors to drop them out of the assumption that they were being ripped off. In particular, Ataras as well as Kaveh Katebian, an engagement manager at nD Insight, say the Premier report neglects key methodological information -- such as the number of hospitals who provided the data referred to by Premier, as well as their size and patient capacity, all factors that impact GPO prices, which were used as a basis to calculate gray market markups.
Ataras said some people have interpreted the price markups as profit margins, which he said is far from the case. Secondary distributers typically include costs like delivery fees into their prices, which can sometimes be expensive since unlike GPOs -- which Ataras said typically have distribution centers located in almost every state -- secondary suppliers sometimes receive urgent orders from hospitals far-off from their own distribution sources.
Those costs are added to the actual price of the medication, which are usually sold to secondary suppliers at higher prices than GPOs. Hospital buyers know that most secondary distributers cannot qualify for GPO contract prices, according to Pharmacy Purchasing Outlook, meaning when a hospitals contract vendor -- as designated by its GPO -- has a medication it immediately needs on backorder, the hospital must find the product from another source. More often than not, that source will not have a contract in place to purchase that drug, forcing it to buy it at the manufacturers normal catalog price. The secondary distributor must then markup that price in order to make some kind of profit.
For example, if a vial of medicine costs a hospital less than $2 under a GPO-negotiated contract it may actually carry a $10 catalog price. A secondary distributor that purchases the drug at the catalog price may then sell the product to the hospital for $11.50, the extra $1.50 which would cover shipping, handling, delivering costs as well as a profit for the distributor.
We take all of our costs extremely seriously. We understand that we deal with life-saving medications, said Ataras, emphasizing that hospitals with GPO contracts often turn to trusted secondary distributors as a last resort when they are in need of life-saving medications. We're extremely effective at what we do and have a real passion for getting patients taken care of.
Premier Report's Consequences
The Premier report -- which Pharmacy Purchasing Outlook wrote uses the term gray market to imply some secondary distributors are evil profiteer specialty distributors, greedily charging their helpless pharmacy customers with markups -- has had serious consequences for some companies.
Dan Herlihy, the president of Premium Health Services (PHS), a family-run secondary distributor, told the IBTimes that his company has been cut off by two major vendors and has lost one-third of its staff as a result of falling sales after the Premier report was published.
In an October e-mail provided to the IBTimes, Thomas Dorworth, the Section Chief for Pharmacy Procurement at the National Institutes of Health, wrote the NIH has used PHS to obtain medications when their primary wholesaler could not provide them.
In these transactions, I have found PHS to be fair and reliable. We have also used PHS to obtain drugs that were on the nationwide shortage list and again I found them to be fair in their pricing and also reliable, Dorworth wrote.
We've been in business for 14 years and good clients are leaving for no reason besides the report. It's really frightening, Herlihy said, adding that PHS' 2011 sales are about 21 percent lower than they were last year.
- -
*CORRECTION: A previous version of this article misspelled Ataras' last name as Ataris.
© Copyright IBTimes 2023. All rights reserved.