US, UK Vow To Defeat Russians: 'Putin Will Fail And Russia Will Suffer'
KEY POINTS
The U.S. and the U.K. are working to ensure Russia's strategic defeat
The United States has made it clear that American forces will not engage with Russian troops
Moscow forces bombed a maternity and children's hospital Wednesday
The United States and the United Kingdom on Wednesday vowed to defeat Russian President Vladimir Putin as his forces continue to bombard Ukrainian cities.
Speaking at a joint press conference with U.K. Foreign Secretary Elizabeth Truss, U.S. Secretary of State Antony Blinken said they are now working to ensure Russia's "strategic defeat" in its war against Ukraine.
"I'm absolutely convinced that Putin will fail, and Russia will suffer a strategic defeat no matter what short-term tactical gains they may make in Ukraine," Blinken said in the press conference. "You can win a battle, but that doesn't mean you win the war."
Since the Russia-Ukraine conflict began on Feb. 24, the U.S. and the U.K. have provided more than $1.4 billion in security assistance to Ukraine. The materials included surface-to-air missile defense systems and shoulder-fired anti-aircraft weaponry.
However, the U.S. has made it clear that American forces will not engage with Russian troops in Ukraine, adding that it will only target Moscow through severe sanctions and boost Kyiv's defenses.
Both the U.S. and the U.K. said the ultimate goal is to continue to make Russia's economic reality difficult by calling on other nations to drop their ties to Russian oil.
On Tuesday, the U.S. announced it would no longer import Moscow oil — a move that Kremlin spokesman Dmitry Peskov said was a declaration of "economic war."
"The situation demands a rather deep analysis — those decisions announced by President Biden," Peskov said, adding: "If you are asking me what Russia is going to do — Russia is going to do what is necessary to defend its interests."
The U.S. and U.K.'s coordinated efforts to cripple Russia's economy come as Moscow forces continue to bombard Ukrainian cities, preventing hundreds of thousands of civilians from escaping. On Wednesday, Russian forces targeted a maternity and children's hospital in Mariupol, injuring at least 17 people, including mothers, pregnant women and staff members. There were no immediate reports of injured children or deaths.
A Russian Foreign Ministry spokeswoman said they attacked the building after learning that Ukrainian forces had "equipped combat positions" within the hospital. The spokeswoman did not provide any evidence supporting the claim.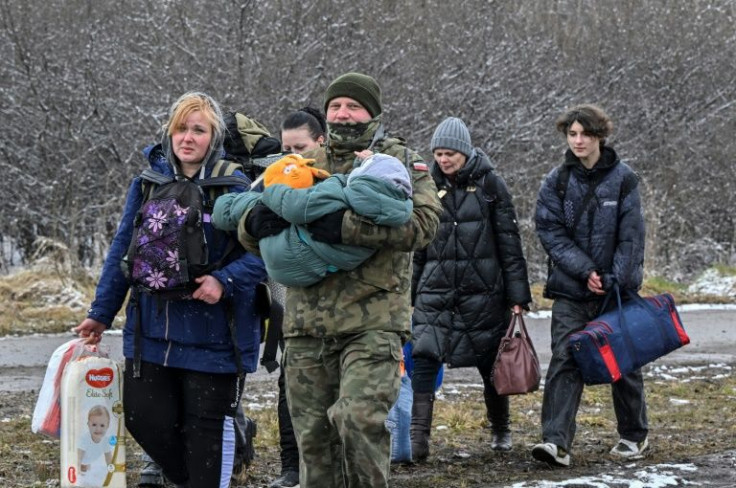 © Copyright IBTimes 2023. All rights reserved.