'Vampire Diaries' Season 6 Spoilers: Alaric And Jo's Wedding Takes A Deadly Turn; Episode 21 Recap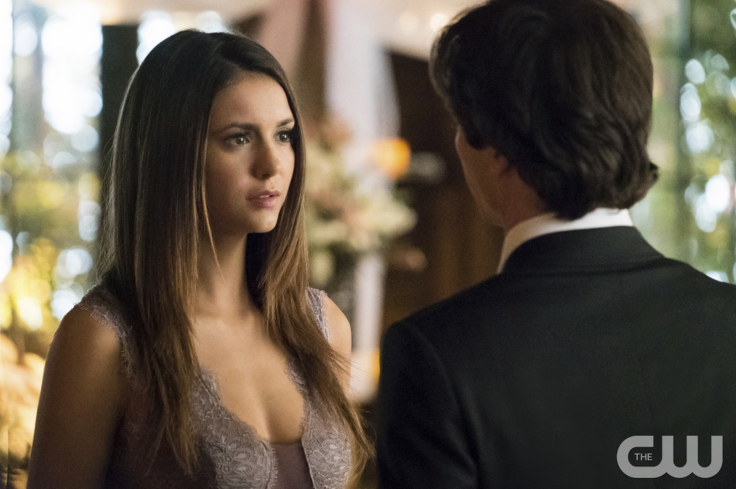 Weddings are supposed to be a happy occasion, but fans of "The Vampire Diaries" probably should've known that they'd be deadly in Mystic Falls. In Season 6, episode 21, Jo (Jodi Lyn O'Keefe) and Alaric (Matt Davis) finally made it to the altar. However, someone evil interrupted their special day and gave the episode a massive cliffhanger.
The episode started off with Bonnie (Kat Graham) waking up to find Lily (Annie Wersching) in her room. She escaped her cell in the Salvatore basement and was ready to threaten Bonnie. When the witch tried to use her powers, she didn't have any. Kai (Chris Wood) came back and siphoned them. Luckily, it was only a dream.
In reality, it was Jo and Alaric's wedding day, and lots of human things were going wrong. Jo's shoes were missing and her wedding coordinator got sick. Luckily, Caroline (Candice Accola) returned just in time to find the shoes and take over the wedding planning.
Caroline did get a moment with Elena (Nina Dobrev) and tried to apologize for everything that happened when she ditched her emotions. She hoped that Elena didn't take the cure for vampirism because of her insults. "Care, I wanted to be human from the day I became a vampire. I'm not the one you need to apologize to," the newly human Elena said.
She was working her way up to apologizing to Stefan (Paul Wesley), who was on a road trip with Damon (Ian Somerhalder). Stefan planned to make sure Damon knew exactly what he was getting into when he took the cure for vampirism. "This will be your hell," Stefan said.
Stefan didn't realize that Damon already considered everything. He bought an apartment above a bar in the northwest. Stefan called Elena and told her that it seemed like Damon actually thought about it. This wasn't one of his wreckless, impulsive decisions. Elena wanted Stefan to push his brother even harder.
Stefan told Damon that he and Elena might not be soul mates when they're both human. He put a vision in Damon's head of the future. It was Damon and Elena growing apart as she delved into schoolwork. Even further into the future, Stefan showed Damon resenting Elena and the two of them agreeing that taking the cure was a mistake.
Damon pushed Stefan out of his head. "This isn't about me being alone. It's about you being alone," Damon said. After all, Stefan wouldn't be able to keep in touch once Damon had the cure in his body. In order to protect him from vampires who would want the cure, Stefan wouldn't be able to know where his brother was.
Stefan showed him what his life could look like without Elena. She would have to die eventually, and then Damon's life would be mostly drinking and sitting in front of the television. Damon told him that this was harsh, and Stefan revealed that this was Elena's idea too. They needed him to fully consider what his life would be like. "You have to want to be human for yourself," Stefan said.
Meanwhile, Enzo (Michael Malarkey) came by the Salvatore house to drop off a gift for Lily. He thought an MP3 player might bring her some comfort, but when Bonnie went down, the ripper tried to strangle her. Luckily, Bonnie got away, and Elena covered up the bruises with make up.
A short while later, Bonnie went out to grab centerpieces with Matt (Zach Roerig) because near death experiences don't slow down any of the Mystic Falls residents anymore. She told Matt about her nightmares, and he brought out his weapons. He said they shouldn't leave Lily with the Salvatores since they would likely let her out at some point.
Bonnie and Matt went to Lily's cell to find her missing. They started choking immediately from magical forces that they couldn't see or control. When Matt was able to pick himself up and check on Bonnie, he found her bleeding. It looked like she might even be dying.
Meanwhile, Lily met Enzo at a bar. She said that she was no longer a ripper because she was getting her friends back from the prison world. She took Enzo to a lot with a bunch of storage containers and said they must be in the wrong place. She said the address wasn't from her friends.
Back at the wedding, Caroline's apology tour continued with Tyler (Michael Trevino), who easily forgave her. They were interrupted by Liv's (Penelope Mitchell) arrival. Tyler and Liv immediately started fighting about who was in the wrong regarding their breakup. When Caroline tried to give Tyler advice, he walked away. After all, he couldn't really accept advice from a girl who just went on a killing spree with her kind-of-boyfriend.
When Stefan arrived at the wedding, he admitted to Elena that he didn't want Damon to take the cure. He said Damon was aimless as a human. However, he couldn't stop his brother. He left Elena to find Caroline.
Finally, the blonde vampire had to confront Stefan. She apologized to him and asked if he hated her. Of course, Stefan held nothing against her. Caroline explained that Stefan had a huge effect on her and made her a little crazy. She even missed her mom's final moments because she was kissing Stefan.
"That's because you're a control freak who's lost control," Stefan explained. "I feel the same way. That's what being vulnerable is. It's giving up control."
Caroline said she wasn't ready to be vulnerable. "Control is all I have, and I don't think I can give that up," Caroline said. It wasn't exactly a break up, but it sure felt like it.
Meanwhile, Damon and Elena were doing the opposite of breaking up. Damon went to Elena and said he made up his mind. "I've been a vampire for a long time, Elena," he said. "But I would give it up in a second to be your husband, your partner, the father of your kids."
He was willing to risk everything for her because he didn't want a life without her. Damon and Elena almost missed the wedding while having sex in a barn, but they got there in the knick of time.
Jo's father even came to her wedding and asked to walk her down the aisle. Considering he tried to kill her last time they saw each other, it was quite a step forward. Still, she and Alaric were hiding the fact that she was pregnant with twins.
They wrote their own vows, and Alaric gave a very sweet speech about how they would continue to "dodge fate" together. When Jo started to say her vows, her stomach started bleeding, and Kai revealed himself. He pulled a large dagger out of his sister's stomach. Barring a miracle, it seems like she's dead.
"I was going to wait until the 'death do us part' hit, but it seemed a little on the nose," Kai said.
He made everyone hear a screeching sound that had them holding their heads in pain instead of fighting him. Then he blew all the windows in and all the lighting fixtures fell down. Elena was passed out on the ground. She might be dead.
"The Vampire Diaries" Season 6 airs Thursdays at 8 p.m. EDT on the CW. Do you think Bonnie, Jo and Elena are dead? Will they all survive or is this how Nina Dobrev is exiting the series? Sound off in the comments section below!
© Copyright IBTimes 2023. All rights reserved.