'Vampire Diaries' Season 6 Spoilers: Stefan's Revenge On Caroline; Episode 17 Recap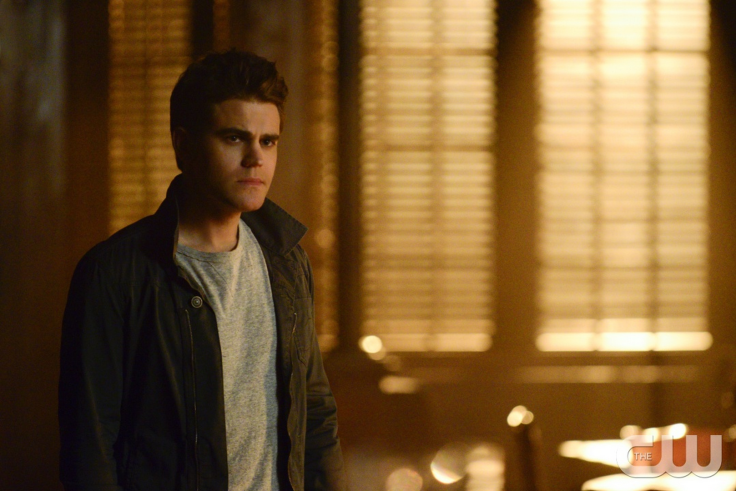 "The Vampire Diaries" Season 6, episode 17 showed that Stefan (Paul Wesley) could still be very angry without his humanity. After Caroline (Candice Accola) forced him to flip his humanity switch, Stefan decided that he wanted revenge. Meanwhile, Elena (Nina Dobrev) and Damon (Ian Somerhalder) found something that just might bring him back from the dark side.
Caroline cleaned up the bar after she and Stefan fought in last week's episode. She didn't feel bad, but she didn't want to cause any suspicion. She wanted to stick around Mystic Falls and audition for the school musical. Even though she didn't have her humanity, Caroline had a very strict plan. She planned to keep herself in line so that she wouldn't have regrets when her humanity came back.
She auditioned with "Still Hurting" from "The Last Five Years," which is fairly ironic for someone who supposedly wants to escape her grief. She even let a tear fall down her face. The performance probably would've won her the part, but Stefan ripped her director's head off.
Stefan has turned off his humanity switch before, and he knew it wouldn't last forever. When his humanity came back he would be drowning in regrets. If his life was going to be horrible when his humanity came back, he wanted Caroline to face the same fate. "This is me forcing you to let go one day at a time until you break," Stefan said.
Caroline took apart his motorcycle for revenge, and Stefan pointed out that an automotive problem wasn't the same as a dead body. "You are an embarrassment to humanity-free vampires everywhere," Stefan said.
Stefan even attacked her with an explosive in the dorms, which were empty because of spring break. They went after each other and Caroline staked him in the stomach. Then a female athlete who happened to be staying at the dorms over break walked in. Stefan tried to kill her, but Caroline healed her with vampire blood and sent her to her room.
Enzo (Michael Malarkey) was actually on the good side for once and wanted Stefan's humanity back. After all, he couldn't torture Stefan if Stefan didn't have any emotions. He went to Alaric (Matt Davis) for help. They went to the dorms where Stefan and Caroline were in a throw down, but Stefan saved Caroline. He left an explosive for Alaric and Enzo, but Enzo pulled the hunter out in time.
Stefan was ready to get revenge on them, but Caroline pointed a gun at him. She didn't want any more dead bodies. However, Stefan was more focused on breaking Caroline. He fed on the athlete and wanted Caroline to join. Eventually, she gave in, and after draining their victim, the two had sex. It wasn't the romantic first time fans were hoping to see, but of course, the humanity-less Caroline had no regrets. "You were right," Caroline said. "Your way is much more fun." It seems Caroline is officially a ripper.
After Enzo's failed attempt to get Stefan's humanity back, he decided to give up on deceiving Sarah (Tristin Mays). He visited her in the hospital, where she was recovering from being tortured. Of course, her memory was wiped, so she just thought she drank too much at a rave. Enzo told Sarah that he was done with her. He claimed he was only interested in her because she was a pawn in a much bigger game. However, once he said goodbye to "Sarah Salvatore," Sarah was very interested. She needed to know why he called her that name.
Meanwhile, Damon was working on a way to get Stefan back. He tried to attack him with vervain, but Stefan knew he was coming. He needed a better plan, but everything was falling apart.
As Damon took out his aggression on the furniture, he told Elena that his mother (Annie Wersching) was alive and a ripper. While Damon was set to leave his mother in the prison world, Elena was ready to set her free. "This is our way to get Stefan back. You can't tell me that his mother isn't an emotional trigger," Elena said.
Damon was easily convinced. Knowing that Stefan was the trigger to Caroline's humanity, Bonnie (Kat Graham) was on board with her magic. However, they also needed Kai's (Chris Wood) magic. Luckily, the ascendant was in his pocket, and he was willing to do anything Bonnie asked him to do.
Kai brought Bonnie, Damon and Elena to 1903. Bonnie agreed to hang out with Kai while Damon and Elena waited for Lily at the house. While they waited, Damon said they would have to figure out what to do with his mother after Stefan flipped his humanity switch back on. Elena was hopeful that they could reform his mother as they had with Stefan before, but Damon wasn't so sure.
Lily was shocked to see her son. Damon was angry that his mother didn't tell him and Stefan that she was undead. She had even heard that her sons became vampires in the war and asked about their father. Damon revealed that Stefan had ripped their father's throat out and Lily chuckled. "That's cruel to laugh, but good for Stefan," she said.
Damon was angry that she left him with their father when she knew he was a horrible person. Still, Damon had to bring her home. She was thrilled to leave, but then she said she had to "alert the others." Lily wasn't alone. She had several companions who were barely alive in the attic. She claimed that she could control her bloodlust because of them.
In the forest, Kai tried to apologize to Bonnie while she was doing a spell that she claimed was to find the ascendant. Kai grabbed her to make her listen and immediately regretted being so abrasive. Bonnie said Kai couldn't change. She led him deep into the woods where she claimed the ascendant was located. However, Elena found it in Lily's attic. Damon revealed that Bonnie wasn't actually looking for the ascendant. She wanted to kill Kai. She attacked him in the woods, but he escaped from her.
Back at the house, Damon said they were leaving Lily's friends behind. She tried to feed her catatonic vampire friends the last of the blood so make them come to life, but Damon broke the jar before she could get past the first one. He claimed that they would come back for her friends soon.
Damon brought Lily to Bonnie and Elena as the spell started. However, Kai reappeared a second too late. Bonnie took everyone home without him. Kai might not last long. As he made his was to the attic, he found the barley living vampires. The one who received a drop of blood before Damon got to Lily grabbed Kai's throat.
Once Damon and his friends were home, Lily revealed that she returned to her sons after she was turned. Stefan had seen her after she died, but she smelled his blood and feared killing him, so she ran away. Damon didn't seem to take her apology to heart.
Lily asked when they would return to the prison world. "Soon. Don't worry, your prison world's not going anywhere," Damon said.
However, Damon didn't plan to bring her anywhere. Elena tried to be positive about his mother's return, but Damon wasn't getting attached to his mother. "She's just a means to get Stefan back," Damon said.
Damon and Elena started a hot and heavy makeout session before Bonnie interrupted them. Elena excused herself, and Damon told Bonnie they were never going back to 1903 for Kai and the other vampires. Bonnie happily agreed and gave Damon a gift from 1994. She gave him the cure to vampirism.
For those who don't remember, "The Vampire Diaries" Season 4 focused on finding the cure. Damon wanted Elena to have it so that she could have a choice between being a vampire or being human. While in a fight with her doppelgänger Katherine, Elena forced Katherine to take the cure and become human again.
Damon once wanted Elena to make a choice, but he admitted to Bonnie that he wasn't sure he wanted to give her that choice again. After all, she didn't love him until she was a vampire. Bonnie wasn't there for a guilt trip. "I'm just finishing what you started. You can give it to her or not. It's up to you," Bonnie said.
"The Vampire Diaries" Season 6 returns on Thursday, April 16 at 9 p.m. EDT on the CW. Do you think Damon should give Elena the cure? Sound off in the comments section below!
FOR FREE to continue reading
✔️ Unlock the full content of International Business Times UK for free
offer available for a limited time only
✔️ Easily manage your Newsletters subscriptions and save your favourite articles
✔️ No payment method required
Already have an account?
Log in
© Copyright IBTimes 2023. All rights reserved.