'Vampire Diaries' Season 6 Spoilers: Will Damon And Bonnie Have Their Memories Erased? New Theory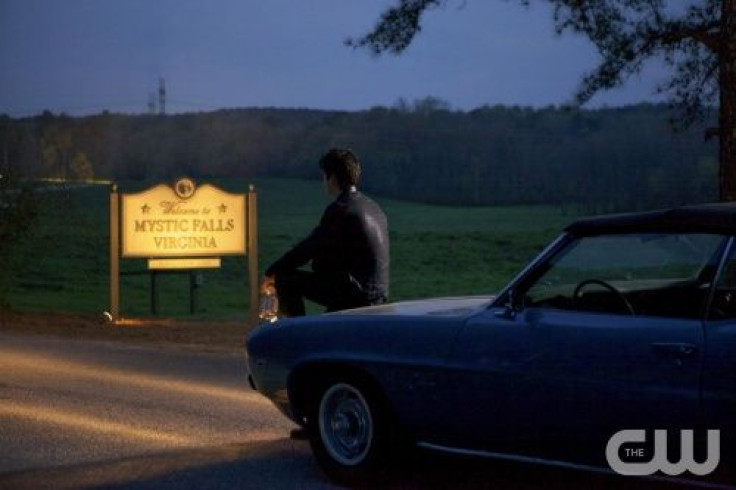 Dying for some "Vampire Diaries" scoop on Damon and Bonnie? Join the club! What happened to the two supernatural being at the end of Season 5 is a mystery that has been haunting fans since the May finale. Fortunately answers are on the way.
Executive producer Julie Plec recently spoke with TV Guide and revealed that Bonnie and Damon's whereabouts won't remain a mystery for long when the hit CW series returns on Oct. 2. The EP told TV Guide that "Vampire Diaries" viewers will "definitely" know the answer before the end of episode 2. But in usual "TVD" fashion, there will be a juicy twist to keep things interesting.
What's the twist? When fans finally see where Bonnie and Damon turn up, the setting "may look familiar." However the location will reportedly be "foreign" to them.
The latest scoop has some fans scratching their heads, but an interesting theory has developed from it: What if Damon and Bonnie had their memories erased?
"Vampire Diaries" fans will remember that the Season 5 finale concluded with Damon failing to pass through Bonnie to get back to the land of the living. The "Other Side" was crumbling, which meant that Damon and Bonnie (the anchor to the "Other Side") wouldn't be left milling around town as ghosts – they would be gone forever. The final moments in the episode showed the two frenemies holding hands while a white light surrounded them.
Viewers know that the pair is not gone for good because executive producer Julie Plec confirmed that the actors are contracted for Season 6. Because of that confirmation, fans have sparked up theories about Bonnie and Damon returning as humans. It wouldn't be far-fetched because a dead-to-human story line occurred in "The Vampire Diaries" books by L.J. Smith. The CW show doesn't have a history of following Smith's series, but they could certainly draw inspiration for new twists and turns.
If the two characters did return as humans, they might not be aware of their past in Mystic Falls or their friends and family. Having their memories erased would set up a whole new obstacle course for Damon and Bonnie to reunite with Elena, Stefan, Caroline, Jeremy and the others. Erased memories could also push the pair together romantically.
"You'll see enough of them to make you happy and more as it goes along," Plec told E! Online of Damon and Bonnie in Season 6. "They are by no means going to be off the air for six episodes. The mystery is where are they, what happened, are they dead, not dead, and what the hell are they going to do together, those two of all people?"
Do you think that it's possible for Damon and Bonnie to have their memories erased? Tweet your theories on Season 6 of "The Vampire Diaries" to @AmandaTVScoop.
© Copyright IBTimes 2023. All rights reserved.