Veena Malik FHM India Cover: 'Shame for All Muslims,' Father Has 'Disowned Her'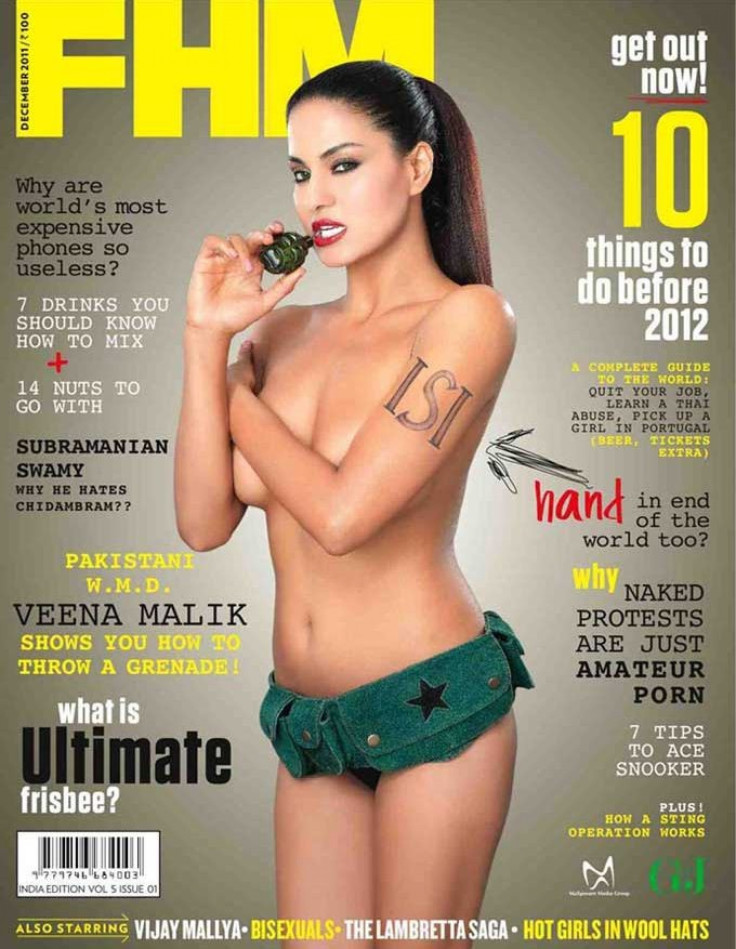 Veena Malik continues to remain at the center of the storm of controversy surrounding her naked FHM India cover, featuring a photograph of the Pakistani actress wearing nothing but the letters ISI painted on her arm (ISI stands for Pakistan's Inter-Services Intelligence Spy agency).
Malik has faced a barrage of condemnation for posing nude for the December issue of the men's magazine, and for featuring the letters of her native government's secretive military intelligence organization on her arm.
Now, conservative Muslims in Pakistan have spoken out against her, with one fundamentalist cleric saying it is a shame for all Muslims.
Her father, Malik Muhammad Aslam, is condemning his daughter's actions as well. He is encouraging authorities to come down on Veena for posing naked and bringing embarrassment to their country, reports FOXNews.com.
I have disowned her. I have severed all ties with her, and I don't want her to have any share in whatever meager assets I have until she is cleared of the controversy and pledges not to visit India again, her father told AFP.
I can ignore if she disobeys me, but I cannot tolerate anything against my country and my faith.
Other citizens have voiced their wrath, reported by Pakistan Today.
I am very surprised to see some people are also supporting Veena's cover. Of course, anyone can think anything and all I say is that go nude and do whatever you like, but when you are in another country as a Pakistani, please respect the name and culture of your country and don't make a joke of it, said Pakistan native Riz Aly Shah.
Even if all of us are liberals, it doesn't mean we all go nude. Please don't forget we are Pakistanis and not a nude society or colony members. There's something called respect! For oneself and from where one belongs to! That's my opinion.
Mahvash Ikram, a female, said, 'Enjoy my pictures' is exactly what Veena wanted. And for those who know no better, to fall in her trap and encourage her behaviour is what exactly she wanted to get out of this photo shoot.
Despite the many Pakistanis who are against Malik, there is one person who is staying by her side. According to IBNLive.com Malik has been leaning on her rumored boyfriend, actor and model Ashmit Patel, for support.
Veena has been staying in a Bandra (house) which belongs to Ashmit. It is clear that he has been a great source of support to her in every move she has made in India, said the source.
Malik has listed her legal address as Patel's residence in Bandra. There are speculations that she is currently living with him.
The two met on the reality show Big Boss (a version of Big Brother) and acted as lovebirds for the series. They continued their relationship after filming and have been a source of much gossip.
Whether she really marries or not is to be seen. But in the past, the Rakhi Sawant and Ratan Rajput-marriage on the show ended up only as an engagement meant to be broken.
Back in 2010 Malik was criticized for her role on the television show. A Pakistani journalist emphasized that Malik should not be the archetype for Islamic women.
Apparently, Mufti sahib was very angry because Veena seems to be disrespecting Islam by behaving so irresponsibly in India on public television. What I don't seem to understand is that how did this woman who got famous mimicking politicians and dancing between trees in Lollywood movies, become a representative of Islam? said a Pakistani National journalist.
Pakistan's Interior Minister Rahman Malik has said he had not yet seen the pictures, but vows strict action would be taken if the photos are legitimate.
Veena Malik herself is continuing to deny that the photographs are legitimate.
The actress has filed a $2 million lawsuit against FHM. She is claiming that she posed topless but not naked. Her lawyer, Ayaz Bilawala, defends that Malik was wearing underwear.
For all the images and photographs which were shot, our client had clothes on, the suit claims.
Malik has had quite a sordid past, but she had garnered a significant numbers of fans from the younger, more liberal population for speaking out against honor killings and sexual abuse.
What do you think of the Veena Malik scandal? Are such repercussions warranted? Leave your feedback in the comments section below.
© Copyright IBTimes 2022. All rights reserved.
FOLLOW MORE IBT NEWS ON THE BELOW CHANNELS