Verizon Forecast Disappoints, Shares Drop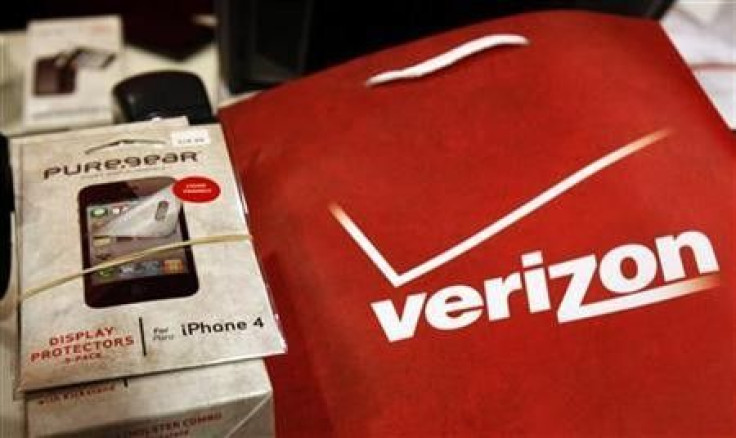 (Reuters) -- Verizon Communications may miss analyst expectations for 2012 earnings after posting disappointing fourth quarter results as it was hurt by hefty subsidies for the Apple Inc iPhone.
Verizon shares fell 1.7 percent as investors questioned whether the company is overvalued in comparison to its rival AT&T Inc.
The day before its earnings report Verizon shares were trading at 15 times Wall Street estimates for 2012 earnings compared with AT&T's multiple of just over 12. At that valuation Pacific Crest analyst Steve Clement said investors would have liked a better quarterly report and a more aggressive earnings forecast from Verizon.
Verizon Chief Financial Officer Fran Shammo told analysts on a conference call that he was still comfortable with an earnings growth forecast he had issued in January 2011, implying a target earnings per share range of $2.42 to $2.55 for this year.
This would imply a mid-point of just below $2.50 earnings per share, which would be below analyst expectations for $2.52, according to Thomson Reuters I/B/E/S.
The company also reported a fourth-quarter net loss of $2.02 billion, or 71 cents per share, compared with a profit of $2.64 billion, or 93 cents a share, a year earlier.
Excluding a $3.4-billion pension-related charge, its 52 cents earnings per share still missed Wall Street expectations for 53 cents per share according to Thomson Reuters I/B/E/S.
Since Shammo had already warned of higher pension costs for in December, Piper Jaffray analyst Christopher Larsen said investors should not have been surprised by the charge.
But he said Verizon's high valuation have may exacerbated their disappointment over the penny miss on adjusted earnings.
It's possible that people had baked in expectations for something larger, said Larsen who described the results overall as reasonably in line with his expectations.
The Verizon Wireless venture with Vodafone Group Plc reported 1.2 million net new subscribers in line with the expectations of many on Wall Street. Out of six analysts contacted by Reuters, four expected 1.2 million subscribers.
Verizon Wireless' earnings before interest, tax, depreciation and amortization (EBITDA) dropped to 42.2 percent of service revenue compared with an EBITDA margin of 47.8 percent in the third quarter.
Shammo had warned in December that smartphone sales would weigh on profits because Verizon subsidizes the cost of every smartphone in order to encourage consumers to sign up for 2-year contracts. The executive said Tuesday that the wireless margin should improve in 2012 but did not give any specific targets.
Since smartphones help subscriber and revenue growth, Stifel Nicolaus analyst Chris King said it was an investment that Verizon needed to make.
Margins were light but, they activated a hell of a lot of smartphones, King said.
The percentage of Verizon Wireless customers using smartphones rose to 44 percent in the fourth quarter from 39 percent in the third quarter, the company said.
Revenue rose to $28.4 billion from $26.4 billion in the year-ago quarter and compared with analyst expectations for $28.39 billion according to Thomson Reuters I/B/E/S.
Verizon shares fell 2.2 percent or 85 cents to $37.55 in morning trade on the New York Stock Exchange where AT&T was down 1.2 percent at $30.04.
(Reporting By Sinead Carew; Editing by Derek Caney)
© Copyright Thomson Reuters 2023. All rights reserved.