Veterans Day 2017: 15 War Movies To Watch On Netflix, TV
Veterans Day falls on a Saturday this year, which means Friday is considered a federal holiday. Whether you have Friday off and want to take in the holiday by watching some war movies or won't have time to watch until Saturday, we've got you covered.
This list of war-centric films to stream on Netflix and ones to watch on TV on Friday or Saturday should keep you busy with more than enough films in the genre.
Netflix
"War Machine"
The recent Netflix original features a great cast of Brad Pitt, Anthony Hayes, Topher Grace and Anthony Michael Hall.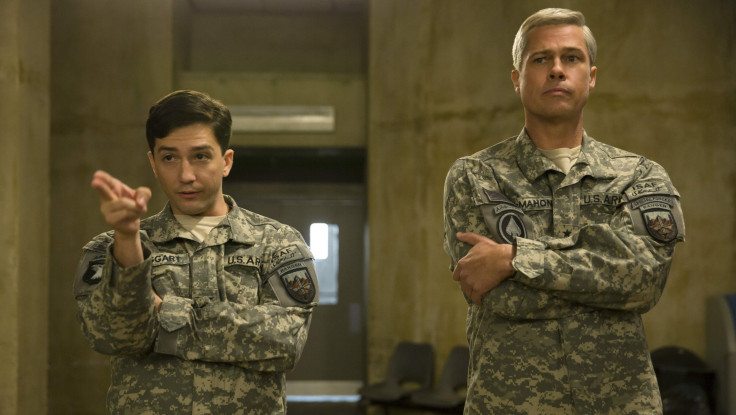 "Tropic Thunder"
If you're looking for a little extra comic relief today, this movie will give you just that.
"Love and Honor"
A young soldier goes AWOL to win back the love of his life in this Liam Hemsworth-starring film.
"Sand Castle"
This is yet another original Netflix war film released this year with high star power. The cast includes Henry Cavill and Nicholas Hoult.
"USS Indianapolis: Men of Courage"
Nicolas Cage stars as Captain McVay in this WWII-set drama.
TV - Friday
"Captain America: The Winter Soldier" (FX, 8 p.m. and 11:30 p.m. EST)
Steve Rogers (Chris Evans) is the ultimate super soldier as Captain America.
"This Means War" (FXX, 4 p.m. EST)
This movie is what you get when two CIA agents go to war over a woman.
"Dear John" (E!, 4:30 p.m. EST)
This Nicholas Sparks adaptation features Channing Tatum and Amanda Seyfried as young lovers fighting for their relationship when he returns to war.
"Jack Ryan: Shadow Recruit" (FXM, 7 p.m. and 8:55 p.m. EST)
With a terrorist attack on the way, the only one who can stop it is young CIA analyst, Jack Ryan (Chris Pine).
"Shooter" (Syfy, 6 p.m. EST)
Before there was the USA Network series, there was the original film starring Mark Wahlberg.
TV - Saturday
"Saving Private Ryan" (Spike, 9 a.m. and 5:30 p.m. EST)
This 1998 war film with Tom Hanks and Matt Damon is a classic.
"Unbroken" (FXX, 1:30 p.m. EST)
The Angelina Jolie-directed movie is set during World War II.
"Max" (Spike, 1 and 9:30 p.m. EST)
The main character of the heartwarming film is a former war dog who returns to the United States and is adopted by his handler's family.
"Fury" (History, 5 p.m. EST)
Brad Pitt, Shia LaBeouf, Logan Lerman and Michael Peña all star in this 1945-set war drama.
"Red Tails" (FXM, 8 p.m. and 10:20 p.m. EST)
A team of African American pilots are called into duty during WWII.
© Copyright IBTimes 2023. All rights reserved.