Viacom (VIAB) Troubles Get Worse: Shares Downgraded By Top Firm After Years Of Optimism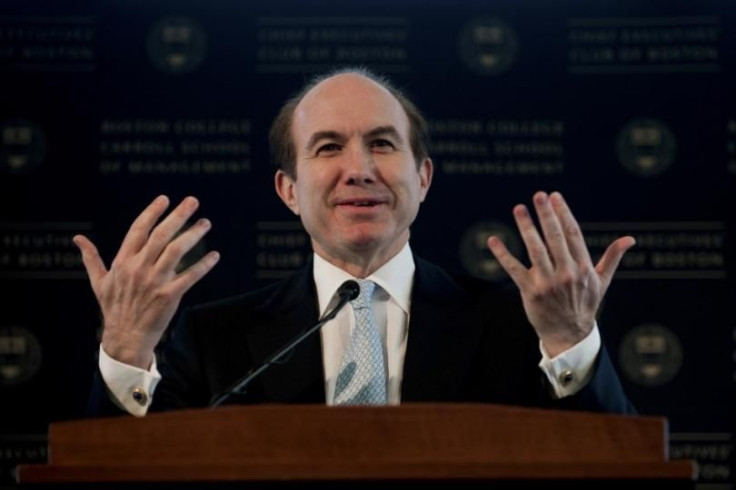 Since February 2014, Viacom's stock price has been in free fall, losing half its value amid the tumult of the new media business "disrupting" old media's world. Yet in 2015, Viacom CEO and Chairman Philippe Dauman made anywhere from $37.1 million to $112 million, depending on what you include as income.
A few activist investors have called for both new board members and for Dauman to step down as chairman, but not enough to stop the Viacom shareholders from re-electing the company's board in full in March.
And now, in yet another hit, analyst firm MoffettNathanson has downgraded Viacom stock from "buy" to "neutral." Perhaps in response, Viacom shares were down nearly 4 percent Monday from the previous close price.
MoffettNathanson had long held Viacom as a buy, citing the cyclical nature of the cable TV business and looking forward to growth in the amount of fees the company would collect from pay TV providers. So what changed?
"Viacom's problem now truly appears to be structural on many levels," senior analyst Michael Nathanson wrote in a note to investors Monday morning.
The vast riches implied by those affiliate and subscription fees just aren't materializing as they are for other companies (like AMC Networks), thanks to total day Nielsen ratings that were down in 2015 vs. 2014 anywhere from a mere 7 percent (TV Land) to 26 percent (Spike) in their respective target demographics. While Viacom steadfastly insists the viewing for much of its programming is simply being done in ways that aren't being measured by Nielsen, that's of little consequence to those who live or die based on people watching linear TV, i.e., pay TV operators.
Of further concern is the continued implosion of the traditional ad business at Viacom. While the TV ad marketplace has been fairly robust of late — generally considered a consequence of a lackluster upfront season — Viacom's suite of cable networks haven't kept pace with the rest of the industry. While other cable nets saw ad growth of around 4 percent in 2015, Viacom's ad revenue shrunk 6.5 percent. "We significantly underestimated the ratings and advertising declines at Viacom's domestic networks," Nathanson's note said.
Film studio Paramount isn't helping matters, either. While MoffettNathanson had previously expected Paramount to make $250 million in 2016, they're now forecasting a loss of $33 million, despite the upcoming July release of "Star Trek Beyond," the third film in the rebooted "Star Trek" franchise.
Dauman has indicated a "significant" minority stake in Paramount will be sold in the near future — rumors have Lionsgate, Dalian Wanda Group and Amazon as potential investors — but that's not enough to undo the potential ill effects of the cable business. "Clearly, the old Viacom playbook no longer works," Nathanson wrote.
© Copyright IBTimes 2023. All rights reserved.