VIDEO Bayern Munich 3-0 Barcelona (7-0 Agg.): Highlights; Bayern Reach Champions League Final In Emphatic Fashion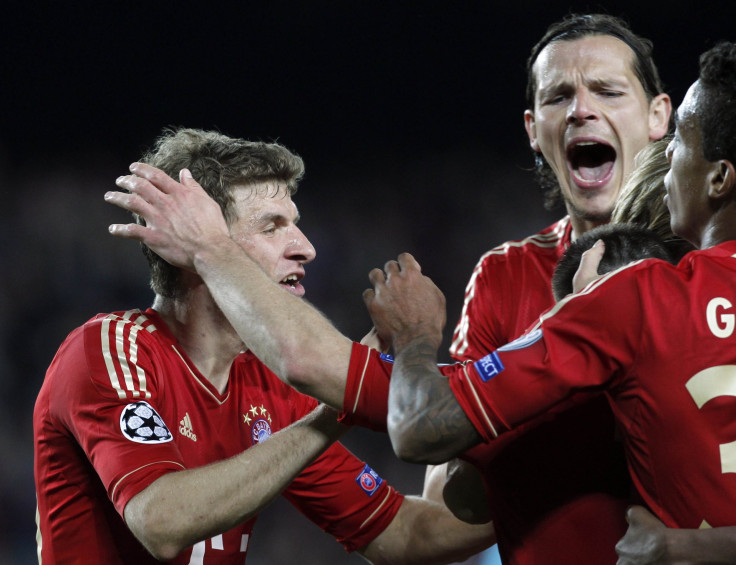 Bayern Munich reaffirmed their superiority over Barcelona with an emphatic 3-0 victory at Camp Nou on Wednesday to cruise through to the Champions League semifinal by an incredible 7-0 aggregate score.
Barcelona's task of overturning a 4-0 deficit from the first leg was always going to be a mammoth one but when the team sheets went out and Lionel Messi was only on the substitute's bench it already appeared beyond them.
Yet Messi's absence should take nothing away from what was another superb display from Bayern Munich. Having diligently seen off what little threat there was from their opponents, Bayern went through the gears in the second half to score three goals through Arjen Robben, an own goal from Gerard Pique and a header from Thomas Muller.
While Barcelona face up to their worst defeat since the beginning of the dominant Pep Guardiola era five years ago, Jupp Heynckes and Bayern Munich can now look forward to a final against fellow-Germans Borussia Dortmund at Wembley later this month and a chance to put right the agonizing near misses of last season.
If Barcelona were to do the improbable and keep alive their hopes of lifting the European Cup for the first time in five seasons they needed a performance of the magnitude that defeated Milan 4-0 in the last 16. However, without the man that inspired that victory, Messi, a similar display or outcome never looked on the cards.
The first clear chance of the match fell the visitors' way when Bastian Schweinsteiger's ball over the top found Robben racing clear cutting in form the right, but Gerard Pique was just able to get back to snuff out the danger.
From that escape, Barcelona went straight down the other end and a mistake from Jerome Boateng came close to letting David Villa in.
But that moment was an all too rare threat on the Bayern goal by both Villa and Barcelona.
While Tito Vilanova's men were struggling to get their usual passing rhythm going and Cesc Fabregas was proving a dramatically inferior replacement for Messi, Bayern were again performing superbly.
All over the pitch the positioning and work rate was superb even from the two wide men, Robben and Franck Ribery, who in past seasons have been expensive luxuries without the ball. The cohesion through the side led by the central midfield partnership of Javi Martinez and Bastian Schweinsteiger also allowed them to break at speed.
On several occasions just the final pass was lacking, although Gerard Pique was required to make another good saving challenge when Schweinsteiger's stylish flick from the byline found Philipp Lahm.
If they were to mount a sensational comeback, Barcelona surely needed a goal before the break. Even when a clear chance came their way it was wasted when Xavi volleyed over the bar from the center of the penalty area.
By half-time there was a strong sense that the job was all but done with Bayern looking unflappable. And after the interval, the Bavarians upped their game almost sensing that they could now hammer home their already considerable advantage.
Four minutes after the break a cross-field pass from David Alaba found Arjen Robben in the position he craves: with yards of space on the right flank. As he has done so many times through his career, Robben cut in toward the area before being inexcusably allowed by Adriano to take the ball on his left foot into the box and from there the result had a large degree of inevitability he curled a shot into the far corner.
With Barcelona now needing six goals to progress, the match was now over as a contest. In a frightening show of their superiority over the best side in Europe over recent years, Bayern began to toy with their opponents to the accompanying "oles" of their visiting fans.
In what must have been a chastening experience, Barcelona knew the game was up and Vilanova withdrew the remaining two members of their legendary trio: Xavi and Andres Iniesta.
Whatever subsequently transpired was academic yet merely reinforced Bayern's startling superiority.
Robben could have had a brace but got he's volley at the near post all wrong. Still a second goal arrived in the 72nd minute in perhaps fittingly ignominious circumstances for the home side.
Substitute Luiz Gustavo played the ball inside the switched off Daniel Alves to get Ribery in behind and from the winger's cross Pique ungainly shinned the ball into his own net.
The sobering night wasn't yet over for Barcelona. With 14 minutes remaining, Ribery, once more left in too much space down the left, was again the creator, this time crossing to the back post where Muller rose above Marc Batra and headed past Valdes to wrap up a memorable night in Catalonia for the visiting Bavarians.
Barcelona 0-1 Bayern (Gol de Robben) UEFA... by DaniDV
Barcelona 0-2 Bayern (Gol de Piqué en propia... by DaniDV
Barcelona 0-3 Bayern (Gol de Muller) UEFA... by DaniDV
© Copyright IBTimes 2023. All rights reserved.