Video of Jarawa Tribal Women Dancing Naked for Food: 5 Things You Don't Know about the Tribe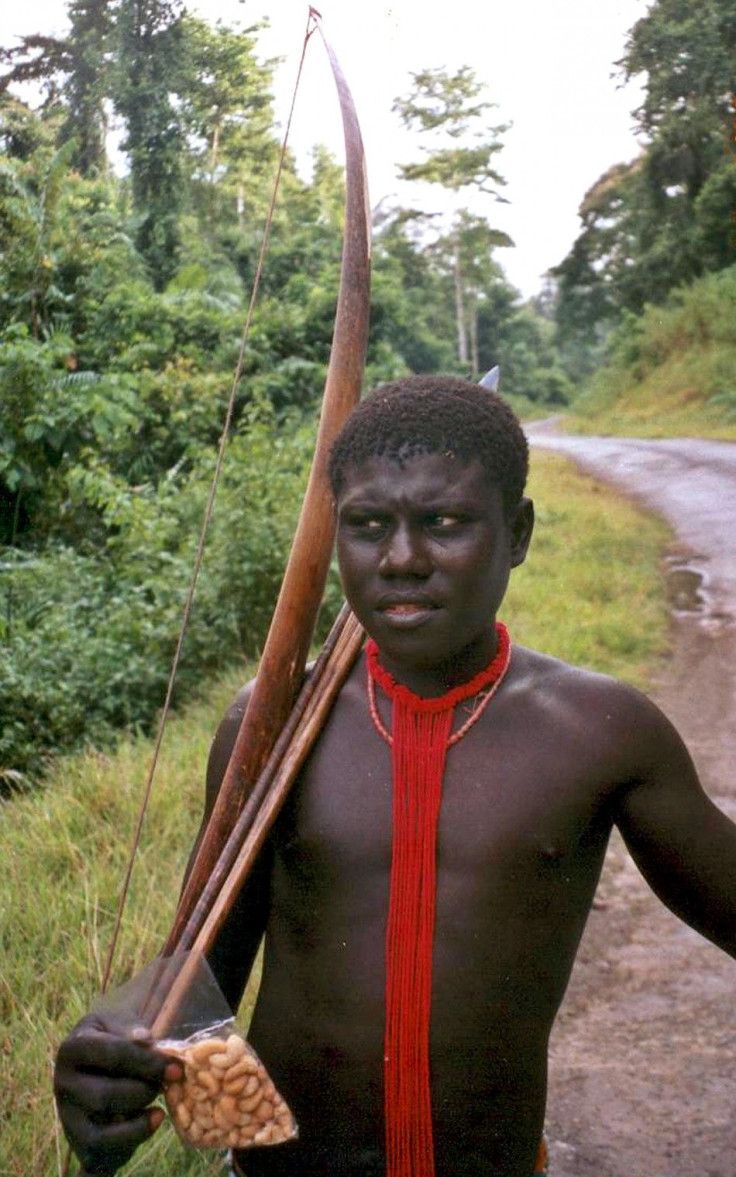 News of the scandalous exploitation of the Jarawa tribe on India's Andaman Island, following the release of undated footage showing members of the ancient tribe coerced into entertaining tourists in exchange for food, has sparked worldwide outrage.
The footage released by British newspaper The Observer shows half-clad Jarawa tribal women and children being forced to dance and sing, following the instructions of an individual, allegedly a policeman who accepted bribes from tourists for that purpose.
India's Tribal Affairs Minister, V. Kishore Chandra Deo, announced an official probe on Wednesday.
An inquiry has been ordered and it is being headed by the chief secretary and director-general of police of the Andaman and Nicobar Islands, Deo told the news agency Press Trust of India.
A closer look at the society and culture and traditions of the Jarawa tribe:
1. African Ancestors - The ancestors of the Jarawa are believed to have been part of the first successful human migrations out of Africa - 65,000 to 70,000 years ago. The existing members of the tribe, estimated at between 250-400 individuals, are descendents of one of the four ancient Negroid tribes, who were stranded on the Andaman Islands by rising seawater.
2. Reclusive Nature - The Jarawas, whose name translates to hostile people in Aka-Bea - an extinct Great Andamanese language, are largely averse to interactions with outsiders. Prior to 1998, the year in which Jarawa members started coming out of their forest habitats, they rigorously maintained their independence and distance from external groups, discouraging attempts at contact.
3. Lifestyle - The tribe depend on hunting and gathering as their primary sources of food. The Jarawa hunt pig, lizard and fish and collect seeds, berries and honey. They live in small groups of 40-50 people in a nomadic setting.
4. Biggest Threat - Widespread and illegal encroachment of Jarawa lands, for commercial exploitation, has been the biggest threat for the tribe ever since the building of the Great Andaman Trunk Road through their forest homeland in the 1970s. The tribe, with almost no immunity to diseases, suffered outbreaks of measles in 1999 and 2006, following contact with the outsiders.
5. 'Human Safari' - The tribe has been exploited by Indian tourism companies, who operate outlawed sightseeing tours in close proximity to the tribal settlements. Tourists often toss food at the Jarawa members, in such cases, treating them much as they do animals. Though illegal, under the Protection of Aboriginal Tribes Regulation, 1956, tourists often interact with or photograph Jarawa members who are sometimes spotted begging by the highway.
Jarawa Denounce Poachers: Survival International [VIDEO]
Jarawa Tribal Women Dancing [VIDEO]
© Copyright IBTimes 2023. All rights reserved.