VIDEO Nigeria 1-0 Bosnia-Herzegovina Highlights, Goals: Odemwingie, Referees End Dragons World Cup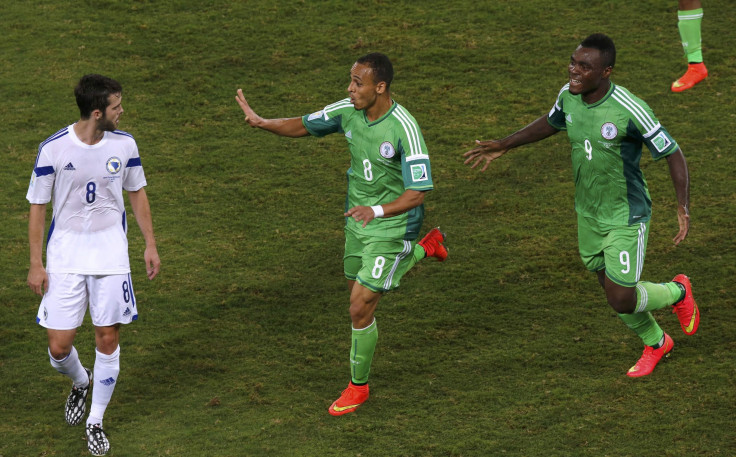 Questionable officiating and a goal from Peter Odemwingie led the way for Nigeria's 1-0 victory over Bosnia-Herzegovina Saturday at the Pantanal in Cuiaba, Brazil.
The loss emphatically denies Bosnia-Herzegovina of a pass to the Round of 16, ending their first trip to the tournament.
With Iran's 1-0 loss to Argentina earlier in the day, Nigeria now moves into second in Group F but not without controversy.
A goal from Bosnian forward Edin Dzeko was disallowed after a line judge ruled he was offside when Zvjezdan Misimovic fed him the ball just outside the penalty area in the 21st minute. Replays later showed Dzeko was onside and the Dragons were denied the lead, and they never attained a better opportunity afterwards.
Eight minutes later Nigeria's Emmanuel Emenike continued to punish Bosnia-Herzegovina along the wings, and the Fenerbache star's apparent shove to defender Emir Spahic gave him enough space inside the penalty area to spring an assist to Odemwingie in front of the net for the goal.
Despite pleading from the sidelines and Spahic trying to make his case to the line judge responsible for the no-call, referee Peter O'Leary chose not to intervene. Referees, and the officiating overall during this year's tournament, have faced plenty of criticism in the first week and a half.
FIFA suspended a Colombian assistant referee for calling back two goals for Mexico in their match against Cameroon, and the organizing body was also forced to defend Japanese referee Yuichi Nishimura for awarding Brazil a penalty in the Cup opener against Croatia when Fred went down with a blatant flop.
While most of the post-match talk will center on the officiating, attention and praise also belong to the goalkeepers on both sides. Nigeria keeper Vincent Enyeama came up with four saves in first half alone, and ended with seven. Bosnia-Herzegovina's Asmir Begovic totaled an astounding eight saves as well despite consistent pressure from Nigeria's Emenike and midfielder Ogenyi Onazi.
In the 60th minute, Begovic singlehandedly kept Dragons in the match with consecutive saves off a long shot from Onazi and a rebound charge from Emenike.
Should Nigeria hold on to second in the group, they will match their consecutive trips to the Round of 16 back in 1994 and 1998.
© Copyright IBTimes 2023. All rights reserved.