VIDEO Real Madrid 2-0 Sevilla: Highlights, Goals; Cristiano Ronaldo Double Hands Los Blancos UEFA Super Cup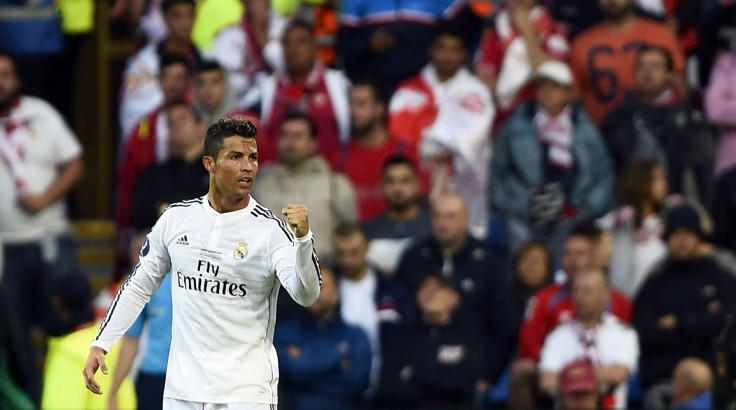 Much of the attention surrounded a debut for big summer signing James Rodríguez, but it was Cristiano Ronaldo who gave a sharp reminder that he remains the main man at Real Madrid with both goals in a 2-0 victory over Sevilla in the UEFA Super Cup. Making his first start for the club since hitting the final goal in Madrid's victory in the Champions League final three months ago, Ronaldo gave a strong indication that he was over the injury troubles that hampered his end to last season and his World Cup.
The curtain raiser to the new European campaign in Cardiff against the winners of the Europa League in Cardiff saw Ronaldo's preseason bow as well as first starts for Real Madrid for summer recruits Rodríguez and Toni Kroos. While there was the sense that it will take a period of adjusting for manager Carlo Ancelotti to find his best formula, on this night they had far too much for a Sevilla side. Their performance was particularly impressive given the despite the superior preseason preparations for Unai Emery's men. Less than a month after lifting the World Cup, Kroos impressed as the fulcrum in center midfield. But, while Cardiff-native Bale and new galactico Rodríguez occasionally flickered, it was Ronaldo who stole the show with a goal in each half from fine assists from first Bale and then Karim Benzema.
Ancelotti's starting lineup hit home the array of forward talent at his disposal, with an incredibly gifted front six of Luka Modric, Kroos, Rodríguez, Bale, Ronaldo and Benzema. Perhaps intimidated by the team sheet, Sevilla offered little until late on and were immediately on the back foot. To Madrid's credit, at this stage of their preparations, their play was surprisingly fluid.
The first chance came courtesy of a trademark Real Madrid counter attack, with their new star at the heart of it. Ronaldo initially led the break, before Rodríguez delivered a fine cross to the back post from the left and Gareth Bale arrived at the back post but saw his effort on the stretch blocked behind by a Sevilla defender. It was to be just a temporary reprieve and on the half-hour mark an almost replica move saw Madrid claim a deserved lead.
Ronaldo, soon after having a shot from close range repelled by Beto, begun the move with a square pass inside from the right flank to Rodríguez. This time the Portuguese surged forward into the box and was able to meet a superb cross from hometown boy Bale with a low finish form inside the six-yard box.
Although Rodríguez had those impressive contributions, he showed some perhaps understandable uncertainty about his role in the team. While Real Madrid were extremely fluid going forward, on occasion switching to a 4-4-2, for the most part they operated in the same 4-3-3 utilized to much success in the second half of last season. That meant Rodríguez taking Angel di Maria's position in an unfamiliar deployment on the left of a midfield three. In addition to often seeing the game pass him by, a poor error at the back, coupled with further blunders by Fabio Coentrao and Sergio Ramos, almost led to one of Sevilla's summer signings Daniel Carriço finding the net, only to denied by a fine stop from Iker Casillas. Missing the creativity of the departed Ivan Rakitic, that was one of the few times Sevilla provided any real threat to what was a front-loaded Madrid team. Their brightest light was one of their new arrivals, Denis Suárez, on loan from Barcelona, who showed he could make a strong impression in the season ahead.
Sevilla's hopes of a response were dashed two minutes into the second half, when Ronaldo struck again to turn the contest decisively in Real Madrid's favor. A swift and accurate exchange of passes going forward culminated with Benzema, almost the forgotten man among the litany of star names around him, finding Ronaldo with an incisive pass that allowed the Ballon d'Or winner to hammer a left-footed shot goalward that his compatriot Beto was unable to keep out, despite getting gloves behind it.
Thankfully for an under-siege Sevilla, Beto did rather a solid job to repel efforts from Benzema and Rodríguez as Madrid threatened to run away with it en route to their second Super Cup triumph. While that didn't happen, it was still a victory secured with a fair degree of serenity as Sevilla's late spell of pressure came too late.
© Copyright IBTimes 2023. All rights reserved.