'Vikings' Season 3 Spoilers: Bloody Battle Teased In Episode 9 Sneak Peek Video; Will The Vikings Conquer Paris?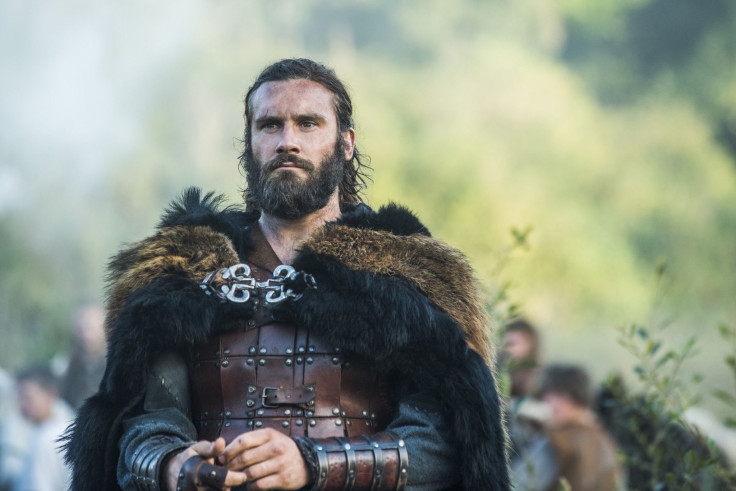 Those Northmen are a ruthless bunch, aren't they? According to a sneak peek clip from episode 9 of "Vikings," viewers of the History Channel drama will witness just how callous and determined Ragnar (Travis Fimmel) and his gang of dirt-covered warriors are in the next Season 3 installment, titled "Breaking Point."
In the preview, we see Rollo (Clive Standen), Floki (Gustaf Skarsgård) and Lagertha (Katheryn Winnick) attack Paris once again. But despite their efforts, it looks like the pagans will be faced with another formidable obstacle in their second raid.
"Rollo!" Floki screams over the sounds of shrieking men and the noise of clashing swords. "We can't get through!"
"Fall back!" Rollo replies to his warriors as they battle the Parisians in a narrow-looking space. (Is it just us, or does anyone else feel claustrophobic watching this scene?)
Just then a drawbridge begins to close. Rollo fights his way to the mouth of the door, which we assume will lead the Vikings to safety, and eventually slips through the cracks to the other side just before the exit is sealed. But unfortunately, not all of the Vikings were blessed with the stealth of the fierce Lothbrok fighter and were left behind to face the wrath of the Paris defenders.
Noticeably absent from the short but action-packed clip is the father-son duo of Ragnar and Bjorn (Alexander Ludwig). Where exactly are they? We have a feeling the two are attacking the city of Emperor Charles (Lothaire Bluteau) from another angle.
In episode 8 of "Vikings," Ragnar confessed to the spirit of Athelstan (George Blagden) just how determined he was to take control of the city he's been longing to raid. "Paris is everything you told me it would be," he said to the ghost of his dead friend. "I am bound and determined to conquer it."
Do you think the Vikings will be able to conquer Paris in their second raid? Let us hear your theories in the comments section below and don't forget to tune in to episode 9, "Breaking Point," at 10 p.m. EDT on History Channel.
© Copyright IBTimes 2023. All rights reserved.
FOLLOW MORE IBT NEWS ON THE BELOW CHANNELS