'Vikings' Season 3 Spoilers: Finale Synopsis Released; What Will Happen In Episode 10, 'The Dead'? [VIDEO]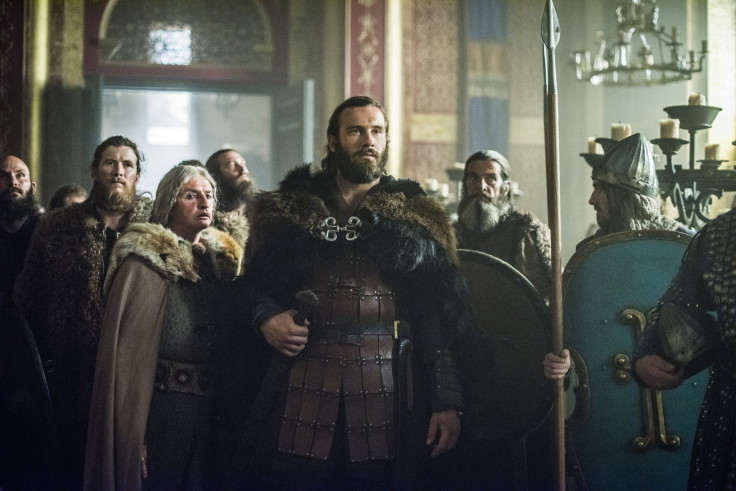 And then there was one! "Vikings" airs its Season 3 finale on Thursday night, and according to an episode 10 promo video, the final installment will be "insane." But what else could fans expect from the History Channel series created by Michael Hirst? Throughout Season 3 we've witnessed heart-stopping moments from Siggy's (Jessalyn Gilsig) frosty fate to Athelstan's (George Blagden) brutal demise.
And it doesn't look like the Season 3 death toll will end there. A sneak peek video from the finale, titled "The Dead," teases that everyone's beloved king may come face to face with death himself.
"No Christian king will ever be allowed to rule our world," a character says in the finale trailer. "Someone needs to kill him."
With Ragnar's (Travis Fimmel) fate hanging in the air, three characters will step up to the plate while their leader is indisposed. The synopsis for episode 10 reveals that Rollo's (Clive Standen) destiny will be recognized in the finale after his strength is witnessed by the Parisians. Bjorn (Alexander Ludwig) will also dabble in ruling the Vikings while his father is busy spitting up blood.
Ludwig previously teased during a press conference in February that his character has been "inspired by his father's accomplishments," which is why he would make a worthy successor.
"I think like any son of a father, they want to make their father proud -- and especially amongst this family, there's deep down a certain amount of aspiration to not only fulfill what his father has accomplished but to accomplish even more than what his father could," the actor revealed. "And that's one thing they really pride themselves on -- their fame. Because that's how their legend will live on."
Lagertha (Katheryn Winnick) will also rise to the occasion alongside her son and brother-in-law as the Vikings take one last swing of their battleaxes to try to take Paris. The summary reveals that the Northmen will "take a daring chance" in the final attempt to raid the city.
If you aren't convinced that the Season 3 finale will leave you speechless, Ludwig confessed to International Business Times that fans won't want to miss it. "The end of this season is insane. I can't wait to see everyone's reaction," he said. Guess we better start prepping for our reaction video!
What do you think will happen in the Season 3 finale of "Vikings"? Sound off in the comments section below with your theories and don't forget to tune in for the wild episode, "The Dead," on Thursday, April 23, at 10 p.m. EDT.
© Copyright IBTimes 2023. All rights reserved.