'The Voice' Season 8 Winner Sawyer Fredericks Reveals What's Next For Him; Will He Move To Hollywood?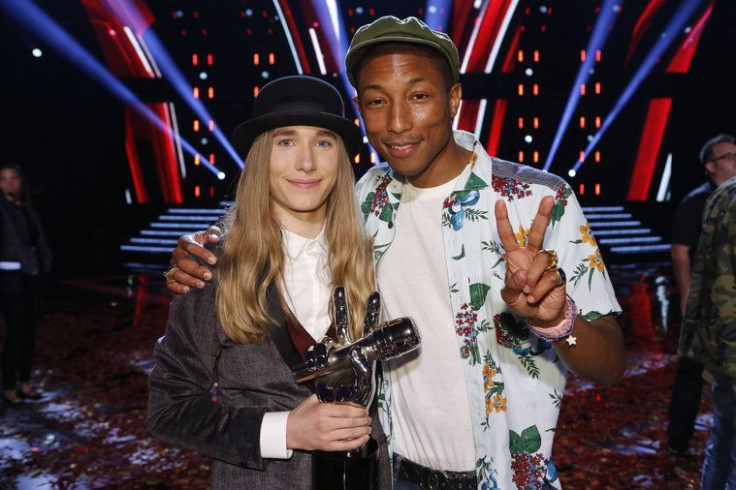 Sawyer Fredericks is not your average winner of "The Voice." The shy 16-year-old musical prodigy isn't in it for the glitz and glamour of Hollywood; in fact, he doesn't even want to stay there now that the NBC competition is over.
After an intense two-hour finale Tuesday, host Carson Daly revealed that viewers had voted Fredericks as the Season 8 winner of "The Voice." In a competition that valued experience and stage presence, this unusual folk artist managed to capture fans' hearts with his smoky voice alone. He even broke the iTunes Top 10 charts repeatedly during his time as a finalist, making him a front-runner even before the final episode aired.
Unfortunately for fans who were expecting a quick turnaround on whatever Fredericks has planned next, he revealed in a press conference after the show that his next step is to go back to his farm in upstate New York to take a break.
"I'm feeling great and I kind of want to get back to the farm just to have a little bit of a break from all of this, so I'm excited to get back home," Fredericks told reporters (via Us Weekly). "I do not want to move to L.A.!"
It's hard to imagine that the young contestant wasn't enamored with Hollywood by that point in the night. He was fresh off a big win on "The Voice" as well as a live performance of his single, written for him by his favorite artist Ray LaMontagne, in front of a crowd of adoring fans. He even got the opportunity to sing alongside rock legend John Fogerty.
"I was a little nervous about singing with John Fogerty," Fredericks said of the finale. "But, I mean, I was really just excited for the night. I got to see all the top 20 again, perform with them, so that was super fun. I wasn't really nervous about winning or losing because I knew I'd be happy no matter what and I was just happy for the night."
Fredericks' decision to return to his farm in New York doesn't mean he'll be wasting this big opportunity that fans have given him. Prior to his blind audition, which turned all four coaches' chairs around, he was a performer and songwriter based in his small hometown. He even put out an album as well as a cavalcade of YouTube videos. It's possible he wants to return to familiar ground before building on his new fame.
What do you think of Sawyer Fredericks' decision to return to the farm? Comment below or tweet your thoughts to @TylerMcCarthy.
© Copyright IBTimes 2023. All rights reserved.