'The Walking Dead' Season 6 Premiere Is A Wild 90-Minute Ride With More Zombies Than Ever [REVIEW]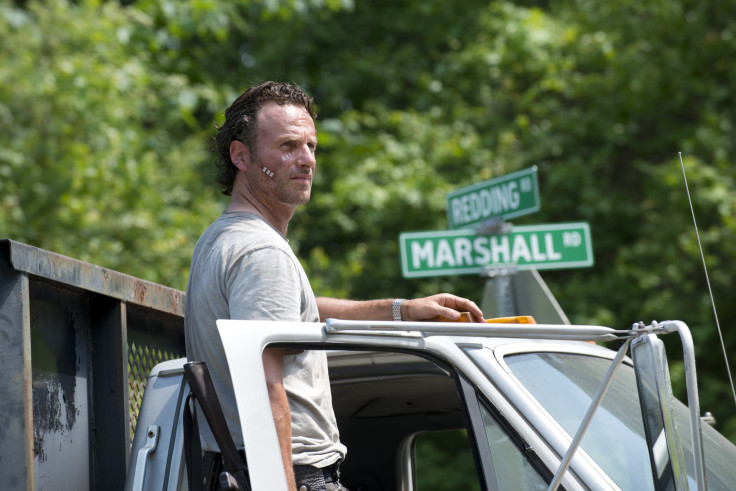 AMC knows that "Walking Dead" fans can't get enough of the zombie drama. So, after a couple months hiatus, viewers are getting a 90-minute treat for the Season 6 premiere. From tension at Alexandria following Pete's death, to a new threat just outside the walls, episode 1 of the series based on Robert Kirkman's comic books teases that no "safe haven" truly exists in the zombie apocalypse.
Premiering on Sunday, Oct. 11, fans will revisit the shocking -- and deadly -- final moments of the Season 5 finale. However, the show isn't exactly picking up where it left off. A mix between color and black-and-white scenes explain to viewers what happened in the Alexandria Safe-Zone following the deaths of Reg (Steve Coulter) and Pete (Corey Brill), as well as how the group of survivors got to face their latest threat … the biggest horde of walkers yet.
Forget about every other horde of the undead that you've seen in past seasons, because nothing tops this new hazard. But Rick (Andrew Lincoln) has a plan to save everyone -- just don't you dare suggest an alternative solution.
That's right, Rick is still wearing his crazy pants and continuing his downward spiral. Lincoln -- as usual -- shines as a man who will literally sacrifice anything and anyone to keep his family safe. It doesn't matter if you're an old friend or simply thinking about the consequences of a plan. Rick has no time for people to doubt his experience and expertise. It's Rick's way or the highway … but is everyone else onboard?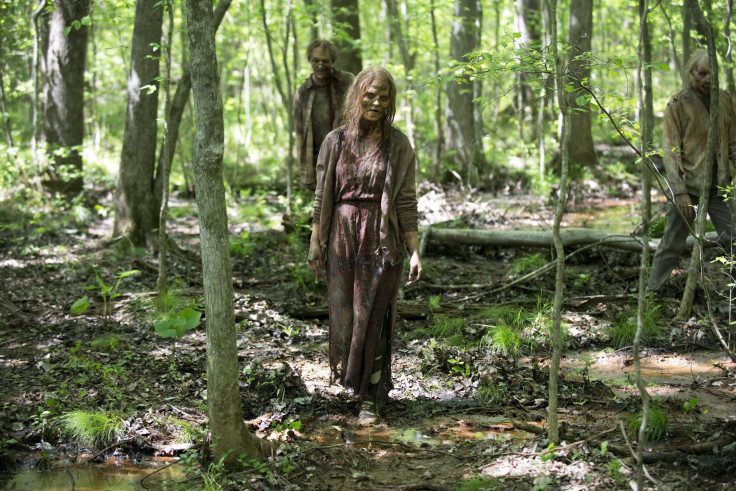 That seems to be the underlying problem heading into Season 6. While living in a community offers a chance at a somewhat normal life, Rick is no longer the leader. Deanna (Tovah Feldshuh) -- despite being in mourning over the death of her husband -- is still in charge of Alexandria. And although she doesn't have the experience fighting zombies that Rick and his group have, she appears to be the only one able to keep hysteria down and maintain a town-like atmosphere. But Deanna is a broken woman after the events from the Season 5 finale. The premiere shows her as a sort of mouthpiece for Rick, agreeing with ideas -- like not allowing Pete to be buried within Alexandria -- that she may not have entertained when the survivors first entered.
It appears that it's only a matter of time before Rick is able to fully takeover from Deanna and enforce his way of surviving upon the Alexandria residents. But there is definitely resistance within the walls. While Morgan (Lennie James) can understand why his old friend no longer "takes chances," he doesn't seem to agree with Rick's choices -- like forcing untrained Alexandria survivors to fight walkers on their own or just tossing Pete's dead body into the woods.
Will Morgan understand Rick's way of living and become an ally? Or will he become the first person to successfully challenge Rick? Whatever the case may be, the Season 6 premiere ending reveals that the Alexandria survivors have a lot more to worry about than leadership issues.
"Walking Dead" fans definitely won't want to miss the wild -- and deadly -- ride that lies ahead this season. If the premiere proves anything, it's that the AMC series is not slowing down anytime soon. Bring on the blood and guts.
"The Walking Dead" Season 6 premieres on AMC on Sunday, Oct. 11, at 9 p.m. EDT.
© Copyright IBTimes 2023. All rights reserved.