'Walking Dead' Season 6 Trailer Features Daryl Captured By New Group Of Survivors [VIDEO]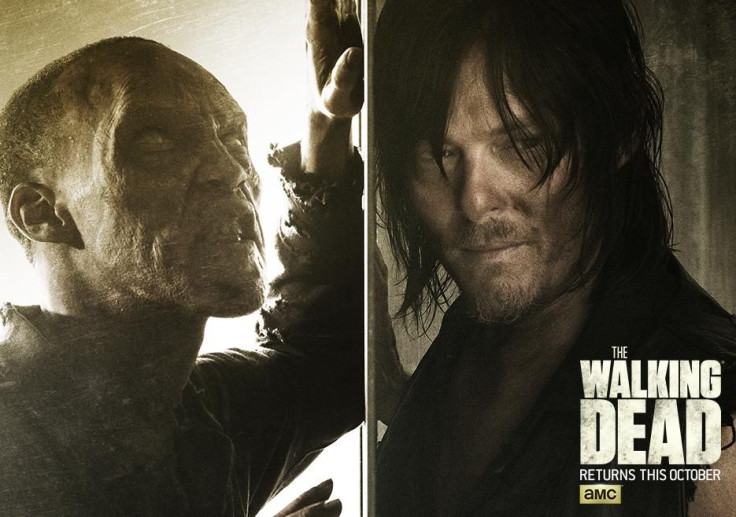 "The Walking Dead" just introduced some fresh blood in the first trailer for Season 6. Although a copy of the video leaked online early Friday, the official teaser video was released during the Hall H Comic-Con panel. The video for the new season features an extra scene that fans didn't get to see previously.
The trailer clocks in at a little more than four minutes long. At the 3:30 mark, the video reveals the Season 6 premiere date and cuts to black. However, the trailer is far from over. Viewers get a taste of the battle that Daryl (Norman Reedus) is going to face when the show returns in October.
"Here's the deal. You don't say s--- and I don't kill you," a man holding a gun says to Daryl. Everyone's favorite crossbow-wielding survivor has his hands tied and is against a tree. Behind the man is two women.
"I ain't who you think I am," Daryl responds coolly.
The trailer cuts to a series of clips that show Daryl escaping his captors and running through an area that is littered with bones. Eventually he runs into the two women who were standing behind the man with the gun.
Who are they? Where are they? And who do they think Daryl is? It appears that this new set of survivors aren't part of the gang of Wolves because they don't have a "W" drawn on their foreheads. But do they think Daryl is part of the deadly group? Or could these people be some of the folks that were exiled from Alexandria?
Answers will come when "The Walking Dead" Season 6 premieres on AMC on Sunday, Oct. 11. Watch the trailer below:
© Copyright IBTimes 2023. All rights reserved.