WATCH: Barack Obama Joins Jimmy Kimmel For World AIDS Day Video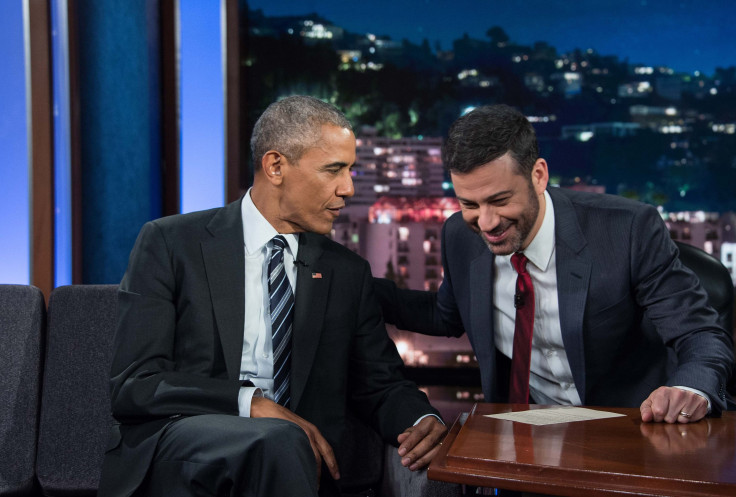 Television host Jimmy Kimmel welcomed former President Barack Obama to his fund-raising special episode Tuesday night on his late-night show, "Jimmy Kimmel Live!"
The late-night show's third annual (RED) shopathon special, which included Hollywood A-list guests such as Bono, Kristen Bell, Ashton Kutcher and Bryan Cranston, encouraged viewers to join the fight against AIDS.
In a taped speech aired on the show, Obama encouraged people to participate in World AIDS Day (Dec. 1), and said that the fight against the deadly virus has seen some remarkable progress because of the tenacity among people, who want to make the world a better place.
"This World AIDS Day, everyone has a role to play. Jimmy Kimmel's not just a talk-show host, he's an activist. Bono's not just a musician, he's ring master of a whole shopping extravaganza," Obama said in the video.
"And me, I'm not just a former president, I'm a husband who hasn't done his Christmas shopping yet."
During the video, Obama said cable news and Twitter feeds can "make it feel like cynicism is everywhere."
"When it comes to the fight against HIV/AIDS, there's some genuinely good news to share," he added, encouraging people to remember that advancement in AIDS therapy has led to a decrease in the number of deaths.
"For the first time in history, more than half of all people living with the virus are on life-saving medication," the former president continued.
Obama's video on the show went viral after it was posted on YouTube and garnered more than 90,000 views at the time of publishing this story.
Obama added in the video, currently more than 20 million people around the world are on medication, which makes it possible to work and raise HIV-free children.
"It sounds like a miracle, but it's not the result of mysterious forces or chance. It happened because countless people working for years chose to make this process," Obama said in the video.
Obama said some people who helped in the advancement deployed great wealth and influence, while others held public office.
However, he stressed, "but far more were simply citizens," listing organizers, activists, doctors and "courageous people living with HIV who led the fight to spare others the anguish of this disease."
In the concluding segment of the video, the former president urged people to help support the effort and joked: "And if you do, you can pilot Air Force One for a day." After which he went on to say: "If you do, I'll share our files on the aliens."
"You can help us win this fight. You can help us change lives and write a future full of progress and hope, so let's all get to work," he concluded.
© Copyright IBTimes 2023. All rights reserved.