Watch Biden's 'Parks & Rec' Episodes As Fans Celebrate Leslie Knope's Idol
Inauguration Day would be a huge event for Leslie Knope. The fictional "Parks & Recreation" character, played by Amy Poehler, adored Joe Biden, and fans are fondly remembering her freak-outs as Biden becomes president.
The NBC comedy, which ran from 2009 to 2015, even welcomed Biden as a guest star. He was vice president at the time. As he takes over the oval office, some fans might be interested in watching his episodes of "Parks & Rec."
The current POTUS first appeared in "Parks & Recreation" Season 5, episode 7, which is titled "Leslie vs. April." While in Washington, D.C., Ben Wyatt (Adam Scott) surprises his then-girlfriend Leslie. He landed her a meeting with Vice President Joe Biden, her idol.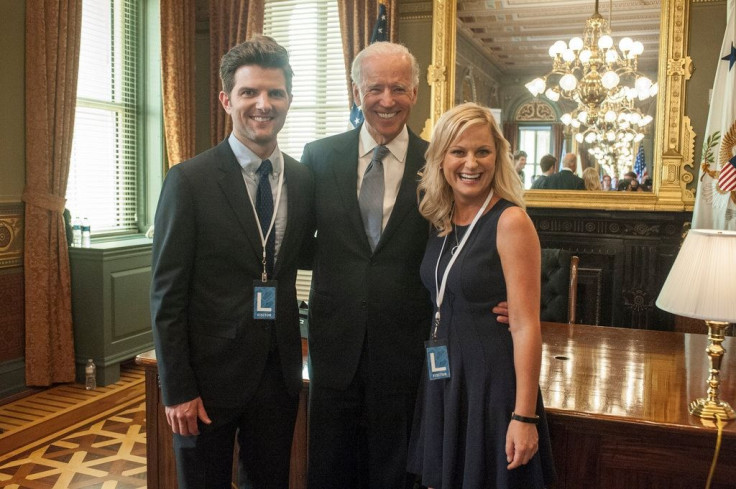 Biden next appeared on "Parks & Rec" in the series finale, "One Last Ride." Set several years in the future, Leslie and Ben are invited to a small gathering at Joe Biden's house. He gives a little speech to attendees alongside his wife, Dr. Jill Biden.
Viewers won't find the Pawnee crew on Netflix anymore, but both episodes are available to stream on Peacock, NBC Universal's streaming service. There is a free, ad-supported tier for those who don't subscribe.
Before watching the sitcom episodes, check out some of the best reactions from Twitter users who lovingly mentioned Leslie during Wednesday's inauguration ceremony:
© Copyright IBTimes 2023. All rights reserved.