WATCH: BTS' V Does 'Layover' TikTok Challenge With A Celebrity BFF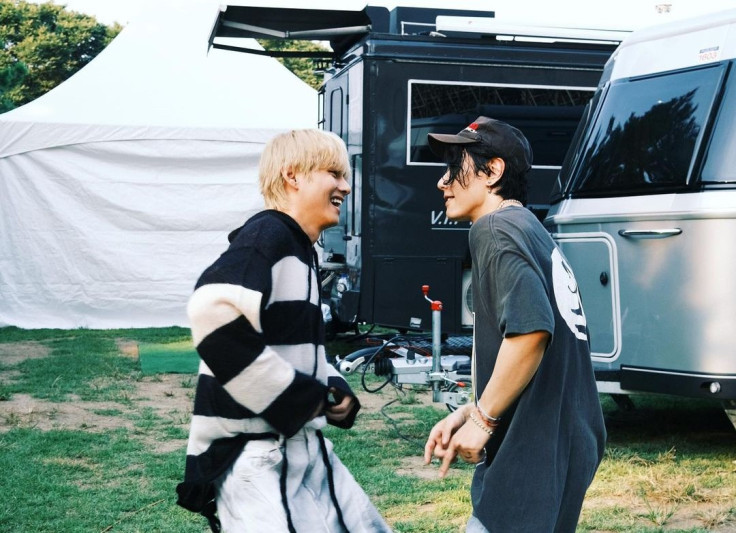 KEY POINTS
BTS' V unveiled his newest TikTok dance challenge
He was joined by Park Hyo Shin for the "Slow Dancing" challenge
V's "Layover" recently debuted at No. 2 on the Billboard 200
BTS member V reunited with his longtime friend to dance to his latest TikTok challenge.
The 27-year-old South Korean artist took to BTS' official TikTok account to drop his newest dance challenge, which showed a groovy and easy-to-follow dance choreography to "Slow Dancing." Interestingly, he was not alone in the clip.
In the 30-second video, V — real name Kim Taehyung —joined forces with his celebrity best friend, South Korean ballad singer Park Hyo Shin. The collab came as a shock to some K-Pop community members as the latter kept a very low profile, especially on social media.
"So cute. I never expected [Hyo Shin] could do a dance [choreography] on TikTok. It's Taehyung Power," one user quipped in the comments section of the video, which accumulated about 8 million views.
Another wrote in the post uploaded by Hyon Shin on his personal Instagram account: "[It's the first time for Hyo Shin] to participate in such challenges and do such things in his life, but who can refuse [Taehyung], this biscuit is irresistible."
"The collab I want so bad. Anyway, Hyoshin doing things he [has] never done before just for Taehyung. This is what we call pure adoration," a third user stated.
"You two are so cute and awesome together. That challenge is so fun. Thank you, guys," a fourth user added.
Another praised the two stars, "The perfect dance duo."
V and the 42-year-old theater actor's friendship goes way back, and the two have shown support for each other's projects over the years. In July last year, the former was spotted attending the latter's musical, titled "The Man Who Laughs," in South Korea. Hyo Shin even shared their reunion on social media, uploading a photo of them hugging each other.
In other news, the "Love Me Again" hitmaker recently debuted at No. 2 on the Billboard 200 album chart with his first solo record, "Layover." The album features a total of six tracks that combine both the jazz and R&B genres. Songs on the record include "Rainy Days," "Blue," "Love Me Again," "For Us" and the studio and piano versions of "Slow Dancing."
Aside from being active on TikTok, V has also been promoting his songs in South Korea, performing on several music shows. He recently made his debut on MNET's "M Countdown," where he sang and danced to "Love Me Again" and "Slow Dancing." His beloved pet dog Yeontan joined him on stage.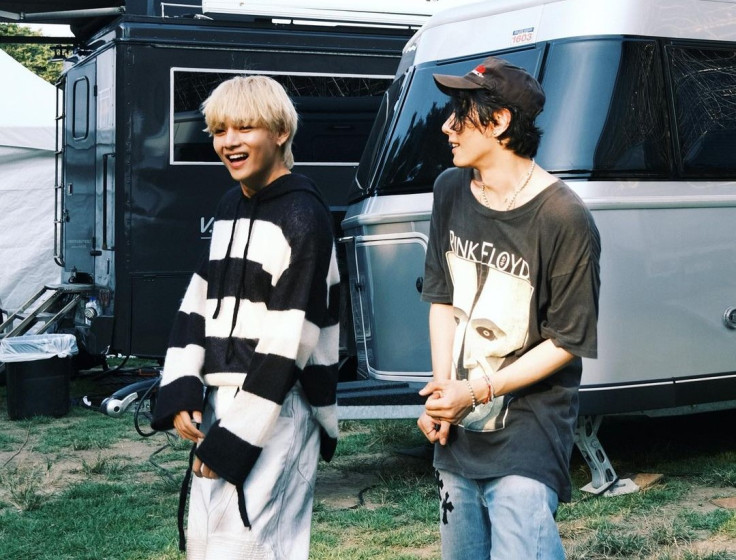 © Copyright IBTimes 2023. All rights reserved.