WATCH: (G)I-DLE Drops Teaser For Its First English Single 'I Do'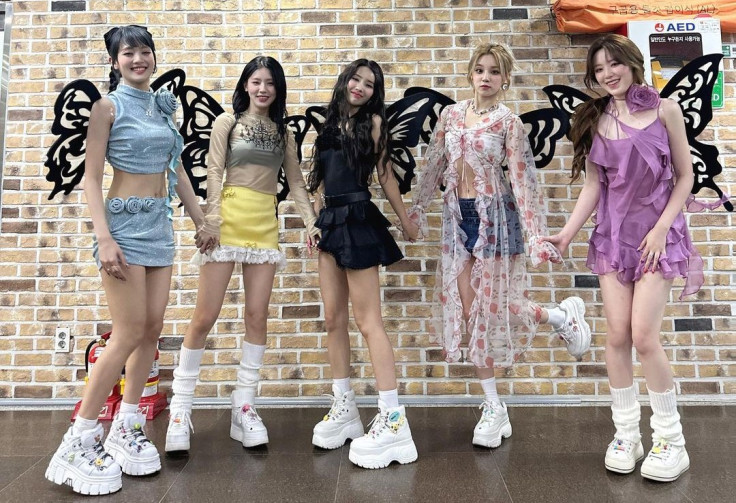 KEY POINTS
(G)I-DLE is set to release a full English EP, titled "Heat"
The teaser for its English single, "I Do," dropped Tuesday
"I Do" is set to be released Friday at 9 a.m. KST
(G)I-DLE has dropped the first teaser for its first English single.
On Tuesday, the American music and media company 88rising released the first teaser for (G)I-DLE's English single, "I Do," on various social media platforms.
The 10-second video clip showed (G)I-DLE members Miyeon, Minnie, Soyeon, Yuqi and Shuhua in a fairy-like aesthetic and setting.
"I Do," which will be released Friday at 9 a.m. KST with a music video, is the first and pre-release track of the five-member girl group's first English-language album, "Heat."
(G)I-DLE's first-ever original English single will feature "a heartfelt mid-tempo" and "a sweet, emotional and easy-to-sing-along-to vocal performance" from the members, according to Billboard.
"Heat" is reportedly Cube Entertainment's first original English project in its nearly 17-year history.
The album "is all about being confident and bringing the spirit of an endless summer with you wherever you go," said Cube Entertainment CEO Woohyung Ahn, according to Billboard.
"We hope that the release of 'HEAT' will allow us to bring the message and mission of (G)I-DLE to the whole world," he added.
"Heat" also signals the start of 88rising and Cube Entertainment's partnership. The album will be released globally on Sept. 7 at 8 p.m. EDT.
"We've been a fan of (G)I-DLE for a long time because, creatively, they are so in tune and involved with the music and stuff they put out," shared 88rising CEO and founder Sean Miyashiro.
Pre-orders for the album will start alongside the release of "I Do" Friday.
Meanwhile, "I Do" can be pre-saved on Spotify, Amazon Music and Deezer, and pre-added on Apple Music.
In other news, (G)I-DLE released its sixth Korean EP, "I Feel," on May 15. Just one day before its release, the album surpassed 1.1 million preorders, marking the group's personal best record.
"I Feel" is comprised of six tracks, namely, "Queencard," "Allergy," "Lucid," "All Night," Paradise" and "Peter Pan," with members Soyeon, Minnie and Yuqi taking the lead as the album's producers and songwriters.
It conveys a message about self-confidence and self-esteem, discussing topics such as figuring out oneself as an adult while using a lighter and more comical style compared to the group's previous releases.
To promote the "I Feel" album, (G)I-DLE embarked on its second world tour, following its debut concert, "Just Me ( )I-dle," in 2022.
"I am Free-ty" kicked off at Jamsil Indoor Stadium in Seoul on June 17 and 18, and followed by stops in different cities across Asia, North America and Europe.
© Copyright IBTimes 2023. All rights reserved.