Watch: Hillary Clinton Slips On Stairs, Twice, During India Visit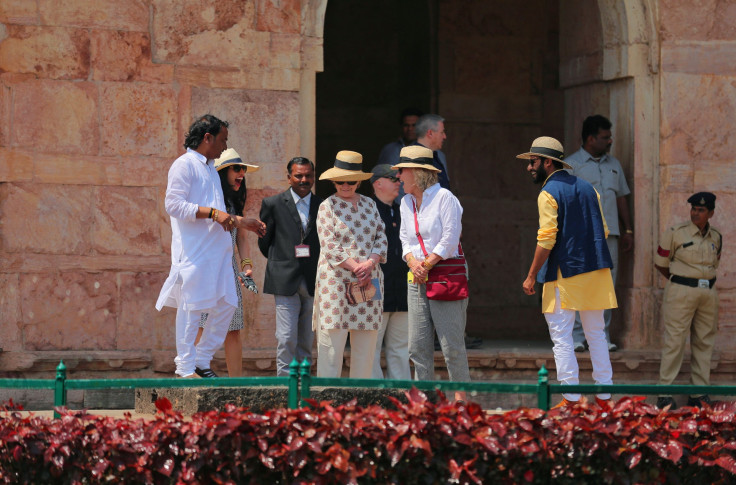 A video surfaced online late Monday showing the former Secretary of State Hillary Clinton, who is on a 3-day visit to the central Indian state of Madhya Pradesh, slipping twice as she descended the stairs of a historical site in the city of Mandu. Clinton, who arrived in Indore Sunday, made her first stop in her tour at the temple town of Maheshwar in Khargone district, which served as the capital of Holkar Kingdom in the past.
The video shows Clinton needed a significant amount of assistance while going down the stairs of the Jahaz Mahal palace. Clinton was on her way out of Jahaz Mahal, built during the rule of Mandu Sultan Ghiyas-ud-din Khilji, when she slipped after she lost her balance despite an aide helping her down. After the first slip, another aide came to help her but despite the support of two people, Clinton slipped for the second time.
The video shows that after the second slip, the former presidential candidate kicked off her sandals and proceeded the rest of the way down the steps.
This is not the first time, and not the worst incident Clinton has faced while descending down stairs.
In October 2017, the 70-year-old was in London promoting her book when she arrived on the set of the "Graham Norton Show" wearing a surgical boot.
"I was running down the stairs in heels with a cup of coffee in hand, I was talking over my shoulder and my heel caught and I fell backwards," she explained in the interview. "I tried to get up and it really hurt. I've broken my toe."
In 2016, Clinton made headlines after she was caught on camera collapsing into the arms of her Secret Service agents while leaving from the 9/11 memorial service at the World Trade Center. It was later revealed that Clinton was diagnosed with dehydration and pneumonia.
The same year in October, Clinton stumbled up the stairs while boarding her flight to a rally in Winston Salem, North Carolina. A similar incident took place in 2011 when Clinton was boarding a plane to Yemen. The then-secretary of state slipped to her knees at the doorway of the plane.
"Well, today I'm just enjoying the magnificent archaeological site and learning a lot of the Indian history because of this beautiful palace ground. I am very excited about being here and everything that I have seen," Clinton said while visiting Jahaz Mahal.
Tuesday morning Clinton traveled to Indore from where she will take a flight to Jodhpur, Rajasthan. Later in the evening Clinton will be leaving for the Unites States.
© Copyright IBTimes 2023. All rights reserved.