WATCH: Indiana Pacers Star's Moving Speech After Signing Massive Extension
KEY POINTS
Tyrese Haliburton shows love for his mom after signing a five-year, $260 million deal
Haliburton's star rose quickly after a stellar showing with the Sacramento Kings
He is also set to represent the U.S. in the 2023 FIBA World Cup
Tyrese Haliburton's burgeoning All-Star talent was recently rewarded by the Indiana Pacers with a five-year, $260 million max extension and the guard gave full credit to his mother for her sacrifices.
"My mom has been my everything for me to get here. I can't even put into words to explain everything. But, I'm just really appreciative of you, mom, because of all the stuff of us growing up and pushing me to be where I am today," Haliburton recounted.
"Making sure I could get to every trip, making sure my teammates made it to every trip. It just means a lot to me. I love you and I'm really appreciative of you."
Ahead his college basketball career with the Iowa State Cyclones, Haliburton was viewed as a three-star recruit by many outlets and would burst onto the scene throughout his two-year stay.
On December 9, 2018 against the Southern Jaguars, Haliburton recorded 15 points and 17 assists to just one turnover–the most assists an Iowa State player has ever recorded and surpassed Eric Heft's record that he set in 1974.
In his second season with the Cyclones, the Milwaukee native increased his scoring output to 15.2 points from 6.8 in his freshman year while nearly doubling his assist numbers from 3.6 to 6.5, which had scouts comparing him to Lonzo Ball mainly because of his playmaking.
Haliburton was ranked the No. 4 prospect in Sports Illustrated's top-80 rankings ahead of the 2020 NBA draft behind top picks Anthony Edwards, LaMelo Ball and James Wiseman.
Had that been the number he was selected at, the Chicago Bulls would have been the franchise he spent his rookie season with, but they opted to select Florida State forward Patrick Williams.
His slide in that year's draft would come to an end at No. 12 as the Sacramento Kings selected him, forging a ball-dominant backcourt between him and De'Aaron Fox.
As fate would have it, Haliburton would then get traded from the Kings to the Pacers in the middle of the 2021-22 NBA season, shocking many fans as it was expected at the time that Fox was going to be moved instead.
The blossoming guard initially believed it to be a prank from his agent, but Kings general manager Monte McNair told him that he was going to be traded to Indiana – which might have been for the better.
Haliburton's second season with the Pacers this past year saw him explode into a full-blown star as he averaged career-highs in points (20.7) and assists (10.4) despite him missing 26 games, which eventually led to his first All-Star selection.
Fans have been touting Haliburton as the next great pass-first point guard in the league in a time when their breed has become a dying one, according to NBA icon Jason Williams at least.
The sky is the limit for Haliburton and a potential All-NBA selection may await him once the 2023-24 season comes to a close.
Additionally, Haliburton is set to represent the United States in the upcoming 2023 FIBA World Cup.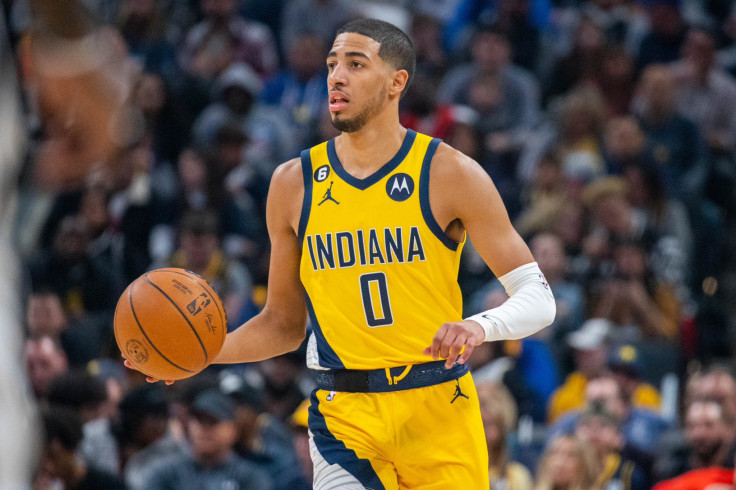 © Copyright IBTimes 2023. All rights reserved.