NBA Rumors: Oddsmakers Favor Miami Heat To Win Damian Lillard Sweepstakes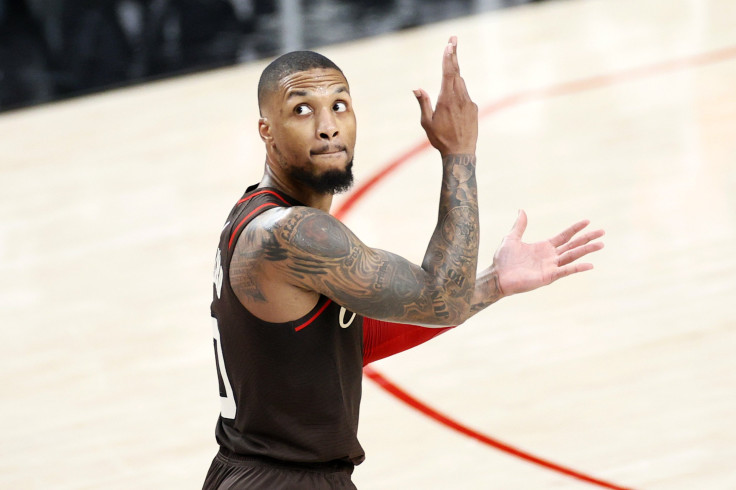 KEY POINTS
The Miami Heat take the top spot in the Damian Lillard lottery
The Philadelphia 76ers trail the Heat amongst oddsmakers
Tyler Herro is expected to be the main piece in a straight Blazers-Heat swap
Portland Trail Blazers cornerstone Damian Lillard is calling it quits with the organization after spending 10 years with them, and the Miami Heat currently have the best odds at making a deal for the disgruntled star.
Bookies.com released the odds for the top-seven teams who are likeliest to land Lillard, and their implied probability which can be seen below:
Miami Heat: plus-350 (22.2 percent)
Philadelphia 76ers: plus-400 (20 percent)
San Antonio Spurs: plus-500 (16.7 percent)
New Orleans Pelicans: plus-600 (14.3 percent)
Minnesota Timberwolves: plus-625 (13.8 percent)
New York Knicks: plus-950 (9.5 percent)
Brooklyn Nets: plus-1000 (9.1 percent)
For additional context, the other 23 NBA teams' odds to get Lillard is set at plus-600 with an implied probability of 14.3%.
While the drop-off between the Heat and 76ers is marginal at best, Miami being viewed as such is no surprise to the fans who have followed the brewing Lillard trade saga.
NBA insider Shams Charania of The Athletic revealed earlier in the week that Lillard wants a trade "specifically to the Eastern Conference champion Miami Heat" and it would make the most sense for him to target them in return.
The Heat pulled off a shocking run in the 2023 NBA playoffs after being forced to go through the play-in tournament, only for them to knock off the Milwaukee Bucks in five games, the New York Knicks in six, and the Boston Celtics in seven after a near-sweep.
Though they were severely overmatched against the Denver Nuggets, the fact remains that the Heat were able to steal one game from the eventual NBA champions and that is a testament to what head coach Erik Spoelstra has been able to build.
It should be noted also that the Heat were missing key pieces Tyler Herro and Victor Oladipo throughout the postseason, further making their NBA Finals run all that more impressive.
In Lillard's case, asking for a trade now as he enters the age of 33 might seem to be a few years too late for some fans, but it cannot be denied that he tried his hardest to make things work with the team that drafted him.
The Weber State product remains a flamethrower on offense after putting up a career-high 71 points this season alongside outings of 60, 50, and 44 points–providing the Heat with a night-in, night-out scoring threat that they have sorely needed.
Currently, it is believed that Herro will be the centerpiece of a trade between the Blazers and Heat due to his contract. However, there is also reason to think that the Brooklyn Nets might involve themselves in the trade to make it a three-teamer.
More updates regarding Lillard's situation are expected to come out in the next few days and bettors going with the Heat in this situation might be looking at a massive payday when it is all said and done.
© Copyright IBTimes 2023. All rights reserved.